Canon EOS-M mirrorless interchangeable lens camera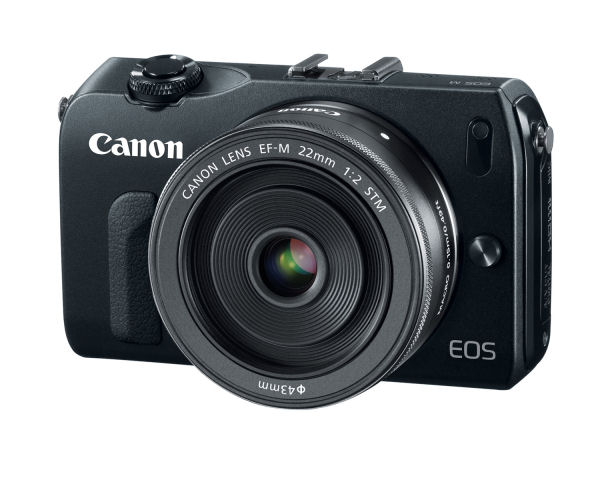 Well, the rumors were shown to be true today as Canon officially announced the EOS-M, their first mirrorless interchangeable lens camera (MILC). The specifications are pretty much as I suggested a few days ago. The EOS-M is based on the 18MP APS-C sensor that Canon introduced in the T4i, with built in phase detection AF pixels which assist the main contrast detection AF system. This allows continuous tracking AF in video mode. In fact the EOS-M seems to be more or less the internals of the T4i, but in a smaller, mirrorless body and with a simpler user interface.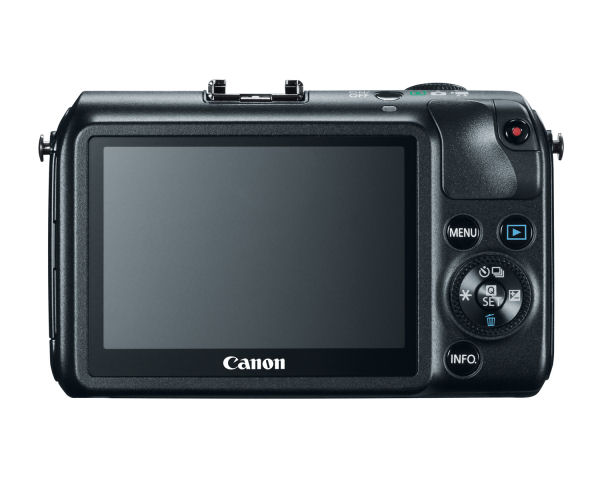 Like the T4i, the EOS-M also has a touch sensitive LCD, but unlike the T4i it depends on the screen for most camera control functions and lacks dedicated buttons for things like setting ISO, white balance etc. The EOS-M is clearly aimed at those more familiar with touch screen cameraphones than DSLR controls.
There will be two lenses offered initially, a 22mm f2 pancake lens (without image stabilization) sold in a kit with the EOS-M body and a EF-M 18-55/4-5.6 IS lens $299.99). Both lenses have STM (stepper motor) AF motors which are optimized for smoothe continuous AF focus. An EF/EF-S to EF-M adapter will also be available along with a small Speedlite 90EX external flash. The EOS-M has no built in flash.
What's Good?
The EOS-M has an APS-C sensor and via an adapter ($199.99) will be able to use all EF and EF-S lenses, retaining all functionality including AF and IS (for IS lenses) and aperture control. The 22mm f2 lens is pretty compact.
What's not so good
The EOS-M is somewhat lacking in direct controls. Some might see this as a positive I guess, but I like knobs, dials and buttons! It's pretty much LCD screen and menu driven. There's no built in flash, optical viewfinder or electronic viewfinder and no provision for an external add-on electronic viewfinder. I've used an Olympus Pen quite a lot and I personally find it a much easier camera to shoot with when I have the optional accessory EVF attached. The EOS-M also won't be available until October and for a basic camera, at $799.99 with the 22/2 lens it's not particularly cheap. The $299.99 18-55/4-5.6 isn't particularly cheap either at $299.99
The choice of the 22mm f2 as the primary kit lens seems a little odd since the camera would seem to be aimed at the entry level user and Canon have traditionally offered an 18-55 zoom as the kit lens on such cameras (e.g. the Digital Rebels).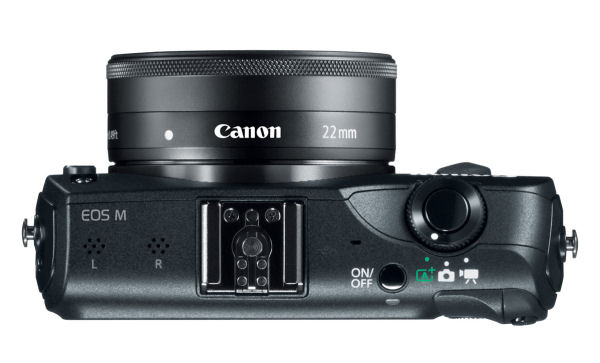 What I'd like to see would be an EOS-M with a more conventional control layout with modes set by a dial rather than via an LCD screen and dedicated buttons for things like WB and ISO. I'd also like to see provision for an EVF, either built in or as an accessory. However Canon are pretty smart and I'm sure they have tailored the EOS-M to the audience that they are initially targeting (which isn't me!).
Canon have some stiff competition from Sony with their NEX series APS-C sensor mirrorless cameras and Olympus with their 4/3 sensor mirrorless cameras. Both have fairly mature lens lines and good image quality. Of course they can't properly use Csnon EF or EF-S lenses, so if you have a collection of Canon lenses, then the EOS-M would clearly have a significant advantage.
Here's copy of the Canon Press Release