EOS 7D vs EOS 50D vs EOS 5D MkII comparison- which one to choose?
| | |
| --- | --- |
| | Canon EOS 7D with new EF-S 18-135/3.5-5.6IS lens |
With the announcement of the 7D, Canon users now have 5 levels of DLSR to choose from:
Digital Rebels - crop sensor entry level cameras. Smaller, lighter and cheaper, but with a very good set of features, including HD video. No rear QCD and no top LCD.
The EOS XXD series (30D/40D/50D) - crop sensor "prosumer" cameras for more advanced amateurs. Rear QCD and top LCD. Better built than the Rebel series and with more features. No video yet, but that will no doubt come with the 60D!
The new EOS 7D - crop sensor camera for advanced users. Highest pixel count, fastest frame rate (8fps), advanced AF and exposure systems and built in control of wireless slaves.
The EOS 5D MkII - full frame sensor camera, loaded with features including HD video.
The EOS 1 series. Full professional level construction. The 1D series are designed for high speed and up to now have used APS-H (1.3x multiplier) sensors. The 1Ds series are full frame and designed for the highest image quality.
Choice is usually a good thing, though sometimes having too many options to chose from results in the ability to chose at all! It's not too bad in the case of the 7D/50D/5DII though.
The EOS 5D MkII is clearly the choice if image you need a full frame sensor. Image quality (especially at high ISO settings or with large sized prints) is better with a full frame camera and there are DOF and lens issues which can make full frame more desirable. It's $1000 more expensive than the EOS 7D.
The EOS 50D is the budget choice, still yielding very high quality images, a fast frame rate (6fps) and wide ISO range (100-12800). It's $600 cheaper than the EOS 7D and $1600 cheaper than the 5D MkII. It does lack any video capability through, which the 7D and 5D MkII have.
The 7D provides full HD video capability, a very fast frame rate (8fps) and the promise of more advanced metering and autofocus (though until tests have been done, the degree of advancement remains unknown). It's a pretty good compromise for those who want a camera with a lot of great features, but who don't need full frame and don't want to spend the extra $1000 on a 5D MkII.
Looking at the EOS 7D features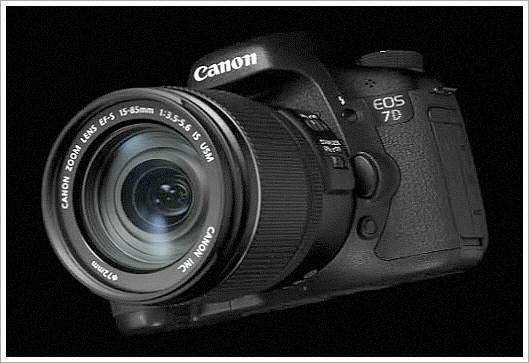 Canon EOS 7D with new EF-S 18-85/3.5-5.6 IS USM lens
First, like 99.9% of you (in early September 2009), I haven't even seen an EOS 7D in the flesh, so I'm not going to attempt to critique its performance. Not actually having used one doesn't seem to stop some people from commenting on and criticizing what they think noise and dynamic range might be, but I'm not going to do that!
Sensor
Well, it's APS-C, not full frame. Nothing wrong with that. APS-C is perfect adequate for the vast majority of photographers. I use an EOS 40D much of the time. However size does count for something and I think there's really no question that if you are after the ultimate in image quality, bigger is better. Just as in the world of film, 8x10 absolute image quality is better than 6x6, which in turn is better than 35mm. That doesn't make 35mm bad, it just makes 8x10 better. It's the same with digital. APS-C is very,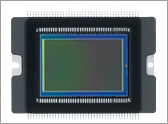 very good. Full frame is better. For small prints the difference is too small to notice, but for large prints it's not.
The EOS 7D has an 18MP sensor while the 50D has 15MP. In practice the difference between 15MP and 18MP is small. Small to the point where unless you're making huge enlargements, you'd be unlikely to see the difference. In theory, with a perfect lens, a 15MP sensor might be able to resolve 106 lp/mm and an 18MP sensor might be able to resolve 116 lp/mm. In theory. In practice the numbers will be smaller and the difference will blur due to lens limitations. 18MP is probably more of a marketing advantage than a technical advantage. Though the pixels of the 7D are smaller than those of the 50D, Canon claim that the new sensor design of the 7D is more efficient at capturing light. If this is the case then the noise performance may not be compromised. I can only comment on that after I've done some actual testing of course.
Shutter
The EOS 7D has a shutter rated for 150,000 cycles, just like the EOS 5D MkII. The EOS 50D shutter is rated for 100,000 cycles. While most people won't ever shoot that many images, the more robust shutter will please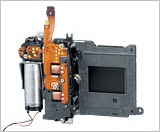 sports, new and event (wedding) photographers who may well exceed 100,000 shutter activations during the life of the camera.
The 50D can soot in continuous mode at 6fps while the 7D can shoot at 8 fps. There are probably some photographers for whom this would be an important difference, though I'm not really one of them. Rapid fire shooting just doesn't come up in the type of work I do. I'm not saying it never will of course, but for me (and I suspect most photographers), the difference between 6fps and 8fps isn't very important. Even the 5D MkII at 3.9fps is probably fast enough for most of us. However if you shoot action sports, then 8fps may give you an advantage over 6fps.
Exposure Metering
I've always found the 35 zone metering system of the 40D/50D and 5D to be pretty good. It very rarely let's me down and even if it's slightly off, by shooting in RAW mode (which I tend to do these days), correction are easy to make. The 7D has a new 65 zone metering system which takes color into account as well as brightness (as Nikon have been doing for years). Well, I expect that it's probably better. However since the 35 zone metering is probably good 95% of the time, it doesn't leave a huge amount of room for improvement, even with a perfect system!
Durability
The new EOS 7D is environmentally sealed. Canon state that the seals against dust and moisture are approximately equivalent to those which were used on the EOS 1N film camera. Durability is ensured by the use of a strong magnesium chassis.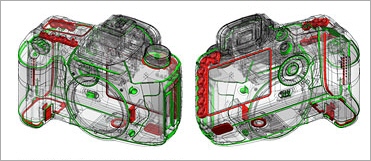 Environmental seals are shown in red. High strength seams are shown in green
Wireless Flash Control
Now here's a really useful new feature for anyone who does flash work. The EOS 7D can control 3 groups of external speedlites with up to 4 speedlights in each group using its built-in flash as the wireless controller. All previous EOS cameras have required either a shoe mounted speedlite which can act as a wireless controller (e.g. 580EX II) or a shoe mounted wireless flash controller. Of course other manufacturers like Sony and Nikon have had this capability for years, but Canon have finally caught up, and that's a good thing.
Electronic Leveling
The EOS 7D has a built in electronic level which can display an indicator on the screen to tell you when the camera is being held level. It's a nice feature to have. While you can use a shoe mount level (or rotate the image post exposure digitally), the built-in level is probably more convenient. It's nice, not really necessary. It's like an extra cupholder in your car...
AF zones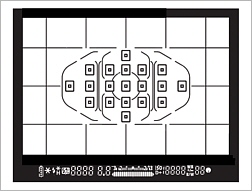 The EOS 7D has a new AF system with 19 cross type sensors (vs 9 cross sensors in the 50D and 9 zones with 6 hidden zones and 1 cross sensor in the 5D Mkii). It remains to be seen how much improvement there is in AF performance and I'm not even going to speculate on that. The new 19 zone AF system does seem to be more flexible in the way zones can be selected though. Personally I'm a "center zone" focuser 95% of the time, but I can see how more zones could be useful. Like all DSLRs though, the AF zones are still grouped in the center of the frame.
The viewfinder illustration on the left shows the position of the individual AF zones, as well as optional markings such as a grid and 5 "area zones" which group several AF points together.
Viewfinder
The EOS 7D has a 100% 1x optical viewfinder. The 50D has a 95% 0.95x viewfinder and the 5D MkII has a 98% 0.71x viewfinder. From these numbers you might think that the 7D has the largest viewfinder, but if you did, you'd be wrong. You have to take format size into account. In fact the relative viewfinder screen size you see when looking through the viewfinder is given by (coverage x magnification)/(digital multiplier factor). The digital multiplier factor for APS-C is 1.6x and for full frame is 1x. So the
relative
viewfinder sizes are:
EOS 7D - 0.62
EOS 50D - 0.56
EOS 5D MkII - 0.7
So the 7D viewfinder is about 10% larger than that of the 50D, but about 12% smaller than the 5D MkII
While a bigger viewfinder is better, it's another one of those "cupholder" features. Nice to have, not really essential. I feel much the same way about 100% vs 98% vs 95% coverage. I can't really remember making any recent prints without doing at least a little cropping. Now when I was shooting slides it was very annoying to have the edge of a lamp post creep into the shot due to a viewfinder coverage of less than 100%, but when shooting digital it's not quite so big a deal.
Video
Video capability is nice and the EOS 7D currently has the best video capability of any DSLR on the market. It's similar to that of the EOS 5D MkII, but has additional frame rate options. The lack of video in the 50D may be a deal breaker for some, but may not matter to others. I've no doubt that the 60D will have video if and when it's launched, but for now the 50D lacks video. Even the latest Digital Rebel, the T1i has some video capability.
Conclusions
Well, this is just a spec analysis, but on paper the EOS 7D is certainly a more fully featured camera than the EOS 50D. It's likely that for most users in most situations, the image quality will not be dramatically different from that of the 50D, but it does have some nice additional features such as video and built-in wireless flash control which simply aren't present in the 50D. I'd be very surprised indeed if the EOS 5D MkII didn't provide higher image quality from its full frame sensor, but than at $1000 more, it should!
If I was in the market for an APS-C crop sensor camera, the EOS 7D would be my current choice based on specifications and capabilities. As soon as I get a chance to test one, I'll be able to give an assessment of image quality and how well the updated exposure and AF systems work.
Availability
The EOS 50D is widely available at a
discount price in the region of $1100
. The EOS 5D mkII seems to be in chronic shortage and has been ever since it was announced. You can usually get one within a few weeks, but even the major retailers don't seem to be able to keep them on their shelves and they go in and out of stock fairly quickly. The only people who do keep them in stock do so by selling them for $3100 to $3500 which is $400-$800 over the list price! As I write this
Adorama are showing the 5D MkII in stock
- at the correct $2699.95 price, but by the time you read this, they may be out again!. The EOS 7D is supposed to start shipping around the end of September for $1699, so realistically if you
put your name on a waiting list today
, you may actually get the camera in early October.
EOS 7D, 50D and 5DII Specifications
Canon EOS 5D
Canon EOS 7D
Canon EOS 5D MkII
Est. Street Price (09/09)
$1100
$1699
$2699
Amazon Links

Adorama Links

EOS 50D - $1099
EOS 7D - $1699
EOS 5D MkII - $2699
Sensor type
CMOS
CMOS
CMOS
Sensor size
22.3 x 14.9 mm (3.32 cm²)
22.3 x 14.9 mm (3.32 cm²)
36 x 24 mm (8.64 cm²)
Sensor resolution
4752 x 3168
5184 x 3456
5616 x 3744
Effective pixels
15.1 MP
18.0 MP
21.1 MP
Pixel density
4.5 MP/cm²
5.4 MP/cm²
2.4 MP/cm²
Pixel Size (pitch)
4.7 microns
4.3 microns
6.4 microns
Low resolution modes
3456 x 2304, 2353 x 1568
5184 x 3456, 3888 x 2592, 3456 x 2304, 2592 x 1728
4080 x 2720, 2784 x 1856, 5616 x 3744, 3861 x 2574, 2784 x 1856
ISO rating
100-3200 in 1/3 stops, expandable to 6400 and 12800
100-6400 in full or 1/3 stops, expandable to 12800
100 - 6400 in full or 1/3 stops, expandable to 50, 12800 and 25600
Auto Focus
TTL-CT-SIR AF-dedicated CMOS, 9 focus points (diamond shape, cross-type)
TTL-CT-SIR AF-dedicated CMOS, 19-point all cross-type AF (f/2.8 at center: Dual Cross Sensor)
TTL-CT-SIR AF-dedicated CMOS, 9 AF Points (1 Cross Type) + 6 AF Assist Points
White balance
Auto, Daylight, Shade, Cloudy, Tungsten Light, White Fluorescent Light, Flash, Custom, Color Temperature
Auto, Daylight, Shade, Cloudy, Tungsten Light, White Fluorescent Light, Flash, Custom, Color Temperature
Auto, Daylight, Shade, Cloudy, Tungsten Light, White Fluorescent Light, Flash, Custom, Color Temperature
Shutter Speeds
1/8000 - 30 sec
1/8000 - 30 sec
1/8000 - 30 sec
Shutter Durability
100,000 cycles
150,000 cycles
150,000 cycles
Built-in Flash
Yes, pop-up
Yes, pop-up
No
Built-in wireless flash control
No
Yes, Can control up to 3 groups of 4 flashes each.
No
Flash Sync Speed
1/250s
1/250s
1/200s
Flash range
13 m (ISO 100)
12 m (ISO 100)
External flash
Yes, hot-shoe, E-TTL II
Yes, hot-shoe, E-TTL II
Yes, hot-shoe, E-TTL II & sync
Flash modes
Auto, On, Red-eye reduction, Off
Auto, On, Red-eye reduction, Off
Determined by external Speedlite
Exposure compensation
-2 to +2 EV in 1/3 EV or 1/2 EV steps
-5 to +5 EV in 1/3 EV or 1/2 EV steps (only 3 stops shown in viewfinder)
-2 to +2 EV in 1/3 EV or 1/2 EV steps
Metering
35 area Eval, Center weighted, Partial, Spot
63 area Eval, Center weighted, Partial, Spot
35 area eval, center weighted, partial, spot
Exposure Modes
Program AE (Shiftable), Shutter-priority AE, Aperture-priority AE, Depth-of-field AE, Creative Auto, Full auto, Programmed image control modes (portrait, landscape, close-up, sports, night portrait, flash off), Manual exposure, E-TTL II autoflash program AE
Program AE (Shiftable), Shutter-priority AE, Aperture-priority AE, Creative Auto, Full auto, Manual exposure, E-TTL II autoflash program AE
Program AE (Shiftable), Shutter-priority AE, Aperture-priority AE, Creative Auto, Full auto, Manual exposure, E-TTL II autoflash program AE
Focal length multiplier
1.6x
1.6x
1x
Lens mount
Canon EOS EF and EF-S
Canon EOS EF and EF-S
Canon EOS EF
Continuous Drive
Yes, 6.3 fps or 3 fps
Yes, 8 fps or 3fps
Yes, 3.9 fps max
Buffer Size
JPEG (Large/Fine): approx. 60 (CF)/approx. 90 (UDMA CF)
RAW: approx. 16
RAW+JPEG (Large/Fine): approx. 11
JPEG (Large/Fine): approx. 94 (CF)/approx. 126 (UDMA CF)
RAW: approx. 15/approx. 15 (UDMA CF)
RAW+JPEG (Large/Fine): approx. 6 (CF/UDMA CF)

JPEG (Large/Fine): approx. 78 (CF)/approx. 310 (UDMA CF)
RAW: approx. 13/approx. 14 (UDMA CF)
RAW+JPEG (Large/Fine): approx. 8 (CF/UDMA CF)

Video
None
1920 x 1080: 30fps / 24 fps / 25fps, 1280 x 720 (HD): 60fps / 50fps, 640 x 480 (SD): 60fps/ 50fps
1920 x1080 @ 30fps, 640 x 480 @ 30fps
Video Manual Exposure Control
Shutter Speed and Aperture
Shutter Speed and aperture
Audio for video
Built-in Mono, stereo jack for external mic
Built-in Mono, stereo jack for external mic
Remote control
N3 connector
N3 connector
N3 connector, RC-1/RC-5 IR remote
Self-timer
2 or 10 sec
2 or 10 sec
2 or 10 sec
Storage types
Compact Flash (Type I or II), UDMA
Compact Flash (Type I or II), UDMA,
Compact Flash (Type I or II), UDMA,
Uncompressed formats
RAW, sRAW1, sRAW2
RAW, sRAW
RAW, sRAW1, sRAW2
Viewfinder
Optical (Pentaprism, 95% coverage, 0.95x magnification)
Optical (Pentaprism, 100% coverage, 1x magnification)
Optical (Pentaprism, 98% coverage, 0.71x magnification)
Viewfinder Screen
Interchangable
Fixed
Interchangable
Electronic Level
No
Yes (dual axis)
No
LCD
3 "
3 "
3 "
LCD Dots
920,000
920,000
920,000
Live View
Yes
Yes
Yes
USB connection
USB 2.0
USB 2.0
USB 2.0
HDMI output
Yes
Yes
Yes
Environmentally sealed
No
Yes
No
Battery
Canon BP-511A Li-Ion & Charger
Canon Li-Ion LP-E6 & CR1616
Canon Li-Ion LP-E6 & CR1616
Weight (inc. batteries)
822 g (29 oz)
860 g (30.3 oz)
850 g (30 oz)
Dimensions
146 x 108 x 74 mm (5.8 x 4.3 x 2.9 in)
148 x 111 x 74 mm (5.8 x 4.4 x 2.9 in)
152 x 114 x 75 mm (6 x 4.5 x 3 in)