Geotaging photos - I-gotU GT-800 GPS data logger review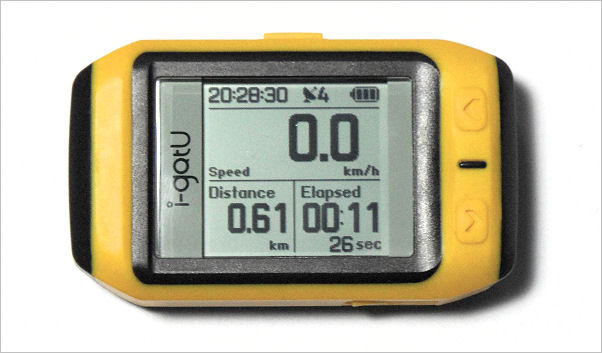 I-gotU GT-800 GPS logger computer (38.3 x 64.8 x 17.9 mm)
The latest addition to cameras is a built in GPS system which tags images with location information (in the EXIF data files which are part of each stored image). This can be very useful if you need to know exactly where a picture was taken, or it can be used to create a slide show along with a map to show points of interest on a trip. The advantage of a built in GPS tagger is that it's always with the camera and the information is automatically added to the images.
However there is another way to geotag images, and that's with a stand alone GPS data logger. These devices record the GPS derived position every few seconds, along with the time. Software (usually provided along with the GPS logger) then compares the time stamp on the images to the GPS data and time and adds GPS coordinates based on the time at which the picture was taken. Obviously the camera time setting must be synchronized with the GPS logger time for this to work properly, though some software has a time offset option, so that, for example, if your camera time is running 87 minutes slow, that can be taken into account when matching time and position.
The advantage of an external GPS logger is that it can be used with any (and all) digital cameras, so if you are shooting with two DSLRs and a couple of point and shoots, all your images can be tagged with position information from the GPS logger. Some external GPS loggers can provide additional information such as speed, average speed, altitude, direction and some can even provide direct navigation help by showing compass heading and recording waypoints.
Having looked at most of the available GPS loggers, I decided to buy the I-gotU GT-800. It looked like it would be very useful, though all the online "reviews" were useless repetitions of the manufacturer's blurb plus a link to where to buy it. The word "review" seems to be being badly abused these days and typically seems to be used simply to attract viewers to advertising </end of rant>. The GT-800 is not the cheapest or smallest (though it's not the most expensive and largest either), but I think it maybe offers the best "bang for the buck", especially if you want to do more with it than just geotag images. Following is a real review based on actual use!
BTW, the basic i-gotU geotagger is the GT-120. It has one button and two LEDs. Push the button and it starts logging GPS data (once it's gotten a satellite fix). Push it again and it stops logging. If the LEDs flash in the right sequence, you are acquiring data. It's inexpensive (<$50) and very small and I'm sure does a good job but I don't like "black box" gadgets much. I like to know it's doing something and I like to know what it's doing, so I went for the GT-800 model which has an LCD display which can show all sorts of data, plus it can be used to setup the data logger without the need for an attached computer. In fact i-gotU (is that the best name they could think of...?) call it a GPS computer, not a GPS logger
The I-gotU GT-800 GPS Data Logger Computer
Major features:
Display essential information, including current speed, average speed, distance, altitude, pace, laps, moving time, current time, battery indicator, pedometer, satellite status... etc.
IPX 7 waterproof design (30 minutes at a depth of 1m under water)
Long battery life with built-in motion sensor.
Wrist mount included
Industry standard (EN-EL10) replaceable Li-ion battery
Industry standard micro-USB connector
Handlebar mount included
Built-in pedometer for exercise monitoring
Built-in stopwatch to measure up to 23hr, 59mins, 59secs.
Programmable GPS logging interval from 1sec~60secs.
GPS Compass to display the heading for your movement.
Easy-to-use @trip PC software, share your trips with @trip online service.
Auto geotagging of photos quickly, compatible with all digital camera
Sports Analyzer software to organize and analyze your workouts, including tracks, charts and calorie burned.

The LCD display allows full control over the setup of the GT-800. Below shows the menu choices which allow setting things like display units (US/metric), frequency of data logging etc.

Once the unit has been setup you can chose what data to display. You can also monitor which (and how many) GPS satellites the GT-800 is currently receiving data from. Display data includes time, # of satellites in use, speed, altitude, elapsed time, latitude and longitude and a GPS compass (only works when you are actually in motion). You can also monitor the number of GPS data points which have been logged. In addition to the regular data logging, you can record the coordinates of points of interest by simply pressing the menu button for less than 2 seconds (more than 2 seconds brings up the menu options). There's also a pedometer function which shows how many steps you've taken. There's even a route planner. You can download a route from the supplied software (a sequence of up to 100 locations which you enter from a map) and the GT-800 will then tell you the direction, distance to, difference in altitude between and predicted arrival time for each location from your present position. You can also get the same information for each of 900 "points of interest" you have entered into the GT-800 directly.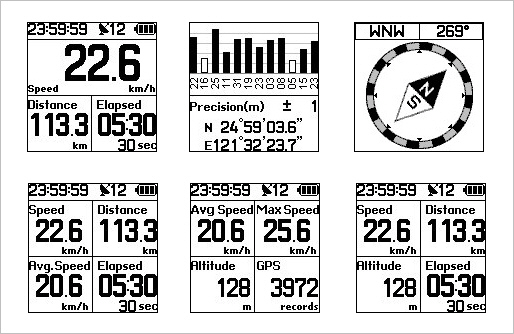 Note that the GT-800 isn't a satellite navigation device. It doesn't have maps built into it. When it gives you directions to a particular point, it just tells you that the point is, say, 37.3 miles away, plus it points at the compass heading to that point. It doesn't tell you to "turn left on Main Street".
The display data can be electronically rotated 90 degrees, so that it can be read with either the unit horizontal (as when worn on the wrist) or vertical (as when mounted on bike handlebars). There is a backlight option for use in the dark.
GPS sensitivity seemed good. From a cold start (after a full reset), it took less than 2 minutes to acquire enough satellite signals to generate a GPS position with an accuracy of 1m. Indoors it took longer to acquire a signal form a cold start but generally the TTFF (Time To First Fix) was under 5 minutes. GPS lock indoors is prone to occasional dropouts as with any portable GPS system. Warm starts and hot starts (i.e. starting up the GPS while some of the satellite information stored by the system is still current) are much faster because the GT-800 knows which satellites to look for.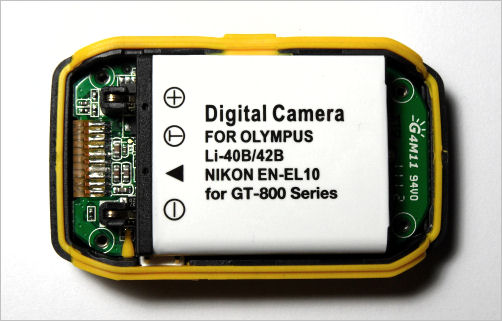 The I-gotU GT-800 has a replaceable rechargeable Li-ion battery. Normally it is recharged via the USB port (4hrs the first time, 2 hrs after that for a full charge). However I guess if you were out in the wilderness for a long time and had no access to a USB charger you could carry spare batteries and swap them out as necessary. Battery life isn't specified for the GT-800, but I'd expect well over a full day of continuous data logging not to be a problem at all. Smaller I-gotU units with smaller (non replaceable) batteries are rated to at least 30 hours. The GT-800 has a power saving mode in which it will power down if it doesn't detect any movement for a while. Battery consumption is also related to how often you log GPS data. Intervals from 1 to 60 seconds can be selected (5 seconds is the default value)
I-gotU GT-800 Software
Once you have the data logged, it can be transferred to your computer via the supplied USB cable and software. Note that the supplied software disk is marked for use with "Windows 7, Vista or XP". All bets are off if you have another operating system (earlier Windows, a Mac or a Linux system). On a Mac it is advised to use Windows emulation software.
There are two software packages, @trip-pc and Sports Analyzer. Both of them use the imported GPS data to plot a route overlay on a Google map. The sports software gives you things like calories burned and allows you to input what activity you were doing (running, biking, climbing, skiing, golfing, boating etc.). Data can be displayed as below:

However it's the @-trip PC software (another interesting choice of name...) that will be of most interest to photographers since it's the application that allows the tagging of images with GPS derived data.
Geotagging photos with the @-trip PC software is pretty easy. Once the application opens you can select images to tag or you can select a folder of images. The software will then download the GPS data (or use already downloaded data) and attempt to match up GPS times and positions with the times of the images. If it can't find a match or the match is wrong (say because your camera time setting is 2 hrs and 17 minutes slow), you can select an image and tell the software where it was taken on your route (which is displayed on a map as an overlay on a Google map) and the software will then take into account the time difference between the GPS and camera and apply it to all the other images so that they are geotagged with the correct coordinates. All this sounds more complex than it really is.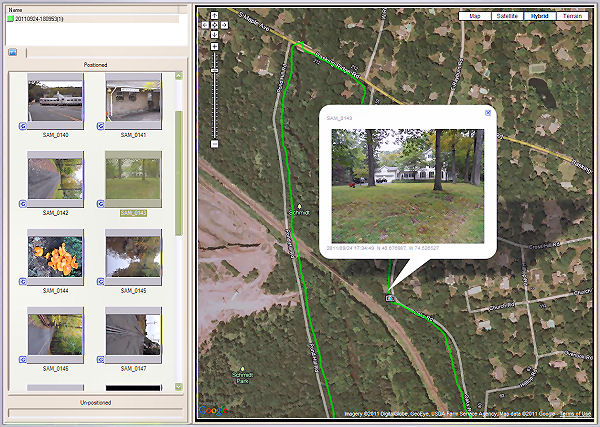 Geotagging program shows where each image was taken
Once you're happy with the locations that the software has assigned to your images, you then tell it to write the GPS tagging data into the EXIF fields in your JPEG images. Note that you can only tag JPEG images, not RAW images. If you have shot RAW, you can convert to JPEG and then tag those images of course. You can see the data that has been written into the EXIF field of the image using an EXIF reader program such as Opanda.

Opanda readout of GPS data written to image by @-trip PC
Conclusions
The I-gotU GT-800 GPS computer/logger seems to work well. The hardware appears to be well built with excellent sealing against water and dust (it's rated for 30 minutes under water at a depth of 1m) and the GPS receiver seems sensitive and accurate. The software is fairly easy to use and does a good job of attaching GPS data to an image's EXIF field. It works well as a photo tagger, but of course it can do much more than that and act as a basic navigation device, route tracker and sports data logger and analyzer. Though it's more expensive than a simple "black box" GPS logger such as the I-gotU GT-120, I think it's well worth the extra cost for all the additional features and capabilities which it provides. As I said at the start of this review, I bought one myself (from Amazon) so I must think it's a pretty good deal!
I-gotU GT-800 GPS Data Logger Computer Specifications
Dimensions | Weight
38.3 x 64.8 x 17.9 mm | 51g
Display
128 x 128 pixel 1.4" LCD with backlight
GPS
SiRF Star III Low Power chipset
Hot Start: < 1 sec
Warm Start: < 35sec
Cold Start: > 35sec
WASS & EGNOS support
GPS Antenna
Built-in patch antenna
Motion Detection
3D G-sensor
Interface
Micro-USB 2.0
(For data-downloading and charging )
Water proof
IPX7 (1 meter underwater for 30 minutes)
Battery
Replaceable Li-ion 700mAh
( EN-EL10 equivalent )
Buttons
3 buttons (Up / Down / Menu)
Build-in memory
64Mb (up to 200,000 waypoints)
Waypoints
200,000
Temperature range
-10°C~+50°C (Operational)
If you visit the home website of the I-gotU GT-800 - http://global.mobileaction.com/product/product_i-gotU_GT-800.jsp be prepared to be frustrated. The site is far from well designed. Some stuff is almost impossible to find and some of the dialog appears to be the result of machine translation from Chinese to English (possibly via French and German). Luckily the products works better than the website.