Mirrorless Interchangeable Lens Cameras (MILCs)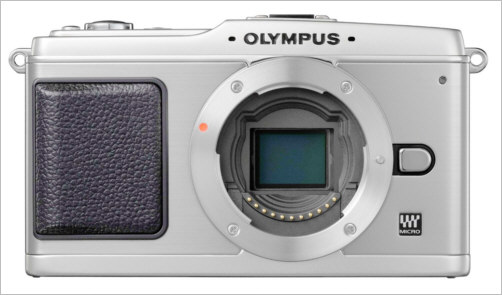 Olympus PEN E-1. The first of the current generation of mirrorless interchangeable lens cameras
What is a MILC? What models are available? Which is the best? For answers to these and other questions read on...
Mirrorless interchangeable lens cameras (MILCs) are the fastest growing sector of the photographic market. They were previously sometimes referred to as EVIL (Electronic Viewfinder Interchangeable Lens) cameras, but I think most manufacturer's prefer MILC to EVIL! Of course some MILCs are also EVIL. While most use the LCD on the back of the camera to frame the image, a few also have an electronic viewfinder which mimics the optical viewfinder of a DSLR.
The name pretty much explains them. While DSLRs (Digital Single Lens Reflex) cameras have always had interchangeable lenses, the alternative up until recently were the "P&S" (Point and Shoot) cameras which have traditionally had a fixed lens (usually a zoom). In order to make P&S cameras small, light and inexpensive they use a small sensor. The largest P&S sensors are perhaps 6mm x 8mm, while the smallest may be as small as 6mm x 4mm. DSLRs on the other hand have much larger sensors. Full frame sensors are 24mm x 36mm and APS-C (or crop sensor) sensors are around 15mm x 22mm. Olympus however made slightly smaller DSLRs with a sensor that measure around 13mm x 17mm.
Then in June of 2009 Olympus announced the Olympus PEN E-P1, which was the first real MILC camera combining a small, relatively inexpensive, non-reflex, digital camera body with an interchangeable lens system. The PEN name is a reference to their small 1/2 frame Olympus Pen F series of interchangeable lens DSLRs of the late 1960s. The PEN E-P1 used the same sized sensor as Olympus had used in their DSLRs, but a new lens mount was developed ("micro four thirds") that allowed the lenses to me mounted closer to the sensor to minimize the overall size of the camera system.
Technically I guess that the Leica M8 (July 2007) was the first MILC, but at $6000+ for the body and a few thousand more for a lens or two, it (and the M9) aren't really what the current generation of mirrorless cameras are about.
In the following years, more manufacturers entered the MILC market. In fact at the time of writing (November 2011) only Canon has not yet announced a MILC camera. So why have MILC cameras become a "hot item". Well, part of that is due to intelligent marketing on the part of the camera manufacturers and part is due to the novelty factor. If you already have a DSLR and a P&S, then you'll probably want a MILC too. We all like new "toys" (though most MILCs are very capable cameras)
Why MILCs
MILC cameras currently occupy a space between P&S digital compact cameras and DSLRs. They are typically smaller than DSLRs (and their lenses are typically smaller than DSLR lenses), but their image quality is higher than that of P&S compact cameras due to their larger sensors. The fact that the lenses are interchangeable also allows a wider range of possibilities. For example relatively fast prime lenses are available for low light work, zooms are available for general shooting and there are even some specialty lenses such as fisheyes and "toy" lenses for special effects. Such a wide range of lens options isn't possible with a fixed lens camera.
The downside of MILCs is their (typically) smaller sensor than most DSLRs. All else being equal, a smaller sensor will generate more image noise at any given ISO setting. Smaller sensors (or more accurately, the lenses designed for use with them) also result in a greater depth of field for a given aperture and field of view. So while a fast 50mm lens on a full frame DLSR may allow you to isolate a subject by rendering the foreground and background out of focus, a lens of similar speed and angle of view on a small sensor camera will not blur the background and foreground as much and so will not isolate the subject as well. You can sort of summarize this as "larger sensors generally give better bokeh" (when used with the right lenses). Of course you can make a MILC with a large sensor, but then you lose some of the advantages of MILCs in that you are back with relatively large lenses and a non-pocketable system.
Mirrorless cameras do have some technical advantages over DSLRs (with the same sensor size). The lack of a reflex mirror means that the rear element of the lens can be closer to the sensor, which in theory might make wideangle lenses a little easier to design and/or provide better performance. In addition, since you don't have to spend time moving the mirror up and down between shots, it's much easier to design a camera that can shoot at high frame rates, though of course with appropriate design, you could just lock the mirror up in a DSLR (Live View) and gain the same frame rate advantage. MILCs might also have a cost advantage since they don't require a complex mechanical mirror system and often don't use a mechanical shutter either.
The Pentax Q

The Pentax Q is the smallest MILC with the smallest sensor. The sensor is a 12 MP 1/2.3" back illuminated CMOS. 1/2.3" corresponds to approximately 6.2mm wide x 4.6mm high or a total area of around 28 mm2. This is an average size for a P&S compact camera. There are larger sensors in some P&S cameras, the Fuji X10 has a 2/3" sensor (8.8mm x 6.6mm, 58 mm2) and the Canon G12 has a 1/1.7" sensor (7.6mm x 5.7mm, 43mm2. The use of a small sensor allows the Pentax Q to be very small, and the lenses also to be very small and light. Even with a lens such as the 8.5mm f1.9 (approximately equal to a 50mm lens on a 35mm full frame camera), the Pentax Q can be slipped into a jacket pocket.
The Pentax Q measures 98mm x 58mm x31mm (3.9" x 2.3" x 1.2") and weighs only 198g (7oz). The 8.7mm f1.9 prime lens weighs only 36.8g (1.3oz). This makes the camera with a memory card, battery and lens around 230g (8oz). Without a small sensor the camera and lens would both have to be bigger and heavier and it's clear that the goal of Pentax was to put as much performance as possible into the camera, while still keeping it the smallest MILC available. In some ways it's a digital version of the old Pentax 110 SLR system.
Despite the small sensor size, the image quality of the Pentax Q is among the best of those produced by any P&S size compact camera. I've had the chance to use a Pentax Q for a few days and it's certainly a very cute and very capable camera. AF is fast, image quality is as high as you have any right to expect from a camera with a small sensor and it has more bells and whistles than you can count. The styling is also very pleasing with a "retro" use of knobs and dials (all metal) rather than totally relying on menus displayed on the LCD. It's a very solid camera with an all metal (magnesium alloy) external shell. A small range of lenses is available for the Q. In addition to the 47mm (equivalent) f1.9 prime, there is also a 17.5mm (equivalent) fixed 5.6 aperture fisheye lens with a 160 degree diagonal field of view, a 35mm f7.1 (fixed aperture) wideangle "toy camera" lens, a 100mm telephoto f8 (fixed aperture) "toy camera" lens and a 27.5-83.0mm(equivalent) 2.8-3.5 zoom. Prices range from around $80 for the "toy" lenses to around $300 for the zoom. The toy lenses produce images which are Pentax describe as "nostalgic, surealistic and impressionistic".
The Nikon 1
The latest addition to the MILC family at the time of writing is the Nikon 1. Nikon also chose to go with a fairly small sensor, though not as small as the Pentax Q. The sensor in the Nikon 1 is what Nikon are calling "CX" and measures 13.2mm x 8.8mm (116 mm2). This keeps the camera small (though not as small as the Pentax Q), yet allows better image quality than a P&S sized sensor.
There are currently two Nikon 1 models, the Nikon 1 J1 and the Nikon 1 V1. The V1 is the more advanced model and includes an electronic viewfinder in addition to the LCD screen, a magnesium alloy body and the ability to add a small speedlite and a GPS module. The J1 is the simpler model, but costs significantly less. Both cameras share the same 10MP sensor and lens system, both can shoot 1080HD video and have the same AF system.
The Nikon 1 is supplied with a 10-30/3.5-5.6 lens, but addition lenses are available. Currently available are a 30-110/3.8-5.6, a 10/2.8 and a 10-100/4.5-5.6. The multiplier factor is 2.7x, so the 10mm lens is equivalent to a 27mm wideangle on a full frame 35mm camera and the 10-100 zoom is equivalent to a 27-270mm zoom.
The Nikon 1 has a claim to fame as being the fastest focusing cameras around. Nikon state that with both phase and contrast detection AF available, it is the fastest focusing camera they have ever made, and that includes their top-of-the-line DSLRs. The Nikon 1 has also been optimized for data throughput and can not only record 1920x1080 HD video at 60fps, but also 640x240 video at 400fps or 320x120 video at 1200fps for slow motion effects. Focus tracking is available in video modes.
In still modes the Nikon V1 can record around 34 frames at 10 fps, or around 30 frames at the remarkable frame rates (full sensor resolution) of 30fps or 60 fps.ooting speed is set at 30fps and 60fps. (As determined by Nikon performance tests)
With good image quality and very fast throughput the Nikon 1 would make a great camera for recording action (such as sports) in both video and still modes.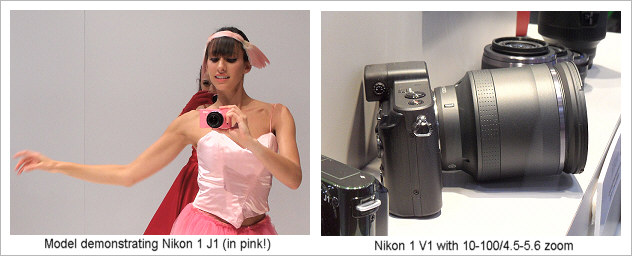 The Olympus Pen Digital
Olympus were first to introduce a MILC in 2009 and since have introduced several new and improved models including the EP-3, EPL-3 and E-PM1 which were released at the end of June 2011. The EP-3 is the flagship model, the E-PM1 the entry level model and the EPL-3 is the mid-range is also used in the Olympus DSLRs. The sensor measures 17.3 x 13.0 mm (225 mm2) and has 12MP resolution. The sensor is an older (in digital terms) design and has been around for around 3 years now. This means it may not quite be up to the resolution and noise that current generation sensors are capable of. It's good, but shows a little weakness at higher ISO settings when compared to the very latest sensor technology. While the early PEN E models were a little slow to focus, the latest models are fast, so AF speed isn't an issue.
Of course the larger size of the sensor (about twice the area of that of the Nikon 1 series and about 4x that of the Pentax Q) still gives it some advantages compared to smaller formats, though it also means that the lenses are a little larger. Despite the larger sensor, the entry level E-PM1 retails for under $450 (with a 14-42mm lens), which makes it cheaper than either the Nikon J1 or the Pentax Q.
The Olympus Pen E series cameras can use any of the Olympus four-thirds or micro four-thirds lenses which range from an 8mm fisheye to a 300mm f2.8 telephoto. The "lens multiplier" to convert to the equivalent fiels of view on a full frame camera is 2x. Specially interesting micro four-thirds lenses include a very small 17mm f2.8 "pancake" lens (equivalent to a 34mm lens on a full frame camera), an ED 75-300mm f4.8-6.7 (equivalent to a 150-600mm zoom on full frame) and an ED 45mm f1.8 lens (90mm full frame equivalent) which makes an excellent portrait lens and has a special Movie-Still-Compatible (MSC) focus system for almost silent focusing while shooting video. Of all the MILC cameras, the Olympus Pen E series and the Sony NEX series (see below) have by far the widest set of available lenses. However many of them (especially the long fast telephotos and zooms) are quite expensive and much bigger and heavier than the camera body, so the advantages of a small light camera are not so fully realized when they are used.
The Panasonic Lumix DMC-G series
The other major camera maker which has bought into the four-thirds format is Panasonic and like Olympus they also have a MILC system based on that sensor. Their most recent MILC offerings are the Panasonic Lumix DMC-GF3 and the Panasonic Lumix DMC-GX1. While the GF3 uses the same 12MP four thirds sensor as the Olympus Pen MILCs, the GX1 uses a new 16MP four-thirds sensor with significantly improved performance. The same sensor is used in the Lumix DMC-G3, which is an EVIL camera (Elecetronic Viewfinder Interchangeable Lens) styled more like a DSLR then the somewhat more compact GF3 and GX1. The G3 also has a swing out LCD for easier viewing.
As with the Olympus Pen E series, though significantly smaller than entry level APS-C DSLRs, the Panasonic MILC (and EVIL) cameras are still not really pocketable unless you have a large pocket and a small lens.
Note that Panasonic use an image stabilization system in the lens, while Olympus use an image stabilization system, in the body. So while both use the micro 4/3 standard which means you can use micro 4/3 lenses from either Olympus or Panasonic on both Olympus and Panasonic camera bodies, if you use an Olympus lens on a Panasonic body you will lose image stabilization.
The Sony Alpha NEX series
Now we get to the "big boys". The Sony NEX series cameras such as the NEX-5N and the NEX-7 have APS-C size sensors, the same size as that found in most mid-range DSLRs. Measuring something like 15mm x 22mm and with an area of 330 mm2 they are 50% larger (in area) than the four-thirds sensors of Olympus, about 3x the area of the Nikon 1 sensors and about 5.5x the area of the Pentax Q sensor. Not only that but the NEX-5N has 16MP and the NEX-7 a whopping 24MP, more than just about any Current DSLR, even full frame DSLRs. The NEX-7 hasn't hit the streets yet at the time of writing (November 2011), but is expected to sell in the $1350 region once it becomes available. The large sensor and high pixel count of the Sony Alpha NEX series cameras results in excellent image quality and high resolution, but the downside is that you are now looking at full size 35mm lenses, or at the least APS-C crop size lenses. The camera+lens combination is no longer small. In fact with any sort of large lens, the difference between using a MILC camera body and an APS-C DSLR becomes pretty much moot. Neither will fit in your pocket, even a big pocket! However if you use something like the very thin "pancake" style Sony Alpha 16mm F2.8 designed for the NEX series cameras, then you do get a very high quality image camera which you could probably fit in a coat pocket. It would measure something like 110.8mm (W) x 62.2mm (H) x 60.7mm (D). A little bulky at just over 2" deep, but still "pocketable" in a large pocket! With similar spec Sony Alpha SLT-A35 DSLR body, the size would be 124mm (W) x 92mm (H) x 85mm (D) without any lens attached. With a 50/1.8 attached the depth would increase to 128mm (about 5") which is significantly larger and unlikely to fit even in the largest pocket.
The Samsung NX series
Samsung are the other player in the APS-C sensor MILC game. Their latest camera, the Samsung NX200 has an all new 20MP APS-C CMOS sensor wrapped in a stylish all-metal body, while the earlier NX100 has a 14MP sensor. The NX200 currently carries a $150 rebate, reducing the price from $899 to $749 and it comes with an 18-55/3.5-5.6 zoom lens. The NX200 is available from Adorama Camera.
As with the Sony APS-C MILC system, the lenses tend to dominate the overall size of the camera system, making a package that is smaller and lighter than a conventional DSLR, but not pocketable like some of the smaller sensor MILC systems unless used with a specialized lens like the Samsung "pancake" 20mm f2.8 which is less than 1" deep and weighs only around 3oz.
But what about Canon? Where is their MILC
Well, I'm sure it's on the way. I'd expect to see something from Canon in 2012. The market for MILC cameras is just too large and growing too fast for Canon to stay out of it. My guess is that they will probably go with a smaller sensor rather than the sensors found in their APS-C DSLRs. For one thing I'm sure they don't want to compete with themselves and eat into their DLSR market. For another, my opinion is that the main advantage of MILCs is that they can offer a smaller, lighter alternative to DSLRs and much of that advantage is lost if a large sensor is used requiring the use of large lenses. Exact what size sensor they will use I don't know. It certainly won't be four-thirds like Olympus because they are not in the four-thirds game. Canon fabricate their own sensors, so they're not constrained by what is available from 3rd party suppliers either, so they can design and build whatever they want.
Just as a wild speculation I wouldn't be surprised to see a new back-illuminated CMOS sensor with maybe half the area of an APS-C sensor and a new line of lenses. This is an absolute guess though. As far as I know there have been no leaks about any technical details of what they are working on.
In an interview in June of this year (2011), Masaya Maeda, head of Canon's camera division said, when asked about the possibility of a MILC from Canon "We are considering the technical aspects. We will launch an interesting product next year". He also added that it will be small. That's pretty much all we know at this point. Something is coming, but we don't know what.
What would I buy if I wanted a MILC
Which MILC I would buy would depend greatly on my needs. If I wanted the smallest, cutest camera with the best styling then the Pentax Q would be it. Good image quality as long as you don't push the print size or the ISO, very small size, very good build quality. At around $800 with a lens it's not cheap, but it is an eye catcher.
If I was an average consumer I'd be very tempted by the Nikon 1 cameras. They are small, cheaper than the Pentax Q and blazingly fast. They are new and incorporate the lastest technology in terms of sensors and data transfer speeds. They're not nearly as cute as the Pentax Q, but as pure photographic instruments the larger size sensor gives them something of an advantage. The Nikon 1 J1 is cheaper then the Pentax Q too.
If I wanted the best compromise between image quality and size then the Olympus Pen E series MILCs and the Pamasonic DMC-G series look very good. The Olympus sensor isn't cutting edge technology, but the larger size makes up for that and the new sensor in the 16MP GX1 looks very promising. They are relatively inexpensive and you can use any of the Olympus four-thirds DSLR lenses on them (though you lose image stabilization with Olympus lenses mounted on a Panasonic body), so if you already have an Olympus DSLR and want a MILC, the Pen E series cameras are the obvious choice.
As for the Sony APS-C sensor MILCs and the new Samsung NX200, they are very good indeed, but lose much of the size advantage of the smaller cameras. They clearly have the best image quality of all the MILCs, so if image quality was my main priority, the Sony NEX-5n or 7 or the Samsung NX200 would have to be top of the list. However I'm not sure I would just go the DLSR route in that case and put up with the larger size of the camera body.
You can check out all the available MILCs at Adorama via this link
-
MILCs at Adorama Camera
Alternatives
The following are possible alternatives to a MILCs at around the same (or lower) cost. There's a choice between larger entry level DSLRs and high end P&S compacts depending on if image quality or size is the most important to you.