Mirrorless Digital Cameras - Who, what why where and when? Nikon? Canon?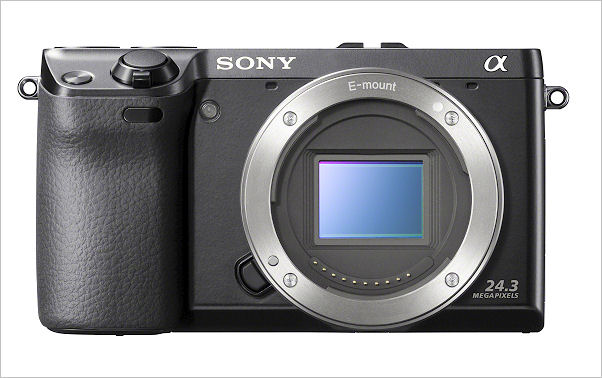 Sony NEX-7, the latest mirrorless interchageable lens digital camera (released August 24th) 2011
In the last few days we've seen strong rumors that a Nikon mirrorless digital camera body will soon be released. In fact Nikon stock went up on that rumor and Nikon took the unusual step of making an announcement that they hadn't made an announcement!
"Nikon understands that some article appeared in the media regarding Nikon's imaging product. Please note that Nikon has made no announcement in this regards"
The rumor appeared on Nikkei.com, a Japanese business daily. roughly similar to maybe the Wall Street Journal. What they said was that Nikon will soon release a mirrorless camera and price it at 70,000 yen-100,000 yen ($900-$1,300) including lens, which is on par with rivals' offerings and also with conventional SLR cameras.
Nikon's response wasn't that they were not planning such a camera, or that the price was wrong. They simply said that they hadn't made any announcement. Hmmm.
Why did the stock go up on the rumor? Because mirrorless interchangeable lens camera sales have been rising and up to date Nikon (and Canon) have not participated in the mirrorless interchangeable lens camera market. Obviously if the market keeps on expanding, as business projections suggest it will, then Nikon and Canon have to get into that market segment to keep their sales high.
So what's the big deal about mirrorless interchangeable lens digital cameras (and why can't we think of a simpler name for them?).
A Brief History
Mirrorless cameras are nothing new. In fact they're pretty old. Most of the original cameras of the late 19th and early 20th century were mirrorless. Twin lens reflex cameras appeared late in the 19th century but the first single lens reflex camera didn't appear until 1952 (Pentax). For many decades, the classic camera was the Leica M series rangefinder.
By the time digital cameras first appeared, the vast majority of serious photographers were using DSLRs, in fact autofocus DSLRs. It therefore made sense to make a digital camera which was essentially a 35mm film DSLR but with a digital sensor placed where the film used to be. Due to cost, the early sensors were smaller than 35mm film, in fact they were about the same size as the late (an not lamented) APS-C film format, so these digital sensors were called "APS-C" size. As sensor prices dropped, full frame sensors appeared.
Leica (who else) made a digital version of their classic "M" series cameras, thought it (and the lenses that fitted it) were outside the price range that most mere mortals were prepared to pay.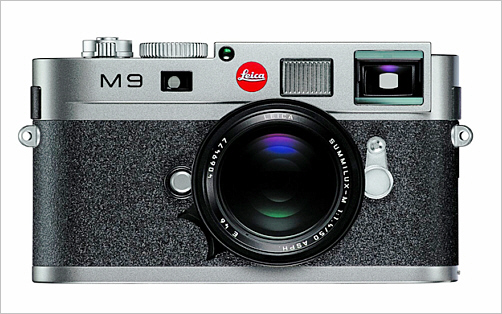 Leica M9 Digital Rangefinder - $7000 (plus lens)
So the dominant low to mid range camera used by serious photographers came to be the APS-C DSLR. Nothing wrong with that at all. Optical reflex cameras give a great viewfinder image. The only problem with a reflex camera is that the mirror assembly is somewhat complex, makes the camera larger than it would otherwise need to be and potentially slows down operation since the mirror has to be physically raised and lowered between every shot.
Of course all the original "Point and Shoot" digital cameras were mirrorless. They had (and still have) a pretty small sensor and only needed a small lens. They're very convenient, but the small sensor limits the image quality, especially at higher ISO settings.
So why not make a camera like an old rangefinder? Interchangeable lenses, a slim mirrorless body and a reasonably large sensor. Of course it can easily be autofocus (so no need for an actual rangefinder system). Why not indeed. On the other hand, why? You can certainly make the camera body smaller, but if you keep an APS-C sensor (or even worse, a full frame sensor), there's not a lot you can do about lens size. If you have a 70-200/2.8 lens designed for an APS-C or full frame sensor, the size and weight of the camera is only a small fraction of the total system size and weight. It's even less of a factor with a a 300/2.8 or a 600/4 lens. A smaller, lighter camera body might be worthwhile when used with something like a 24 or 50mm lens of course. In early 2010 Samsung announced the NX-10, which was the first interchangable lens mirrorless camera with an APS-C sensor.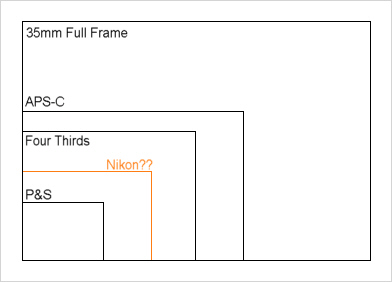 But do you need a full size sensor or even an APS-C sensor? Bigger is better, but smaller may be good enough. That's the tack that Olympus took with their 4/3 sensor, which is around 17mm x 13mm (1/2 the size and 1/4 the area of full frame 35mm). 4/3 sensors are a good deal larger than typical digital P&S sensor (around 6mm x 8mm) and produce image quality almost as good as APS-C for many applications. While the original Olympus 4/3 sensor cameras were traditional mirror based DSLRs, in 2008 they announced a new "Micro 4/3" system which kept the same sensor size, but eliminated the reflex mirror. In October 2008 the first micro 4/3 camera was announced (in Japan), the Panasonic Lumix DMC-G1. In July of 2009 Olympus started shipping the micro 4/3 Olympus PEN E-P1.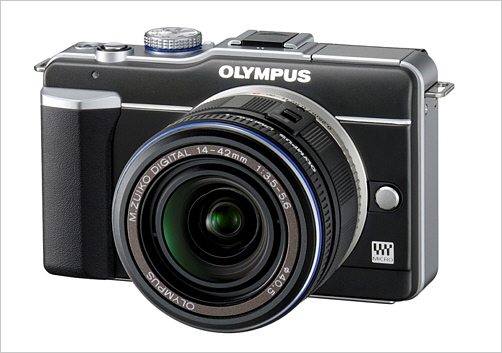 Olympus Pen EL1 mirrorless 4/3 interchangeable lens digital camera, $400 (includes lens)
With no mirror, the lens can be placed closer to the sensor. Now, with a smaller (12x18mm) sensor and no need for a reflex mirror, it's possible to design lenses which are significantly smaller and lighter than full frame 35mm lenses or APS-C reflex camera lenses.
The Nikon rumors are suggesting that their mirrorless camera may have a sensor with a 2.7x multiplier. That implies a sensor that's roughly 9mm x 13mm. Smaller than the Olympus 4/3, but larger than that found in 99% of fixed lens P&S cameras. At the moment it's just a rumor though, so don't put a lot of weight in it.
Advantages and Drawbacks
So why are sales of mirrorless interchangeable lens digital cameras increasing? What makes them desirable and do they have any disadvantages compared to traditional DSLRs?
Advantages compared to DSLRs
Mirrorless cameras can be made smaller and lighter than reflex cameras
The smaller size allows lenses with a shorter backfocus distance which means wideangle lenses are earier to design and the overall length of a camera/lens system can be minimized.
No mirror to move means that faster frame rates are possible
No mirror means that the video recording process can be simplified
Disadvantages compared to DSLRs
To take full advantage of reduction in size and weight, the sensor needs to be smaller than APS-C in order that the lenses can also be made smaller and lighter.
Even though adapters for existing DSLR lenses may be available, the use of DSLR lenses makes the system almost as large and bulky as using a larger sensor DSLR.
A smaller sensor will yield lower image quality and more noise (though image quality and noise may still be very good at lower ISO settings).
So who buys a mirrorless interchangeable lens digital camera?
It seems to me that the market somewhat overlaps that of "high end" P&S cameras. The cost of the camera plus lens(es) will be higher than that of the more expensive P&S cameras, but the image quality is higher and there's also something of a "bling" factor. Average consumers will be perfectly happy (and possibly happier) with a fixed lens P&S camera. They're smaller, cheaper and the lenses can have a much larger zoom range. More serious photographers will likely still stay with DSLRs since they offer better active focus tracking via phase detection AF, a clearer viewfinder and the choice of larger image formats (APS-C and Full Frame 35mm). If you're using full frame or even APS-C lenses, there's little point in the smaller size and weight of a mirrorless body since some DSLRs are themselves pretty small and light. However the fact that the short distance between the lens flange and the sensor means that you can use pretty much any lens on a mirrorless digital camera (provided you have the right mechanical adapter) is a good selling point for a mirrorless camera as a second (or third, or fourth...) body for a DSLR owner. Maybe you'd buy one or two small lenses for when you wanted a minimum size package and use SLR lenses at other times.
I'm 99% certain that both Canon and Nikon will enter the market, if for no more than business reasons. They really can't afford to give away a growing market segment to their competition. From the rumors about Nikon (and their response) it seems to me likely that we will see something from them fairly soon. When asked about mirrorless cameras earlier this year, Masaya Maeda, head of Canon's camera division, said "We are considering the technical aspects....We will launch an interesting product next year...it will be small" though he did not specify whether or not it would be a mirrorless design. It's known that both Nikon and Canon have filed patents which could certainly be applied to the design of a mirrorless digital camera so it will be no big surprise when they announce that they are entering the market. For Nikon that could be later this month (September 2011).
Mirrorless Interchangeable Lens Digital Cameras