The Nikon D4 - Full frame (FX) 16.2MP Flagship DSLR from Nikon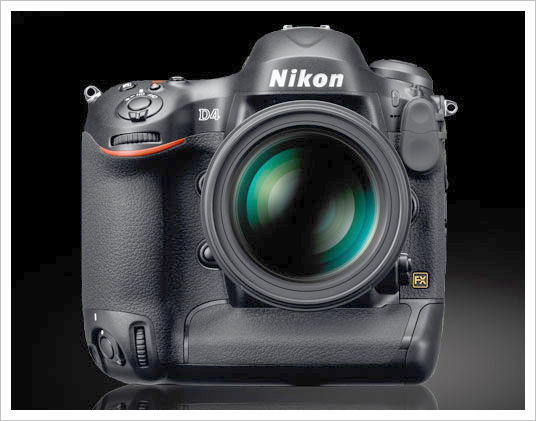 The new Nikon D4 is a logical and incremental update of the current Nikon D3s. Video capabilities have been significantly improved, the sensor has been changed to a higher resolution 16.2MP CMOS and maximum frame rate has been increased to 10fps.
The D4 boasts an ISO range of 100-12,800 (basic) but can be extended to 50-204,800 via custom functions. The previous 1005 pixel metering has been upgraded to 91,000 pixels which now offers face detection(!).
The Nikon D4 will now compete with the new Canon EOS 1D X for the "king of the hill" position among DSLRs.
New Features in Brief
A new 16.2MP, full-frame CMOS sensor (Nikon "FX" format)
A native ISO Range of 100-12,800 which can be expanded to 50 – 204,800
A maximum frame rate of 10 fps with AE and AF, increasing to 11fps when focus and exposure are locked plus a 24fps mode with reduced (2.5MP) resolution.
A new 91,000 pixel metering sensor used for WB, face detection, flash metering and Nikon's "active d-lighting".
1080p HD video @ 30/25/24fps using H.264/MPEG-4 AVC video compression
Two card slots - one for Compact Flash and one for XQD (XQD is a new format card, smaller than CF but larger than SD, initially delivering write speeds of 125 MB/s and up (600 MB/s max) and a theoretical maximum capacity of 2TB).
Price and Availability
The Nikon D4 is expected to be available in stores sometime in late February 2012 at a price of around $6000 (note: the Canon 1D X is expect to be in the stores in March and sell for $6800). As of early March 2012 the D4 hasn't yet shipped to stores but should do so soon.
You can check price and order status here: