New Nikon DSLR - The Nikon D80 Preview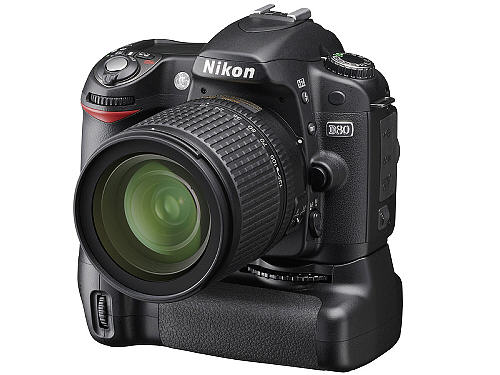 New Nikon D80 10.2 MP DSLR with optional grip and 18-135/3.5-5.6 kit lens
Breaking News
Nikon have now revealed all the details of their new 10.2 MP DSLR, the Nikon D80. It's aimed at the consumer market, but has a number of features in common with the 10.2MP Nikon D200, which is almost twice the price. The Nikon D80 is clearly a serious competitor for the recently announced Sony Alpha A-100 and even the Canon 30D. It remains to be seem what Canon release on August 24th!
One disappointment for Nikon users hoping for metering compatibility with older Nikon lenses is that the new Nikon D80 will not meter with non-CPU AI/AI-S lenses
One "step back" fron the D70s is that the Nikon D80 has the same 420 pixel RGB sensor as the Nikon D50 instead of the 1005 pixel RGB sensor of the Nikon D70s (and D200), though in practice I'm not sure how much difference this will make for most users.

Here are some of the major features of the Nikon D80
Name: Nikon D80
Sensor: 10.2MP CCD APS-C format (1.5x "multiplier"), 3872 x 2592 pixels
Sensor Readout: 2 channel (D200 is 4 channel)
Flash Sync: X and FP. Max sync speed 1/200s
Maximum continuous shooting rate: 3fps for 100 frames (JPEG) or 6 frames (RAW)
LCD: 2.5" diagonal, 230k pixels with 170 degree viewing angle
Viewfinder: Pentaprism, magnification 0.94x (same as D200)
AF: 11 point
Eye Point: 19.5mm
Flash: Built in, GN 13
Shutter Speeds: 30-1/4000s
Memory card type: SD
Remote Release: ML-L3
Battery: EN-EL3e
Sensitivity: ISO 100 to 1600 in 1/3 EV steps plus HI-0.3, HI-0.7 and HI-1. Three levels of High ISO Noise Reduction are available when shooting at high ISO settings
RGB Histogram available
No metering with non-CPU AI/AI-S lenses.
MB-D80 grip available (18,900 Yen in Japan = $165, probably cheaper in US)
In-camera D-Lighting
In-camera B+W, Sepia etc.
In-camera filter effects
Smaller, D50 sized body, 132mm x 77mm x 103mm, 585g
$999.95 for the Nikon D80 body only
$1299.95 for the Nikon D80 body plus Nikkor 18-135/3.5-5.6 kit lens
Availability: September 2006
There were also two new lenses announced along with the Nikon D80:
AF-S VR Zoom-Nikkor 70-300mm f/4.5-5.6G VR IF-ED - Price $669
AF-S DX Zoom-Nikkor 18-135mm f/3.5-5.6G IF-ED - Price $485

The 18-135 is available as part of a kit with the Nikon D80 body. The kit Price is 1299.95, $300 more than the body alone, so there is a substantial saving if you buy the kit. Note all these prices are Nikon's "suggested" prices, so they will no doubt be discounted in time once the supply can meet the demand.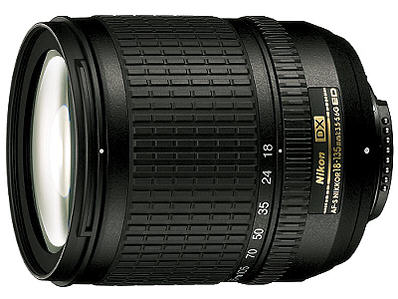 Nikon AF-S DX Zoom-Nikkor 18-135mm f/3.5-5.6G IF-ED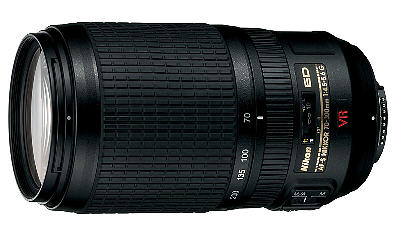 AF-S VR Zoom-Nikkor 70-300mm f/4.5-5.6G VR IF-ED