Nikon D40 Digital SLR Preview
[Note: Nikon made the official D40 announcement on November 16th 2006. The details below were confirmed as accurate]

Word has leaked via a German camera site (neckermann.de) of a new Nikon DSLR, the D40. The Nikon D40 is a introductory level camera designed to attract the "first time" DSLR purchaser. It's rumored to be priced very aggressively at $599.95 with the 18-55 kit lens and in order to achieve that Nikon had to compromise on features. The sensor is a 6MP CCD rather than the 8MP and 10MP sensors used by most new DSLRs these days. There is no focus motor in the body, so autofocus will only operate with Nikon AF-S lenses (which have electronic focus motors). Nikon AF lenses using a mechanical focus coupling to the camera body will only operate in manual focus mode. This means you can't get an AF 50mm prime and you can't use lenses like the Nikon AF 70-210 except in manual mode. OK for a beginner maybe, but I suspect more advanced Nikon users won't be buying the D40 as a backup body. Nikon are predicting December 2006 availability, but no word yet if that will be early or late December.

It seems like a reasonable "starter" DSLR if you want to get into the Nikon system, though for someone buying their first DSLR and who wants to keep the price as low as possible, I'd recommend taking a look at the Pentax K100D. It's also 6MP, but it has an anti-shake sensor built into the camera body and it's available now for under $520. For under $580 you can get the Pentax K100D with a 18-55mm f/3.5-5.6 lens. The list price on the Nikon D40 with an AF-S DX ED 18-55/3.5-5.6 lens is $599 and it doesn't have any type of image stabilization in the body or the lens. If you don't want image stabilization, you can get the Pentax K110D 6MP DSLR for around $400 or for around $475 you can get the K100D with an 18-55/3/5-5.6 lens. It has a 2.5" rear LCD, top data LCD, 11 point AF and ISO 3200.
If you want to step up from 6MP to 8MP but still want to keep the cost low, for around $600 you can still get the excellent 8MP Canon Digital Rebel XT and for around $680 you can get the Digital Rebel XT with an 18-55/3.5-5.6 lens.

It's rumored that Nikon will make an official announcement within a few days and that the Nikon D40 might be available in stores later this year, though whether it will be available in time for Xmas isn't certain. All the information here should be taken as provisional and subject to change or correction until Nikon issue their official release.
Nikon D40 SPECIFICATIONS
These are the official specifications as released by Nikon: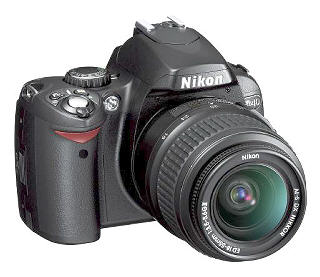 Effective Pixels: 6.1 million
Image Sensor: RGB CCD, 23.7 x 15.6 mm; total pixels: 6.24 million, Nikon DX format
Image Size (pixels): 3,008 x 2,000 [L], 2,256 x 1,496 [M], 1,504 x 1,000 [S]
ISO Sensitivity: 200 to 1600 in steps of 1 EV with additional setting one step over 1600
Storage Media: SD memory card, SDHC compliant
Storage System: Compressed NEF (RAW): 12-bit compression; JPEG: JPEG baseline compliant
File System: Exif 2.21, Compliant DCF 2.0 and DPOF
White Balance: Auto (TTL white balance with 420-pixel RGB sensor); six manual modes with fine tuning and preset white balance
LCD Monitor: 2.5-inch, 230,000-dot, low-temperature polysilicon TFT LCD with brightness adjustment
Playback Function: 1 frame; thumbnail (4 or 9 segments); magnifying playback; slide show; histogram indication; highlight point display; auto image rotation
Delete Function: Card format, all frames delete, selected frames delete
Video Output: NTSC or PAL
Text Input: Up to 36 characters of alphanumeric text input available with LCD monitor and multi selector; stored in Exif header
Compatible Lenses*1: Nikon F mount with AF coupling and AF contacts Type G or D AF Nikkor: 1) AF-S, AF-I: All functions supported; 2) Other Type G or D AF Nikkor: All functions supported except autofocus; 3) PC Micro-Nikkor 85mm f/2.8D: Can only be used in mode M; all other functions supported except autofocus; 4) Other AF Nikkor*1/AI-P Nikkor: All functions supported except autofocus and 3D Color Matrix Metering II; 5) Non-CPU: Can be used in mode M, but exposure meter does not function; electronic range finder can be used if maximum aperture is f/5.6 or faster; 6) IX Nikkor lenses cannot be used
*1. Excluding lenses for F3AF
Picture Angle: Equivalent in 35mm [135] format is approx. 1.5 times lens focal length
Viewfinder: Fixed-eyelevel penta-Dach mirror type; built-in diopter adjustment (-1.7 to +0.5m-1)
Eyepoint: 18mm (-1.0 m-1)
Focusing Screen: Type B BriteView Clear Matte screen Mark V with superimposed focus brackets
Viewfinder Frame Coverage: Approximately 95% (vertical/horizontal)
Viewfinder Magnification : Approx. 0.8x with 50mm lens at infinity; -1.0 m-1
Viewfinder Information: Focus indications, AE/FV lock indicator, shutter speed, aperture value, exposure/exposure compensation indicator, exposure mode, flash output level compensation, exposure compensation, number of remaining exposures, flash-ready indicator
Autofocus: TTL phase detection by Nikon Multi-CAM530 autofocus module with AF-assist (range approximately 0.5-3.0m/1ft. 8in.-9ft. 10in.); Detection range: -1 to +19 EV (ISO 100 at 20 degrees C/68 degrees F)
Lens Servo: 1) Autofocus (AF): Instant single-servo AF (AF-S); continuous servo AF (AF-C); auto AF-S/AF-C selection (AF-A); predictive focus tracking automatically activated according to subject status, 2) Manual focus (M)
Focus Area: Can be selected from 3 focus areas
AF Area Modes: 1) Single Area AF; 2) Dynamic Area AF; 3) Dynamic Area AF with Closest Subject Priority
Focus Lock: Focus can be locked by pressing shutter-release button halfway (single-servo AF) or by pressing AE-L/AF-L button
Exposure Metering System: TTL full-aperture exposure metering system: 1) 3D Color Matrix Metering II (type G and D lenses); Color Matrix Metering II (other CPU lenses); metering performed by 420-segment RGB sensor; 2) Center-weighted: Weight of 75% given to 8mm circle in center of frame; 3) Spot: Meters 3.5mm circle (about 2.5% of frame) centered on active focus area
Exposure Metering Range: 1) 0 to 20 EV (3D Color Matrix or center-weighted metering); 2) 2 to 20 EV (spot metering)
Exposure Modes: Digital Vari-program (Auto, Auto [Flash Off], Portrait, Landscape, Child, Sports, Close Up, Night Portrait), Programmed Auto (P) with flexible program; Shutter-Priority Auto (S); Aperture Priority Auto (A); Manual (M)
Exposure Compensation: ±5 EV in increments of 1/3 EV
Exposure Lock: Exposure locked at detected value with AE-L/AF-L button
Shooting Modes: 1) Single frame shooting mode; 2) Continuous shooting mode: approx. 2.5 frames per second*; 3) Self-timer mode; 4) Delayed remote mode: 2 s. delay; 5) Quick-response remote mode*Approx. 1.7 frames per second with Noise reduction turned on and approx. 1 frame per second with ISO HI1
Shutter: Combined mechanical and CCD electronic shutter, 30 to 1/4000 sec. in steps of 1/3, bulb
Sync Contact: X-contact only; flash synchronization at up to 1/500 sec.
Flash Control: 1) TTL: TTL flash control by 420-segment RGB sensor. i-TTL balanced fill-flash for digital SLR and standard i-TTL fill-flash for digital SLR available when CPU lens is used with built-in flash, SB-800, SB-600, and T041; 2) Auto aperture: Available with SB-800 with CPU lens; 3) Non-TTL Auto: Available with Speedlights such as SB-800, 80DX, 28DX, 28, 27, and 22s; 4) Range-priority manual available with SB-800
Flash Sync Modes: Auto, Portrait, Child and Close Up modes: 1) Auto, auto with red-eye reduction; fill-flash and red-eye reduction available with optional Speedlight; 2) Night portrait mode: Auto, auto slow sync, auto slow sync with red-eye reduction; slow sync and slow sync with red-eye reduction available with optional Speedlight; 3) Landscape, Sport mode: Fill-flash and red-eye reduction available with optional Speedlight; 4) P, A: Fill flash, rear-curtain with slow sync, slow sync, slow sync with red-eye reduction, red-eye reduction; 5) S, M: Fill flash, rear-curtain sync, red-eye reduction
Built-in Flash: Auto, Portrait, Child, Close Up, Night Portrait mode: Auto flash with auto pop-up P/S/A/M: Manual pop-up with button releaseGuide number (ISO 200/ISO 100, m [ft.]): approx.17 [55]/12 [39] (manual full 18 [59]/13 [42])
Flash Compensation: -3 to +1 EV in increments of 1/3 EV
Accessory Shoe: Standard ISO hot-shoe contact with sync, signal and ground contacts and safety lock
Self-timer: Electronically controlled timer with duration of 2, 5, 10 or 20 seconds
Remote Control: Via optional ML-L3 Wireless Remote Control
Power Source: One Rechargeable Li-ion Battery EN-EL9; charging voltage (MH-23 quick charger): 7.4V DC, EH-5 AC Adapter (available separately; requires optional EP-5 AC Adapter Connector)
Tripod Socket: 1/4 in. (ISO1222)
Dimensions (W x D x H): Approximately 5.0 x 2.5 x 3.7 inches
Weight: Approximately 1lb. 1oz. without battery, memory card or body cap
Supplied Accessories*: EN-EL9 Rechargeable Li-ion Battery, MH-23 Quick Charger, UC-E4 USB Cable, PictureProject, DK-16 Rubber Eyecup, Camera Strap, BF-1A Body Cap, DK-5 Eyepiece Cap, BS-1 Accessory Shoe Cap. *Supplied accessories may differ depending on country or area.
Optional Accessories: ML-L3 Wireless Remote Control, Capture NX, Camera Control Pro, EH-5 AC Adapter, EP-5 AC Adapter Connector, EG-D100Video Cable, Semi Soft-Case CF-DC1, Speedlight SB-800/SB-600/SB-400/R1C1
Notice: Specifications and equipment are subject to change without any notice or obligation on the part of the manufacturer. November 2006 (c)2006 NIKON CORPORATION
Here's a brief summary of the specs:
$599.95 MSRP with new AF-S DX ED 18-55 f/3.5-5.6 G-II lens
6.1 MP CCD sensor, 1.5x multiplier
AF-S (internal motor) lenses only.
3 AF points
2.5 fps frame rate
No top LCD, only rear LCD
No DOF preview
Shutter speeds 1/4,000 - 30s and Bulb.
Flash Sync 1/500
Built-in Flash. i-TTL capable
ISO 200 to 1600 plus "H" (3200)
JPG and NEF file storage
2.5" 230,000 pixel LCD.
420 segment color Matrix meter (same as D80?)
M, Tv, Av, P and programed modes
SD memory card storage
3.7 x 5.0 x 2.5" (94 x 126 x 64mm).
16.8 oz (475 grams) - camera only
Lithium-ion EN-EL9 battery