Nikon D5000 Preview
Today (04/14/09) Nikon announced a new entry level DSLR, the D5000. In terms of features it's similar to the D90, but with the following significant "downgrades":
The D5000 cannot AF with Nikon lenses which require a motor in the camera body. It can only AF with lenses which contain an internal focusing motor.
The popup flash cannot be used as a CLS master flash controller for wireless operation.
The D5000 has no depth of field preview capability
The D5000 has a pentamirror viefinder, smaller than the D90's pentaprism finder.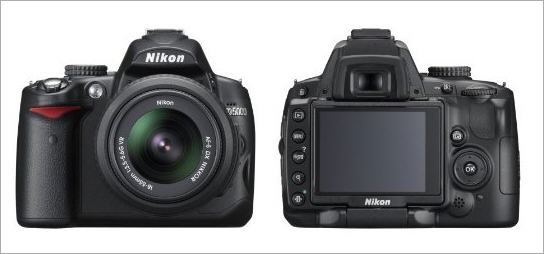 The D5000 isn't just a "stripped down" D90 though since the D5000 adds at least one feature that the D90 does not have, a tilt/swivel swing-out LCD screen, which can be very useful for live view and video work. The D5000 is also smaller and lighter than the D90, as well as being less expensive, all quite desirable features!
The D5000 is perhaps most clearly in direct competition with Canon's recently announced Rebel T1i. Both are at the upper end of the "entry level" DSLRs and both can shoot HD video. Here's a comparison of a few of the most used features of the two cameras:
Canon EOS Rebel T1i

Nikon D5000

Sensor
15.1MP CMOS
12.3MP CMOS
Sensor Size
22.3 x 14.9 mm
23.6 x 15.8 mm
Max. Image Size (pixels)
4,752 x 3,168
4,288 x 2,848
Lens "Multiplier"
1.6x
1.5x
DiopterAdjustment
-3.0 to +1
-2.0 to +1
A/D converter
14-bit
12-bit
AF zones
9 (one cross sensor)
11 (one cross sensor)
Max. shooting rate
3.4 fps
4.0 fps
ISO Range
100-3400 (1-stop increments)
Expandable to 6400 and 12800
200-3200 (1/3-stop increments)
Expandable to 100 and 6400
Flash Sync Speed
1/200s
1/200s
Metering Range
-0.5 to 18 EV
0 to 20 EV (Center or Matrix)
2 to 20 EV (Spot)
Depth-of-field Preview
Yes
No
AF Metering Sensitivity
EV -0.5 to +18 (ISO 100)
EV -1.0 to +19 (ISO 100)
White Balance Bracketing
Yes
Yes
Flash Control
E-TTL II
i-TTL
Flash Guide Number
43ft at ISO 100
56ft at ISO 200
Video
HD 720p at 30fps
HD 1080p at 20fps
SD 640x480 at 30fps
HD 720p at 24fps
640 x 424 at 24fps
LCD Display
3.0" (920k Pixels)
2.7" Vari-Angle (fold out) LCD (230k Pixels)
HDMI Terminal
Yes
Yes
AF Compatible Lenses
All Lenses (EF-S and EF)
Only AF-S or AFi-I Lenses (lens must have built in motor)
Shutter Speeds
Bulb, 30s. - 1/4000s
Bulb, 30s. - 1/4000s
Memory Card
SD/SDHC
SD/SDHC
Weight
16.9 oz
19.8 oz
Dimensions
5.1"w x 3.8"h x 2.4"d
5.0"w x 4.1"h x 3.1"d
Price:
$799.95 (Body)
$899.95 (w/18-55mm IS Lens)
$729.95 (Body)
$849.95 (w/18-55mm VR Lens)
As you can see the specs are quite similar. I presume current Nikon users will stick with the D5000 and current Canon users will stick with the Rebel T1i, no real reason to switch brands. The T1i has a higher pixel count and higher resolution LCD, but the D5000 has a swing out LCD and a higher continuous shooting rate. Both have only one cross type AF sensor. On balance they seem to come out pretty even. New users will have to carefully consider the differences between the Nikon and Canon systems, what lenses are available, what the relative costs are and what future upgrade paths are available. Personally I shoot with Canon, but lots of good photographers chose to go with Nikon too.
Here's a copy of the Nikon D5000 press release: