Nikon D700 Preview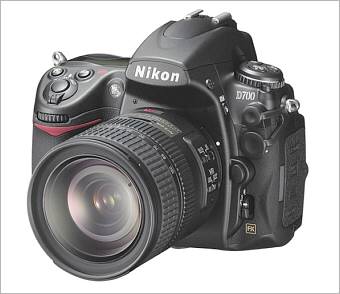 Nikon Today announced their first "affordable" full frame DSLR, the Nikon D700. In some ways it's similar to the Canon EOS 5D which was introduced 4 years ago, but it adds a lot of new technology. The Nikon D700 is a full frame 12MP DSLR with a CMOS sensor (like the EOS 5D) but it has a number of additional features such as a faster frame rate, expanded ISO range and more - as listed below. The price of the Nikon D700 will be $3000 and availability is scheduled for late July 2008.
Nikon D700 Main Features
Nikon's original 12.1-megapixel FX-format (23.9 x 36mm) CMOS sensor: Teamed with Nikon's exclusive EXPEED digital image processing, the D700 delivers breathtakingly rich image quality.
Broad ISO sensitivity up to 6400 and incredibly low noise: Super low-noise performance from 200-6400 ISO, with the added versatility of Lo-1 (100 ISO) Hi-1 (12,800 ISO) and Hi-2 (25,600 ISO).
Continuous shooting up to 5 frames per second: Shoot at up to 8 frames per second with the optional MB-D10 Multi-power Battery Pack.
Three-Inch, super-density 920,000-dot VGA color monitor: High resolution with
170-degree wide-angle viewing, calibrated color and tempered-glass protection assure confident image review.
Two Live View shooting modes: Choose from hand-held or tripod modes to suit shooting requirements.
Rugged magnesium-alloy construction: Along with extensive dust and moisture protection and a durable shutter mechanism tested to 150,000 cycles, the D700 merges pro D-SLR performance with expanded agility.
Fast, accurate 51-point AF with 3D Focus Tracking: Exacting autofocus precision, plus three Dynamic AF modes.
Dynamic Integrated Dust Reduction System: Effective quad-frequency, ultrasonic sensor cleaning minimizes image degrading dust particles.
1,005-Pixel 3D Color Matrix Metering II: Legendary Nikon exposure accuracy aided by an onboard database of over 30,000 images.
Nikon's exclusive Scene Recognition System: SRS further extends auto-exposure intelligence while also advancing white balance detection and auto-focus performance.
Nikon Picture Control settings: Advanced color control with 9 customizable settings and 4 preset options allow fine tuning of image appearance preferences.
Active D-Lighting with NEW Auto mode: Unique three-phase dynamic control to capture previously lost details in shadows and highlights while maintaining normalized contrast.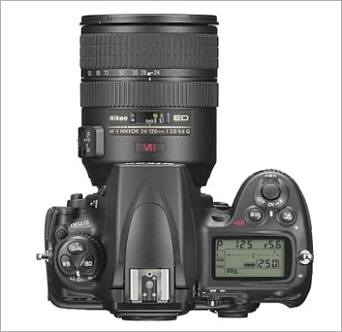 The Nikon 24-120/3.4-5.6 VR lens (above) looks like an excellent match for the D700. I'm not sure if Nikon will offer a "kit" with the lens and camera bundled together, but if not, the package should retail for around $3500.
I'd expect the D700 to be quite popular with Nikon users, but I doubt that Canon shooters will need to "jump ship" to get most of the D700 features. It's been clear for a while now that Canon will be introducing and update to the venerable EOS 5D and I'm pretty sure it will have many of the features of the D700 (and probably some new ones too), as well as a higher pixel count. I'm expecting a similar $3000 price.
For those who want the quality of a full frame DSLR but don't have $3000 to spend on one, the Canon EOS 5D rebate runs through July 19th 2008 and brings the price on the EOS 5D down to $1900. Even with the excellent "L" series 24-105/4L IS USM kit lens, it's still only $2600 (saving $350 on the lens). I bought the 5D kit and I'm not in the least bit sorry as I'm very pleased indeed with both the camera and the lens.
If you're a Nikon shooter, the D700 looks like a very nice camera. You can order the Nikon D700 from Adorama at a price of $2999.00 (with free standard shipping) or you can visit Amazon.com as shown below:
D700
Body Only
D700 with
24-120/3.5-5.6G