Olympus Evolt E-510 Review
I recently had the chance to shoot with an Olympus E-510 for a few days, so I thought I'd post a very brief review here.
The Olympus Evolt E-510 is a "Four Thirds" format camera, meaning that the sensor is a little smaller than that found in most other DSLRs. While the Canon APS-C DSLRs have a lens multiplier factor of 1.6x (and the Nikon, Pentax and Sony APS-C DSLRS have a 1.5x factor), the Olympus DSLRs have a 2x lens multiplier. The advantages of a smaller sensor are that it may be a little cheaper and the lenses don't need to cover as large an image circle as they do with larger sensors, and so again can be a little smaller and cheaper, at least in principle.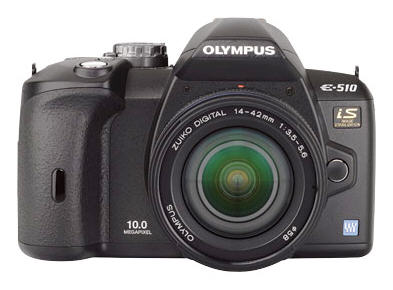 The Olympus E-510 is a pretty small camera (5.35" x 3.6" x 2.67", though it's not really significantly different in size from, for example, a Digital Rebel XTi (5.0" x 3.7" x 2.6"). What does set it apart is that it's has a lot of features for an entry level camera. For example it has Live View, a full set of manual exposure and metering options, plus built in sensor shift image stabilization, which provides up to about 3 stops of additional stability with all lenses mounted on the E-510.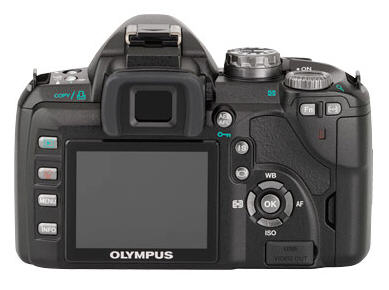 The camera control layout is fairly conventional. There's no top panel LCD, so the rear screen serves a dual purpose, display of the camera setting and menus as well as providing a review of the image after exposure, and a real time image when the Live View mode is selected.
Image noise was reasonably well controlled, but with 10MP and a 13x17mm sensor, there is more visible noise above ISO 400 than you'd see with an EOS 40D for example. Still, even at ISO 1600 the images from the E-510 are quite usable for small prints and of course much better than you'd get from any small sensor P&S digicam.
The E-510 has 3 focus zones, which is less than most other current DLSRs (the Canon Rebel XTi/XSi has 9), though 3 is enough for most users. To be honest, personally I tend to use the center focus zone of my EOS 20D/40D cameras 95% of the time anyway. Focus was good in bright light, but a little slow in dim light (indoors in soft room lighting) and when the focus assist light (strobe) was used it sometimes took a couple of tries to get focus.
Exposure was good under most conditions but with high contrast subjects under bright lighting, there was a slight tendency to blow out the bright highlights. This is easily cured by dialing in a little negative exposure compensation, but it's something to be aware of.
I found the built in sensor shift Image stabilization to be quite effective, allowing me to get sharp images even when the camera was handheld at a shutter speed of 1/25s at 150mm (equivalent to 300mm for full frame). Thats about 3.5 stops worth of added stability. Being a body based system it works with EVERY lens you mount on the body. This is a significant advantage for most consumers over camera systems like Nikon and Canon which put stabilization optics in the lenses rather than the body. For one thing it lowers the cost of lenses and for another it adds stabilization when using non-stabilized lenses - and not all Nikon and Canon are available in stabilized versions.
The Olympus E-510 is available as a kit with two lenses, a 14-42/3.5-5.6 and a 40-150/4-5.6. With the 2x multiplier of the Four Thirds system, they provide about the same coverage as a 28-84 and 80-300 zoom would on a full frame camera. I say "about", because the aspect ratio of the Four Thirds system is that same as that of most P&S digicams, 4:3, while most other DSLRs share the same format ratio as 35mm film, i.e. 3:2.
Lenses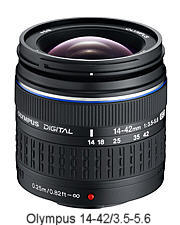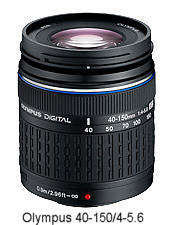 The 14-42 and 40-150 lenses are clearly aimed at first time buyers and built to keep cost down. The barrel and lens mount are plastic and there are no distance or DOF scales (which isn't unusual these days). However their optical performance is surprisingly good. Both use ED glass to control chromatic aberrations and the 14-42 also uses aspheric elements to maximize image quality. Both lenses are quite sharp and good image quality is maintained across the whole frame. Some barrel distortion can be seen with both lenses are their widest settings, though it's not excessive and is typical for lenses of this type. Overall both lenses performed better than I expected based on their cost. The price of the Olympus E-510 kit with the 14-42 and 40-150 lenses is only around $650, which is quite reasonable given that the body alone is priced at $480. This means you get both lenses for $170, which isn't a bad deal at all.
One "quirk" of the Olympus Four Thirds lens system is that manual focus is done electronically rather than mechanically. I found the focusing to be rather low geared, which means a significant rotation of the focusing ring was required to significantly changed focus. This allows very precise focusing, but makes it difficult to "snap" in and out of focus when you're looking for the sharpest image. I wouldn't say this is a real problem, it's just a different way of doing things than I'm used to.
Conclusions
I'd say the E-510 with the 14-42 and 40-150 lenses would make an excellent starter camera for someone moving up from a digital P&S, especially if cost and size are issues. For around $650 you get the camera along with the two lenses (and both become stabilized via the body). A similar Canon system might be a Rebel XTi plus the EF-S 18-55IS and the EF-S 55-250IS, which would cost around $880. I think the Canon system is probably better and more expandable (there are more lenses available in the Canon system), but if you just want a small camera and a couple of inexpensive lenses, the Olympus is hard to beat in terms of price and features.
| | |
| --- | --- |
| | |
| Body Only ~ $480 | Body + Lenses ~ $650 |