The Olympus SP-550 UZ
This looks like a pretty interesting new camera from Olympus. 7.1 MP with a 28-504mm (35mm equivalent) zoon lens! Not only that, but the camera also has true image stabilization via a mechanical CCD stabilizer and motion sensing gyros built into the camera body. This 18x zoom is not only the widest range zoom yet found in any digital still camera, but it's also 28mm at the wide end, which is wider than most.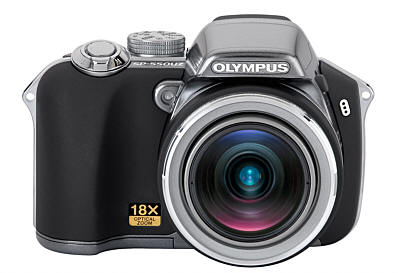 The camera also has "BrightCapture" technology which seems to be some sort of pixel averaging technique, allowing higher ISO ratings with reduced pixel count.
On paper this looks like the most interesting digital camera I've seen in a quite a while, but of course it's actual performance that counts, not specs. We'll probably have to wait a month or so before anyone has a chance to test it out to see how well it works in practice.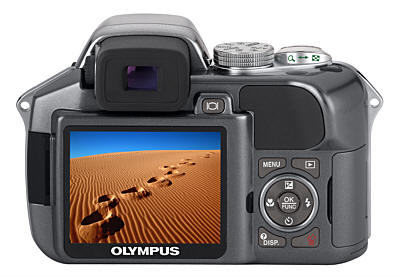 Here's a copy of the Olympus Press Release:
Hamburg, 25 January 2007 – Get up close and personal in a whole new way. With the world's first wide 18x optical zoom, the Olympus SP-550 UZ accepts no limits, bringing photographers closer to far-away subjects. Capture candid street scenes from a discreet distance, or snap the details of a football game from way up in the stands – then even use the wide angle lens to see and shoot more within closer range: This model's focal length spans an amazing 28-504mm (35mm camera equivalent)! Enjoy double protection against blur with Dual Image Stabilization. Even at high magnifications or when capturing fast-moving objects, this technology ensures that results are significantly sharper. Packing 7.1 Megapixels of detail-capturing power, the SP-550 UZ opens up a new realm of creative possibility – because if it's in your life, it's in your Olympus SP-550 UZ.
Come in close from afar
Explore the possibilities of this kind of magnification power. With an 18x wide zoom lens (equivalent to 28-504mm on a 35mm camera) there's no need to disturb a subject, whether it be an animal wandering through the wilderness or people lounging in a city park. Since telephoto shots can be more prone to blur caused by camera shake, the SP-550 UZ features Dual Image Stabilization to help deliver the clearest results possible. Get a front-row view from a safe distance in high-action situations – and even make use of the phenomenally-high burst rate to take great sequential shots at speeds never before seen in this category: Up to 15 frames per second*!
See more all around
Experience a lens that's simply more versatile. On top of astounding ultra-zoom attributes, its wide-angle capabilities reach to 28mm (35mm camera equivalent). The SP-550 UZ therefore offers photographers a broader perspective to see and do more. And with a 6.4cm LCD it's easy to frame and capture shots without having to squint and make guesses about how the image will turn out.
Go for the details
See the world from a different point of view with Super Macro mode – making shots possible from as close as 1cm! From the tiniest wonders nature has to offer to the simple details of everyday life: The most unique photographic opportunities are at hand with the SP-550 UZ.
Capture the night
Don't let low light ruin a photo-op: Count on integrated BrightCapture Technology to add brightness to any shot, even in movie mode! With the help of an extra-bright LCD, framing dim shots is no problem, making high-quality photo and video capture a reality in virtually any low-light situation.
Comfortable, creative control
Thanks to an ergonomic design plus the intuitive menu and button layouts, the SP-550 UZ is a delight to hold and just as much fun to operate. With P/A/S/M exposure modes and 23 scene modes available, there's a perfect setting for every user. And 25 languages on board ensure that just about anyone can enjoy the camera's user-friendly menus.
The versatile Olympus SP-550 UZ turns creative dreams into reality. Featuring the world's first wide 18x optical zoom, this compact camera will be available from February 2007.
BrightCapture Technology
A technology developed for better shooting results in low light situations. It works in two ways: i) All available pixel information from the image sensor is used to provide a view on the LCD that's up to four times brighter than conventional types, to make framing easy even in dark surroundings. ii) In certain shooting modes sensitivity is increased (resolution is sometimes reduced), which results in well-exposed images with accurate colour reproduction, high contrast and definition, even when not using the flash. Scene modes that benefit from BrightCapture Technology include Candle, Night Scene and Available Light.
Dual Image Stabilization
Providing two-fold protection, this special function helps to avoid image blur caused by camera shake or fast-moving subjects. It combines high ISO values with a CCD-based mechanical image stabiliser, where a built-in gyro sensor detects camera movement and adjusts the CCD accordingly.
The SP-550 UZ main features:
18x wide optical zoom (equivalent to 28-504mm on a 35mm camera) 1:2.8-4.5
Dual Image Stabilization
7.1 Megapixels
6.4cm/2.5" LCD with 230,000 pixels
High burst rate (up to 15fps*)
Super Macro mode (from as close as 1cm)
P/A/S/M exposure modes
BrightCapture Technology for better low light photography – also available in movie mode
23 scene modes (including Portrait, Sports, Night Scene)
25 languages on board
Internal memory plus xD-Picture Card slot
Supplied with Olympus Master software and four AA batteries
* In 1.2 Megapixel mode