Pentax K7 Preview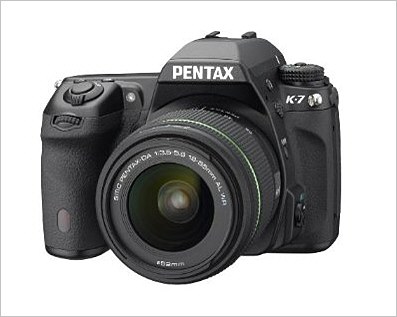 May 20th 2009: Pentax have announced a new DSLR, the K7. It's a mid-priced "prosumer" camera with all the features you'd expect from a state-of-the-art DSLR...and a few more.
As is expected with all new DSLRs, the Pentax K7 can shoot video as well as still images. There are three video resolutions. It can shoot at 640x416 or 1536x1024, both of which have the standard 3:2 aspect ratio of 35mm film. Note that the lowest resolution is 640x416, not the more common VGA 640x480 (aspect ratio 4:3) found on many other cameras. There's also an HD mode, 1280x720 with a 16:9 aspect ratio. The frame rate is 30 frames/sec for all video modes. There is a jack provided for the use of an external stereo microphone.

In line with Pentax's philosophy on image stabilization, the Pentax K7 uses sensor shift technology to provide image stabilization in the body rather than in the lens. This has the advantage of providing stabilization with any (and every) lens you mount on the camera. Pentax claim between 2.5 and 4 stops of stabilization.
The Pentax K7 uses a 14.6MP CMOS sensor. This (around 15MP) is about the current upper limit for pixel density in an APS-C sensor without running into noise problems and seems to be where all manufacturers are currently going with APS-C DSLRs.
Among other features, the Pentax K7 also offers a 100% viewfinder, sealing against dust and moisture, an HDR mode which combined 3 images taken with different exposures in the camera, an electronic level for keeping horizons straight, a 100,000 cycle shutter with a 1/8000s top speed and in-camera correction of distortion on chromatic aberration when used with Pentax DA series lenses.
All in all it looks like the K7 is a fully featured camera, capable of going head to head with similarly priced models from Canon, Nikon and Sony. The Pentax K7 has an initial selling price of $1299.95 and should be in stores by July.
Here's what Pentax have to say about the new Pentax K7: