Canon Powershot A550, A460 and A450
Canon have announced two new Powershot cameras in the US market - the A550 and A460 - and a third (the A450) whose distribution isn't yet clear.

The A550 is a 7.1MP camera with a 4x optical zoom (35-140mm) and has an estimated selling price of $199.99. The A550 is the replacement for the current the 5MP A530. The A460 is a 5MP camera with a 4x optical zoom (38-152mm) and has an estimated selling price of $149.99. It is available in a silver, blue or red finish. It's the new replacement for the current 4MP A430. The A450, which was announced in Europe but not yet in the US, is identical to the A460, but with a 3.2x zoom (38-122mm). It would be the replacement for the current A420.
All of these cameras now have a movie mode with VGA quality (640x480) and audio and can be up to 60 minutes in length or 1GB file size (whichever is reached first). The LCD screen has been increased from 1.8" to 2" on each model and the A550 now uses the Digic II image processing chip. All use SD/SDHC/MMC memory cards and like all "A" series powershots they are powered by AA size batteries. The A550 and A460 are expected to be in the stores by mid-February.
---
Here's a copy of the Canon press release:
LAKE SUCCESS, N.Y., January 18, 2007 – Building on a solid track record of quality and performance, Canon today announced two new entry-level PowerShot A-Series models, the 7.1 megapixel PowerShot A550 and the 5.0 megapixel PowerShot A460 digital cameras. These new models are feature-packed and offer consumers the latest technological advancements in easy-to-use designs. They are the perfect upgrade for owners of existing entry-level cameras and they also provide a smooth transition for first-time digital camera users. Both cameras will be available in stores mid-February and will carry estimated selling prices of $199.99 and $149.99, respectively.*
"The new PowerShot A550 and A460 digital cameras deliver an exceptional value to the consumer," says Yuichi Ishizuka, senior vice president and general manager of the Consumer Imaging Group at Canon U.S.A., Inc. "They provide enhanced features and high image quality, while at the same time remaining compact, affordable and easy-to-use. Users are going to love taking pictures with Canon's new PowerShot cameras and capturing moments that they can continue to enjoy for generations."
This dynamic duo allows users to capture all of life's special moments – from the winning pass at a high school football game, to the waterfalls on that once-in-a-lifetime vacation, to the joy of a baby's first steps. With their exquisite image quality, easy-to-use features and intuitive design, Canon's newest PowerShot models will work reliably for any occasion and in any situation. And since both cameras are small enough to tote anywhere, all of life's adventures can be documented for posterity. Users will be able to keep these cameras on standby whenever life's best moments come around. Consumers will never miss the look on their child's face as they open birthday presents, or the close-up of a new grandmother holding her first-born grandchild.
Whether taking pictures at a local family gathering or on a vacation across the globe, these new PowerShot A-Series cameras are great on-the-go because they are conveniently powered by two AA-size batteries. They represent Canon's continued commitment to quality, excellence in imagery and ease-of-use.
PowerShot A550 Digital Camera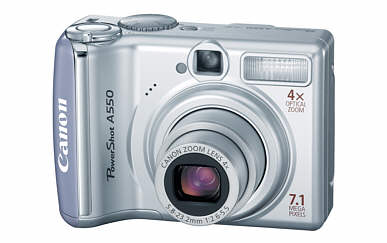 The new PowerShot A550 digital camera is a 7.1 megapixel model with a 4x optical zoom lens and a 2-inch LCD screen. It features Canon's renowned DIGIC II image processor for crisp, vibrant images, responsive performance, and low power consumption. Replacing last year's popular PowerShot A530 digital camera, the new model offers not only higher resolution and a bigger LCD screen, but also better battery life, compatibility with MMC, SD and SDHC memory cards, and an enhanced movie mode that can record 30 fps VGA clips. Operating this camera is even easier than before with a redesigned mode dial featuring five of Canon's most popular Special Scene modes for easier access, as well as standard fully automatic settings. The PowerShot A550 digital camera retains many hallmark A-series features, including an optical viewfinder and a comfortable handgrip, making it ergonomically friendly for comfortable handling while providing yet another option for viewing the subject and saving battery power while shooting.
PowerShot A460 Digital Camera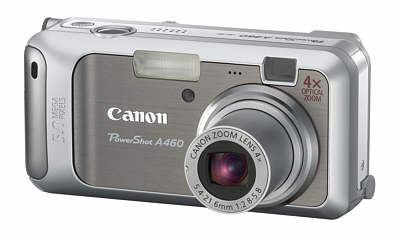 The new PowerShot A460 digital camera features 5.0 megapixel resolution with a 4x optical zoom lens and a 2-inch LCD screen, up from 4.0 megapixels and a 1.8-inch LCD screen on last year's PowerShot A430 model. The new camera also incorporates Canon's renowned DIGIC II image processor, which delivers superb image quality, fast performance, and excellent battery life. Additional features include an optical viewfinder and compatibility with MMC, SD and SDHC memory cards. At its value price point, the PowerShot A460 digital camera is an ideal purchase for a first time digital camera buyer.
Get It Right the First Time
Both the PowerShot A550 and A460 digital cameras deliver high-resolution images without requiring users to exert additional effort. Each model uses Canon's AiAF "Smart" autofocus system with Canon's patented iSAPS intelligent scene analysis algorithm to determine optimum settings for focusing, exposure and white balance. The user simply snaps the shot with the push of a button.
The PowerShot A550 digital camera features 11 standard shooting modes and A460 features ten standard shooting modes for still pictures, automatically adjusting the cameras' settings to match the surroundings. Still shooting modes include Full Auto, Auto with manual adjustment of exposure compensation and white balance, Portrait, Night Snapshot, Kids and Pets, and other Special Scene modes. Additionally, each new model can record movies with sound - so you can capture your baby's first steps or first words with point and shoot simplicity.
Taking the Next Step
Canon recognizes that capturing an image is only the first step towards the full enjoyment of digital photography and movie making. That's why all new PowerShot digital cameras, including the A550 and A460 models, are equipped with a variety of features to make viewing and printing your images easier than ever. For example, both still images and movies can be played back through compatible personal computers or television sets with accessory cables that are supplied at no extra charge. Additionally, the PowerShot A550 and A460 digital cameras support one-touch automatic downloading to compatible personal computers, and the supplied software automatically organizes images and movie clips according to the shooting date for easy archiving.
Direct Print
Like all PowerShot digital cameras, these newest additions to the A-series work seamlessly with Canon's petite compact photo printers – an essential PowerShot accessory. Consumers simply connect their PowerShot digital camera to a compact photo printer, press the Print/Share button, and within seconds**, prints emerge. Presto! It is that simple. Canon's digital cameras are PictBridge compatible. They work with PictBridge enabled printers and offer excellent image quality and ease-of-use. Printing photos directly from a digital camera is both easy and affordable.
What's in the Box?
The PowerShot A550 and A460 digital camera kits include a USB cable, an audio/video cable, a wrist strap, a 16MB MultiMediaCard and AA-size alkaline batteries as well as the Canon Digital Camera Solution Disc Version 30, featuring the latest versions of Canon's powerful software.***
About Canon U.S.A., Inc.
Canon U.S.A., Inc. delivers consumer, business-to-business, and industrial imaging solutions. The company is listed as one of Fortune's Most Admired Companies in America and is rated #35 on the BusinessWeek list of "Top 100 Brands." Its parent company Canon Inc. (NYSE:CAJ) is a top patent holder of technology, ranking second overall in the U.S. in 2005, with global revenues of $31.8 billion. For more information, visit www.usa.canon.com.

###
Availability, specifications and pricing subject to change without notice.

*Actual prices are determined by individual dealers and may vary.

**Print speed of up to 58 seconds is based on average output speed achieved during product testing with DIGIC II processor embedded Canon PowerShot digital cameras and Canon SELPHY CP Printers. Other products' print speed may vary. Printer functions are sensitive to temperature and humidity.

***See powershot.com for operating system requirements.