Canon Rebates for late fall 2011
Canon have released the details of their late fall rebates. It's an "instant rebate" scheme again, which means that the retailer deducts the rebate at the time of sale, so there are no forms to mail in and no wait for a rebate check. Note that the rebates end on November 23rd, so if you are shopping for holiday presents, you need to do so early! This time quite a few lenses and Speedlites are included, along with the EOS 60D, the Rebel T2 and T3i and a number of Powershot P&S cameras. I'll have more details and links shortly, but here's the Canon poster for the lens and Speedite rebates: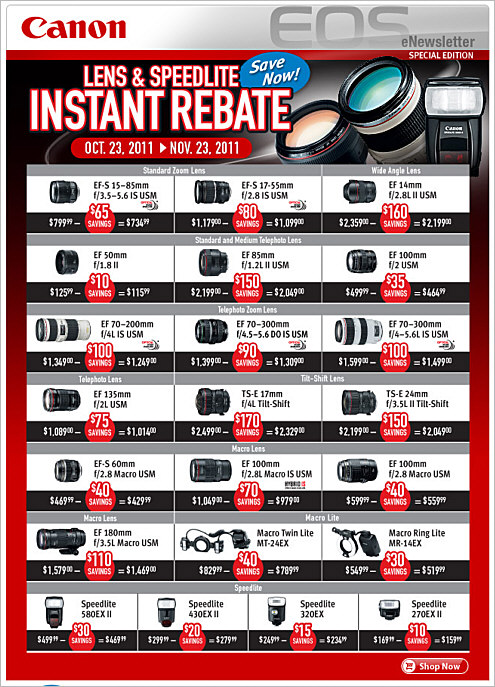 These rebates should be available from the usual recommended vendors:
There is also a $100 instant rebate on the EOS 60D (kit or body), a $50 rebate on the T2 and T3i camera kits and for the next few days (until Oct 29th 2011), a $20 to $30 rebate on a number of Powershot "point and shoot" cameras.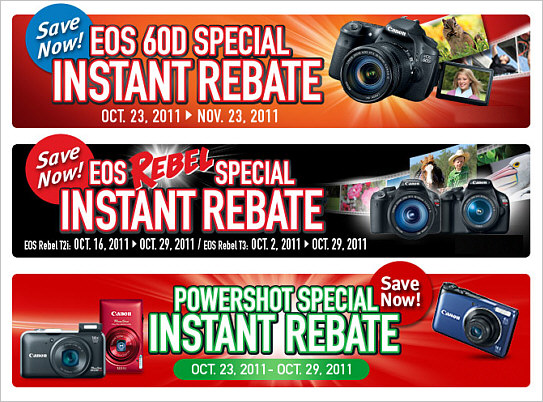 Again, please check out the usual set of recommended retailers (see below) for current pricing and availability.