Choosing a P&S Camera - Samsung HZ30W Review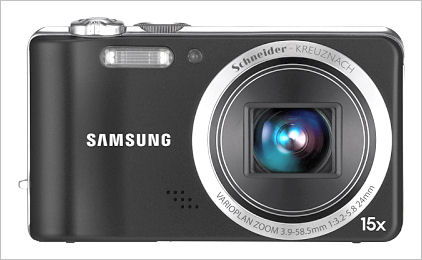 Samsung HZ30W (also known as the Samsung WB600)
I recently needed a new P&S camera for those times when all I can carry is something that will fit in my pocket. Like everyone else in the same situation, I found it hard to know where to start looking. There are so many P&S cameras available (something like 400 I believe) that the possible choices are quite confusing.
So where to start? Rather than simply look for the "best" camera or the camera with lowest noise or highest resolution I think it's better to make a list of the most important features in approximate order of importance and go from there. I Think it's far better to have a camera with the lens you need than one with a 1dB noise advantage and the wrong lens.
Pocketability. An SLR style "bridge" camera which won't fit in my pocket isn't what I'm looking for.
A wide range zoom. If I only have one camera with me and it only has one lens, I'd like it to do as much as possible.
A wide wide lens. 35mm is just too long. 28mm is better, but 24mm is best
An optically stabilized lens. Since high ISO settings can be noisy on P&S cameras, the ability to hand hold at relatively slow shutter speeds (resulting from lower ISO settings) is important.
Image quality. It should be decent, but I'm not going to sacrifice usability (wide zoom range) for a slight image quality improvement. RAW storage capacity would be nice, but I can live with JPEGs for this camera.
Cost. I really didn't want to spend more than $200 to $300 on this camera.
Manual control. I want to be able to fully control shutter speeds, aperture and ISO if I need to
Long shutter speeds. I want the choice of long shutter speeds (at least 10 seconds) If I chose to.
High ISO capability. High ISO is going to give marginal image quality in a P&S camera, but I'd like the option of a marginal quality image over no image at all.
Reasonably quick operation. I don't want to have to wait 10 seconds for the camera to wake up and 3 seconds between shots.
Video. Although I don't shoot much video, it would be nice to have HD capability. Preferably 1080p, but at least 720p.
So given these constraints, what cameras are available and which good cameras are ruled out?
Well, on a number of grounds (cost, zoom range for example), cameras like the Canon Powershot S95 and Canon Poweshot G12 are ruled out, even though they are pocketable, have a fast lens, can shoot in RAW mode and have excellent image quality.
Similarly, despite their very wide zoom range, larger cameras such as the Canon Powershot S30 IS, the Nikon Coolpix P500, the Olympus SP-810 UZ and the Sony Cybershot DSC-HX100V are rules out because of cost and pocketability issues. If I can't get it in my pocket, I might as well carry an SLR.
So looking at pocketable cameras with a zoom starting around 24-28mm and going out to at least 240mm we have such cameras as the Leica V-lux 30, the Samsung HZ30W and HZ35W, the Casio Exilim FH100 and the Canon Powershot SX210 IS. Price rules out the Leica. The Canon Powershot SX 210 IS looks good, but the lens does start at 28mm. Both the Samsungs and the Casio start out at 24mm, but the Samsung goes out to 360mm while the Casio's longest focal length is 240mm.
The Canon Powershot SX230 HS is also very interesting. It has a 28-392 lens and the HS (High Speed) designation is given because the SX230 HS can shoot at 8 frames/sec in a 3MB image mode (approx 2050 x 1540 pixels), plus 240 frames/sec video in 320x240 resolution. It also has 1080p HD video capability. However the current price of around $300 put it at the upper limit of my price range. Still a very interesting camera though and one of these days I'd like to hold of one to test.
The Samsung HZ30W and HZ35W are essentially the same camera except the 35W has GPS built in and uses an AMOLED screen. However it is/was priced around $350 while the very similar HZ30W is/was priced closer to $200 and I really don't need GPS in a camera.
The Samsung HZ30W also meets my requirements for manual control, long shutter speeds, optical stabilization and has a pretty good Schneider-Kreuznach 3.9-58.5/3.2-5.8 lens (24-360mm 35mm equivalent). It's not super fast, but it's fast enough. So I bought one.
Inevitably as soon as I buy something it gets replaced by a newer model, which in this case is the Samsung WB750. It appears similar to the HZ30W (WB600), but it has a longer 18x 24-432mm lens (rather than a 15x 24-360 zoom), a higher resolution LCD screen, 1080p HD video (rather than 720p HD) and a new 12.5MP back illuminated sensor. However I'll talk about the HZ30W here since that's the one I have and it's still available from a few places and at an even lower price than I paid for it!
Samsung HZ30W Specifications
| | |
| --- | --- |
| Sensor | 1/2.3" 12.1 Megapixel CCD |
| Lens | Optically stabilized 3.9-58.5mm f3.2-f5.8 Schneider-Kreuznach (24-360mm equivalent) |
| Shutter Speeds | 16s to 1/2000s |
| ISO range | 80-3200 plus auto |
| Metering | Multi-segment, center-weighted, spot |
| Exposure Compensation | ±2 EV range, in 1/3 EV steps |
| Exposure Modes | Program, automatic, manual, aperture-priority, shutter-priority |
| Focus modes | TTL Auto focus (Multi AF, Center AF, Selection AF, Face Detection AF, Face Recognition AF, Object Tracking AF) Focus Area, Manual Focus |
| Video | 720p HD @ 30/15fps, 640x480 @ 30/15fps 320x240 @ 60/30/15fps |
| LCD | 3", 230,000 dots |
| Size | 107 x 61 x 28 mm |
| Weight | 245 g |
| Battery | Li-ion rechargeable SLB-11A (1100mAh) |