Sandisk Rebates - Spring 2008

Sandisk are offering significant rebates on their Extreme III, ExtremeI V and Extreme Ducati CF and SD memory cards. Rebates range from $5 on a 1GB SD card to $90 on a 16GB Extreme IV CF card, with additional rebates if you buy multiple cards of the same type and capacity. The program runs until March 30th 2008 (03/30/08).
The rebates are slightly unusual in that you can receive them either via a "gift check" or a VISA debit card. The gift check option gives you a check which can only be used at the store from which you bought the cards, however if you buy from ADORAMA, they will add on another 10%, so if you get a $200 gift check, Adorama will give you $220 credit at the store. The VISA debit card can be used anywhere but you don't get the extra 10%.

Here's a list of the cards included in the rebate: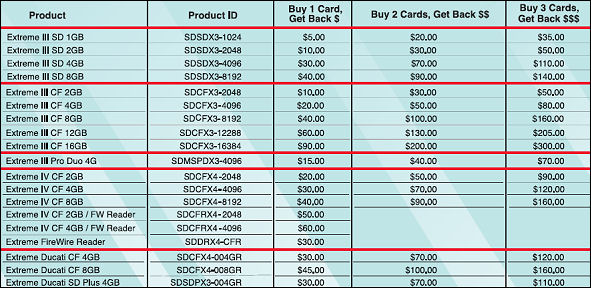 Extreme III CF cards have a temperature rating of -13° F to 185° F (-25° C to 85° C) and a speed rating of 20MB/second
Extreme IV CF cards are rated for -13° F to 185° F (-25° C to 85° C) and have a speed rating of 40MB/second
Extreme Ducati CF cards are a premium line of cards associated with Ducati motorcycles. Sandisk says this about them "...Since this is a limited-edition release, and it bears the official Ducati license, Ducati loyalists now have a collectible card that can set them apart from the crowd...". They are slightly faster than the Extreme IV cards, at 45MB/second.
All the cards come with data recovery software, a travel case and a lifetime warranty.
You can download a copy of the rebate form which has all the details from http://www.adorama.com/pdfs/rebates/sandiskx_033008.pdf
Here are a few direct links with the approximate price (after rebate):
For most photographers the Extreme III cards represent the best price/performance ratio. The Extreme IV cards are faster, but you'll need a very fast camera and a high speed card reader if you want to get the full benefit from them. Unless you're a Ducati motorcycle fan, there's probably little reason to pay extra for Ducati cards!
One more piece of advice. If you submit a rebate form, check on the status frequently. It's unfortunate that many mailed in rebate forms seem to get "lost". There's a clear advantage to the companies who issue rebate checks to "lose" rebate forms. There are also examples of rebate forms being rejected for no good reason ("clerical errors"). If you check the status frequently and call the company if you don't see it progressing as it should, you'll have a MUCH better chance of getting your rebate on time and any unfair rejections can be corrected. If you simply wait 6-8 (or 10) weeks you may be disappointed. Keep copies of all your receipts and rebate forms just in case you need them to prove the validity of your claim. So you may have to do a little work to make sure you get your rebate, but if it's for a significant amount, it's certainly worth doing.