Sony Alpha A900 - 24MP Full Frame DSLR
Sony have now released full details of their new Alpha A900 24MP full frame DSLR with built in image stabilization. Earlier this year they promised it would be available by the end of 2008 and they have come though with the new Sony A900.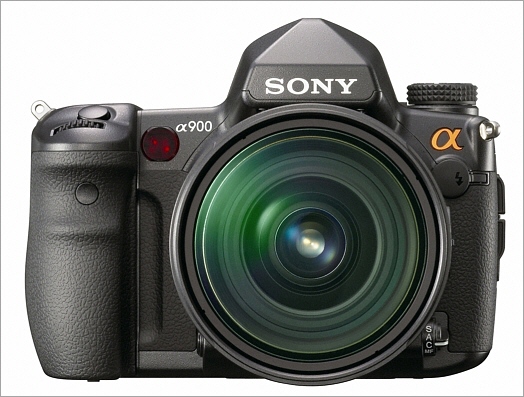 In a "retro" looking package the Alpha A900 uses Sony's own 24.5MP full frame (36mm x 24mm) sensor and the A900 is the first and only full frame DSLR with "sensor shift" technology which physically moves the sensor to compensate to camera movement, making a stabilized system with any lens mounted on the camera. This contrasts with Canon and Nikon systems which depend on stabilized lenses ("IS" for Canon, "VR" for Nikon). While stabilized lenses have some advantages (a stabilized viewfinder image for example), a stabilized body such as the Sonty Alpha A900 provides stabilization will ALL lenses with no additional cost and makes a stabilized system with wideangle and normal primes possible, something the Canon and Nikon systems cannot do since no optically stabilized wideangle and normal primes are available. Sony claim that the system used in the A900 works even better than that in its crop sensor bodies and can provide up to 4 stops of additional stability.
Like the Nikon full frame DSLRs the Sony Alpha A900 can use lenses designed for APS-C crop sensor cameras by only using the center part of the full frame sensor. Operating in the 1.5x crop sensor mode, the image will be around 10.6MP. Unless Canon gave worked some tricks with the 5D MkII mirror, it's unlikely to be able to mount or use EF-S lenses since they protrude further into the camera body than full frame EF-S lenses and so mechanically interfere with both the body itself and the SLR mirror.
When it comes to continuous shooting the Sony Alpha A900 is no slouch either. Despite the massive amounts of data which have to be stored for each 24.5 MP frame, the A900 can shoot at 5 frames per second (it uses dual Bionz image processing chips to handle the data load).
The Sony Alpha A900 price is $2999.99, which is certainly a breakthrough for a full frame camera with such a high resolution sensor. The only currently comparable sensor is the one used by Canon in their $8000 1Ds MkIII. However, I expect the new Canon EOS 5D MkII (which may be called the EOS 7D, or 3D or something else!) to have a full frame sensor of around 21MP and a similar $3000 street price. I'd expect Canon to be releasing details of the 5D MkII within the next week or so.
The Sony Alpha A900 is very impressive on paper but we'll have to wait for a full test of a production model to see how it performs in the field. As of right now though, it seems to set the standard to beat for "affordable" full frame DSLRs with more than double the pixel count of the $3000 Nikon D700 plus built in image stabilization and 5fps operation. On the other hand, it has a more limited ISO range than the D700 (100-6400 vs. 100-25600) and we don't yet know much about AF or noise performance.
The Sony Alpha A900 is currently available for pre-order from Amazon.com
Sony Alpha A900 Main Features
24.6 MP 35mm format full-frame CMOS sensor
Image sensor shift stabilization
ISO 200-3200 (expandable to ISO 100-6400)
Glass pentaprism. 100% coverage, 0.74x magnification
9 point AF with 10 assist points, center dual-cross AF w/2.8 sensor
5 frames per second continuous shooting
40 segment metering
3.0" 921,000 pixel LCD display, 100% coverage
Direct HDMI output
User interchangeable focusing screens
CF Type I/II and MS memory cards
New Image Data Converter SR software (includes vignetting control)
New Vertical Grip
Supplied with wireless remote control
Magnesium Alloy body
Rubber seals for dust and moisture resistance
AF micro adjustment
Weight 850g (without battery, card, accs)
$2999.99 body price
available late October 2008
Sony A900 Press Release
SAN DIEGO, Sept. 9, 2008 — Sony is introducing its full-frame a (alpha) DSLR-A900 camera, aimed at serious photo enthusiasts looking for traditional SLR performance with the added benefits of digital photography.
It is designed to deliver ultra-fine picture quality with the world's highest resolution, 24.6-megapixel, 35 mm full-frame CMOS sensor and fast image processing with a new dual BIONZ® processing engines. The camera is also the first to have a body-integrated image stabilization system for a full-frame sensor with Sony's SteadyShot® Inside anti-shake system.
One look at the camera's distinctive pentaprism and nostalgic body design will evoke its full-frame optical performance. It features a bright, clear optical viewfinder with 100% field of view coverage that would impress even film photography loyalists.
"The a (alpha) DSLR-A900 introduction solidifies Sony's position as a leading camera manufacturer that can meet the demands of serious enthusiasts," said Phil Lubell, director of digital camera marketing at Sony Electronics. "It represents the best in sensor and image processing technologies and offers enhanced functions, performance and reliability so photographers can push their creativity to the limit."
Ultra-Fine Images As The Human Eye Perceives Them
The camera's Exmor™ CMOS sensor delivers the photographic expressive power of wide angles and perspective that only a 35 mm full-frame sensor can offer, and is designed to take advantage of the resolving power of high-precision a (alpha) lenses. Its high pixel count and large size provide enhanced image detail and a wider dynamic range for natural color reproduction and subtle tonal gradations.
The sensor is produced using proprietary Sony planarization technologies to ensure an ultra-flat surface across the entire imaging area. Instead of a single analog/digital convertor, the sensor uses over 6,000 on-chip, column-parallel A/D converters to convert analog signals to noise-resistant digital signals at the earliest possible stage. The result is reduced noise and high-speed transfer of data.
Image processing gets a boost in speed and power from the application of two BIONZ image processing engines. Large amounts of data captured by the 24.6-megapixel sensor can be quickly processed to achieve a fast shooting response. Additionally, this dual BIONZ processing system applies advanced noise reduction algorithms producing images of exceptional quality and detail, especially at high ISO sensitivities.
World's First Anti-Shake System for a Full-Frame Sensor
The camera's newly-developed, body-integrated SteadyShot Inside unit achieves an anti-shake effect equivalent to shutter speeds faster by 2.5 to 4 stops. This new unit provides stabilization for Sony, Minolta and Konica-Minolta wide angle, large-aperture lenses, which is difficult for lens-integrated systems.
State-of-the Art Optical Performance and Responsiveness
The ultra-bright viewfinder with 100% field of view coverage and 0.74x magnification enables accurate framing and preview. It features a high-power condenser lens, an eyepiece with high reflective-index glass, and a multi-layer, anti-reflective coating on every optical surface to deliver its extraordinarily bright and accurate view.
Additionally, the focusing screen is user-replaceable, with additional L-type (grid pattern) and M-type (super spherical acute matte) screens sold separately.
The camera's newly-developed autofocus system consists of nine wide-area sensors with 10 assist points for improved tracking of moving subjects. A center dual cross sensor comprised of two horizontal and two vertical line sensors as well as a dedicated f/2.8 sensor are included to achieve greater precision, especially when using fast-aperture lenses.
It also offers high-speed continuous shooting of 24.6 megapixel images at five frames per second. A newly-designed mirror box features a unique parallel-link mirror mechanism that moves on two horizontal axes to accommodate both 100% viewfinder coverage and the body-integrated image stabilization system without increasing the camera's size. The mirror box also has a new moving magnet actuator, a high-powered coreless motor for a faster shutter charge, and a magnet catcher to minimize mirror bounce and light refraction within the box.
Versatility to Unleash Creative Possibilities
The model's innovative intelligent preview function takes the guesswork out of setting up a shot and the hassle of taking multiple shots to achieve a desired effect.
After pressing the depth of field preview button, the camera "grabs" a RAW preview image which is processed and displayed on the LCD screen. You can then fine tune white balance, determine the best level and effect of dynamic range optimization, adjust exposure compensation and check histogram data, all before you actually take the picture. Preview images are not recorded on the camera's memory card, thus saving capacity.
Other key features aimed to expand creative options include the Dynamic Range Optimizer (DRO) with five levels of user-selectable correction as well as DRO bracketing for enhanced scene analysis and graduation optimization. EV bracketing with ±2EV range makes it easy to create high dynamic range composite images.
Thirteen creative styles can be selected to enhance images and then fine-tuned by customizing contrast, sharpness, zone matching and other parameters, while 3 user-programmable memories provide instant access to as many as 26 different mode settings.
Powerful RAW file processing control is put in the photographer's hands with the included Image Data Converter SR3 software that delivers faster file processing speeds, easy adjustment of image parameters, Dynamic Range Optimization and a new Peripheral Illumination function that compensates for corner light fall off.
With the camera's HDMI output and Photo TV HD mode, your creative output can be enjoyed on a compatible HD television. This mode brings the look of actual printed photography to the television, by fine-tuning such image parameters as sharpness, gradation and color.
Comfort in Your Hands
Its construction features rugged, lightweight magnesium alloy with moisture-resistant, rubber seals for buttons and dials, an anti-static coating to prevent dust adherence to the imager, and a high-endurance shutter rated for more than 100,000 release cycles.
It has a 3-inch, Xtra Fine LCD screen (921K) makes it possible to check focus and image quality with accuracy. It incorporates an easy-to-see display with a quick navigation menu to easily access common functions without interrupting your creative flow. A backlit LCD panel sits on top of the camera and displays key settings.
System Expansion with New Accessories
The A900 camera will be accompanied with an array of accessories like the recently-announced Sony HVL-F58AM flash unit with its innovative Quick Shift Bounce system, powerful performance with a guide number of 58, and wireless auto flash ratio control.
The Sony® VG-C90AM vertical grip offers the same ease of operation when shooting vertically as horizontally, with its button layout and low-position shutter-release button. It also houses two InfoLITHIUM® batteries (sold separately) for longer shooting and playback.
The DSLR-A900 body will be available in November for about $3,000 along with related accessories.
---
| | |
| --- | --- |
| | The Sony Alpha A900 is currently available for pre-order from Amazon.com |