Sony Alpha A55 (SLT-A55V) and Alpha A33 (SLT-A33)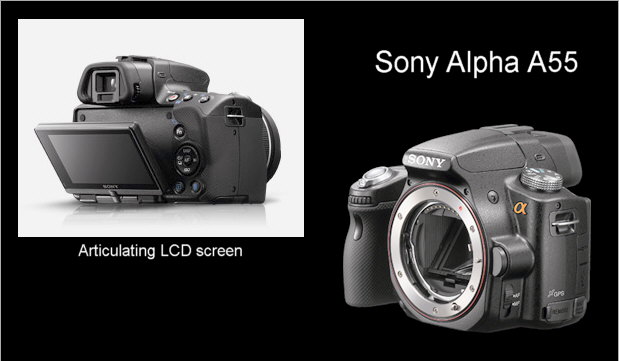 Sony's new interchangeable lens APS-C cameras feature continuous phase detection AF in video mode, a first for any "DSLR" style camera. To do this Sony have given up a moving reflex mirror and optical viewing. Instead they use a fixed semi-reflective mirror which allows part of the light to reach the sensor and diverts part of it onto the AF sensors which are housed where the pentaprism would normally be found. This allows simultaneous image display on the screen and in an electronic viewfinder and phase detection AF operation (the fast and accurate type of AF). Since they don't have reflex viewing Sony refers to them as "interchangeable lens digital cameras" rather than DSLRs, though that distinction may be lost to entry level customers moving up from P&S cameras.
Sony refer to the sytem which allows simultaneous image recording and phase detection AF as "Translucent Mirror Technology" though "translucnet" may not be the technically correct term. "Translucent" is normally defined as "permitting light to pass through but diffusing it so that persons, objects, etc., on the opposite side are not clearly visible", which (hopefully) doesn't describe the fixed mirror. There is a secondary but little used meaning of "clear" so I guess they could argue it's a valid term, though it's still a bit confusing.
The use of a fixed semi-transparent mirror is not new of course. Canon had the Pellix back in 1965 and the EOS-RT more recently (1989) used a fixed pellicle mirror.
The downside of the system is that some light is lost to the AF system and so the image formed is presumably a little dimmer than it would be with a conventional SLR mirror. In the EOS RT the cost of the fixed mirror was an image that was 2/3 stop dimmer. I have not yet seen any specification on light loss for the new Sony cameras.
The fixed mirror also allows more rapid shutter operation since there is no waiting between shots for a mirror to move up and down. Both the Sony A55 and A33 offer up to 10 frames/sec.
Given the relatively low price of the A55 ($750) and A33 ($650) they seem like quite a bargain if you are primarily interested in shooting video. The A55 has a 16.2 MP sensor and built in GPS, while the A33 has a 14.2 MP sensor. In all other respects the two cameras appear to be virtually identical (ISO 100-12800 with 25600 available in multiexposure HDR mode). Both shoot 1080p HD video and both have an articulating 3" LCD screen. Both have image stabilization built into the camera body (moving sensor).
Here's a copy of the Sony Press Release: