Sony CyberShot DSC-HX1 Preview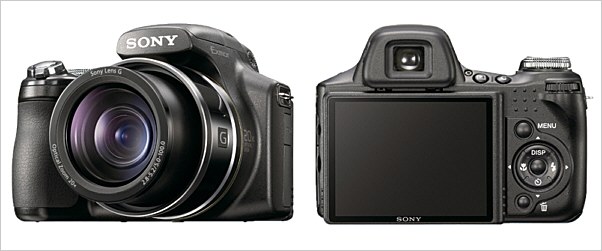 At last month's PMA show lots of new "P&S" digicams were announced and among the more interesting is the new Sony DSC-HX1. It's positioned at the top end of the "P&S" range with a 20x optical zoom with an equivalent range of 28-560mm and it has a number of features that some DSLRs would be envious of. Of course it has a much smaller image sensor than a DSLR (even a crop sensor DSLR), but still it has a number of very interesting features that meet or beat those of low end DSLRs. Sony sensibly chose to limit the pixel count to 9.1 MP rather than chase the competition up to 14MP or more (which means smaller pixels and higher noise).
ISO capability up to 3200
20x 28-560mm/2.8-5.2 (equivalent) lens with Optical Stabilization with Aspherical and ED elements
9 autofocus zones
Auto Noise reduction via stacking of multiple images
Up to 10 frames/sec continuous shooting rate
HD movies at 1080p, 30fps (1440x1080), high quality, high compression MPEG4 AVC/H.264
Tilting LCD for high and low level shooting
Dynamic Range Optimization
Sweep Panorama (automatically takes and stitches multiple shots while camera pans across scene)
Face detection, anti-blink and red-eye reduction modes.
In camera retouching tools
Overall the DSC-HX1 looks like a very capable camera and would be ideal for someone who doesn't want or need the interchangable lens features of a DSLR. In good light (where the lower ISO settings can be used) and for prints up to maybe 11x14", the image quality of a digicam such as the DSC-HX1 can match that of a DSLR, with lower cost and greater convenience. The DSLR comes into its own at higher ISO settings and larger print sizes, or when special lenses or a greater degree of creative control are required.
The Sony DSC-HX1 is expected to be available in April with a list price of $499.99
Here's what Sony themselves have to say about the DSC-HX1: