Sony Webbie HD MHS-PM1 Camcorder Review
While many current DSLRs are capable of shooting high quality HD video, They're all a bit large for casual use. Many digicams can also shoot video, though the one's capable of HD are usually the more expensive models. Enter the Sony MHS-PM1 "webbie", currently available for well under $100. With a weight of 4.2oz (120g) including the battery and a size of 15/16 x 4 1/8 x 2 1/4 inch (24 x 103 x 55mm) it's very easy to slip into a pocket.
On paper the Webbie looks like a bit of a mixed bag with some good features but some limitations. On the plus side it has 1080p HD video (1440×1080) at 30fps, 720p HD video (1280×720) at 30fps and regular VGA SD video (640x480) at 30fps, which are all pretty good numbers. It can also shoot stills up to 5MP (2592x1944) in addition to a 3:2 mode (2592x1728), a 3MP mode, a 2MP mode and a VGA mode. Audio is recorded in mono via a built in microphone. It has a swiveling lens which is better shown by the images below than described!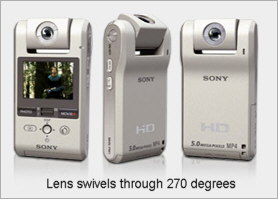 On the minus side the lens is fixed focus with only "digital zoom", it uses Sony memory stick flash cards (one day Sony may join the rest of the world and use SD cards...) and most functions are automatic (not much manual control). The MHS-PM1 does have 12MB of internal memory that can be used for image storage but that's a minuscule amount of memory. It's good for about 45 seconds of low-res VGA video, 15 seconds of 1080p video, 3 still images at the 5MP setting or 75 low-res 640x480 (VGA) still images. Given the low cost of memory these days, it's still puzzling to me why those camera makers who do decide to include memory in a camera offer so little, but I suppose that some is better than none.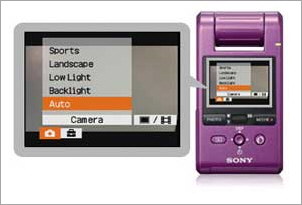 In practice the Webbie has quite a few interesting and unexpected features. First it display shutter speed, aperture and a histogram of whatever it's shooting. This is a rarity these days on basic P&S digicams. On image playback it shows ISO, shutter speed, aperture, exposure compensation and white balance. Aperture is a bit of a moot point however as it seems to always be f3.6 and white balance is always auto (AWB). In still mode there are various programs. Auto, Landscape, Sports, Low light and Backlight. As far as I can tell, Auto and Landscape are identical. The manual talks about landscape "focusing on a distant subject", but since focus is fixed this makes little sense. Backlight adds 1.3ev exposure.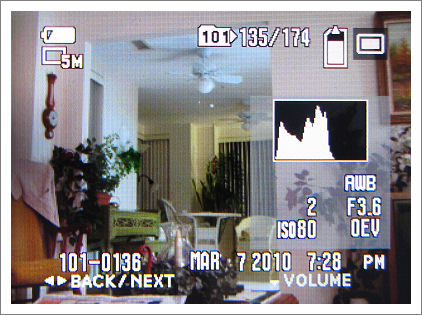 Still image playback with all information displays enabled
You might think "Low Light" would maximize the ISO setting (which can be in the 80-320 range), but you'd be wrong. In fact it selects the lowest ISO setting (80), but it allows shutter speeds as long as 2 seconds. In other modes the longest shutter speed is 1/8s. "Sports" sets the shutter speed to 1/250s or faster, so it's only good in reasonable light. The fastest shutter speed appears to be 1/2000s.
A 1/2 press of the shutter locks in the exposure, so in any mode you can effectively use exposure compensation by setting exposure on one part of the scene and then recomposing. Since focus is fixed there are no associated focusing issues! You might think fixed focus is a significant problem, but actually if you look at the depth of field of an f3.6 lens of focal length 7.13mm and a 1/2.5" sensor, it's pretty good and if the focus is set to the hyperfocal distance, the DOF ranges from infinity to about 1.4m (Infinity to about 4ft 6in). The field of view is something like that of a 42mm lens on a full frame 35mm camera (i.e. slighly wide "normal" lens).
Surprisingly, for what is intended to be an easy to use handheld video camera, there is a standard tripod socket on the base, which can be very useful for still shooting in low light.
There are fewer option in video mode, where the exposure is set automatically. Digital zoom is available up to 4x in 720p and VGA modes and up to 2x in 1080p HD mode. While "digital zoom" isn't much use for full size digital stills (you may as well shoot with no zoom and crop the image later), it can be useful in video mode where you aren't using all the pixels from the sensor anyway and when shooting stills at reduced resolution.
The Sony "Webbie" can also be used as a webcam and comes with built in software for sending images to various video sharing websites. When connected via a USB port there is a USB drive mode in which the memory can be accessed as a disk drive. Actually three drives show up. One is the memory card. one is the internal memory (12MB) and one is a drive with software on it. Software is also supplied to make uploading images to sharing sites (flickr, youtube etc.) easier. An interesting touch is that software is available in the webbie itself to do much the same thing. It's accessible when the camera is connected to a PC via the USB port. This means you always have the software with you, so if you're at an internet cafe you can use the built in software to upload images and videos.
As mentioned, there's a standard mini USB 2.0 port plus an A/V port which connects the webbie to a TV via either a composite or component video signal (two cables are supplied, one for use with composite video and one for component). You can select NTSC or PAL video output. There's also a DC input jack for external power. Both the A/V and DC ports use proprietary Sony design connectors.
The battery cannot be charged via the USB port. It must be removed and charged in the (supplied) AC charger.
Image Quality
You can't expect a fixed focus 5MP digicam to compare with a conventional P&S digicam in terms of image quality, but nevertheless image quality was better than I expected. I've made a pretty decent 8x10 print from a 5MP image and it's pretty sharp. You may need to tweak color balance, contrast and saturation a little for best results. Video quality is also very acceptable as long as the light is good. Obviously with an f3.6 lens and maximum ISO rating of 320, video in low light isn't going to be great since the shutter speed can't drop below 1/30s at a 30 frames/sec shooting rate, but for outdoor work or indoor work in good lighting it's just fine.
Here's a sample video (downsized to fit on the page):
Here's a sample of a still image shot at 5MP. It's downsized to fit but on the right is a 100% (actual size) crop to show the image detail.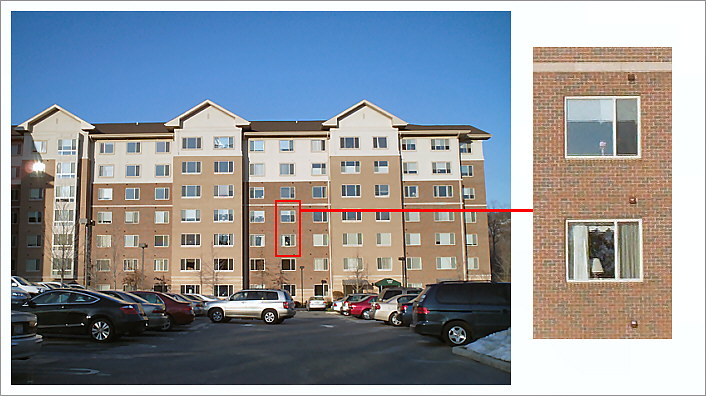 5MP still image. 100% crop shown on right.
Conclusions
Sony Webbie HD MHS-PM1 Camcorder is a fun device and since it's being discontinued by Sony it's available at a significant discount from its original price. Currently you can find it for around $85 from Amazon. In my opinion the video and still images are pretty good (especially for the price) and the swiveling lens turns out to be pretty useful. It seems that the ability to hold the camera, for example, at chest level rather than in front of you enables it to be held with greater stability, allowing sharp images at slow shutter speeds even though there is no image stabilization. For quick videos and stills it's a lot better than using a cell phone, though of course it can't match a dedicated camcorder or mid-range P&S still camera. I bought one myself and I've had a lot of fun with it. If you don't have any Memory Stick Pro memory, you'll need that too, but you can get 2GB for under $12 and that's good for about 770 5MP stills, 40m of 1080p, 1hr or 720p or 2 hrs of VGA video.