The Canon EOS Lens Database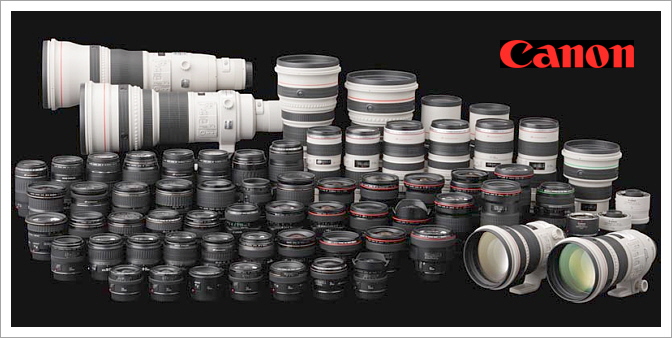 The Canon EOS Lens Lineup
Canon currently produce over 60 different lenses for Canon EOS bodes. Most are in the EF series which will operate on all Canon EOS SLR camera bodies whether 35mm, full frame digital or cropped sensor digital. The EF-S series of lenses are designed only for use with the 1.6x crop sensor (APS-C) bodies, which are currently the Digital Rebel XS, T1i and T2i, the EOS 50D and the EOS 7D though they also work with earlier bodies in the same series such as the Rebel XT, XTi and XSi, plus the EOS 20D, 30D and 40D. EF-S lenses will not fit on the early APS-C crop sensor DSLR bodies such as the EOS D30, D60 and 10D, nor will they fit on the 1D and 1Ds series APS-H and full frame DSLRs.
When you include all the lenses that Canon have made since the introduction of the EOS system in 1987 there are over 140 different Canon EOS lenses available.
Real Time Statistics
Currently there are
155
different lenses in the database.
This database is an attempt to collect together all the information on all the lenses Canon has produced for EOS cameras. It is a work in progress and it will inevitably be incomplete. It would be surprising if there were no errors in it, so if you spot anything that's incorrect or think something is missing you can contact me via the EOS Lens Database Report Form and I'll do my best to add or correct entries.
The place to start is here: List of all EOS Lenses in the database.