Canon EF 300mm f2.8 L IS II USM
Canon EF 300mm f2.8 L IS II USM Specifications and Review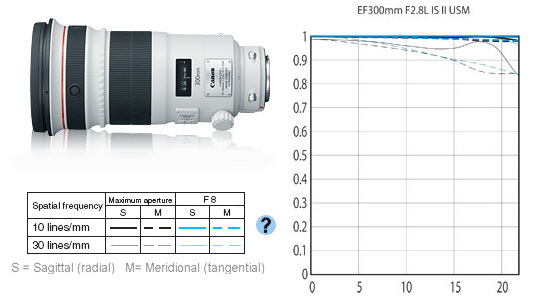 The new Series II EF super-telephoto lenses can correct camera shake up to four full shutter speed steps, compared with two shutter speed steps with their predecessors. This improvement is made possible by a new low-friction stabilizer mechanism that is not only more efficient than the previous design but also smaller and lighter. Other enhancements to the IS systems of both new super-telephoto lenses have enabled quieter operation; ideal for use during video capture.
Canon has developed a third Image Stabilization mode option for its super-telephoto EF lenses. First introduced in late 2010 with the EF 400mm f/2.8L IS II USM, and EF 300mm f/2.8L IS II USM lenses, and now available on the new EF 500mm f/4L IS II USM and EF 600mm f/4L IS II USM lenses, IS mode 3 is designed to provide professional sports and wildlife photographers with greater tracking flexibility. When mode 3 is selected on the lens, the Image Stabilization effect will not occur until the shutter is pressed, making the viewfinder image more natural in appearance while tracking a subject. In mode 3 when the shutter button is pressed halfway, the lens will begin detecting camera or lens movement and only during exposure, when the shutter is fully depressed, will the Image Stabilization engage.
Helping filmmakers achieve smoother and more appealing focus shifts when filming on EOS DSLR cameras, Canon has included a new Power Focus (PF) mode on the Company's new super telephoto lenses. This mode allows manual rack focusing to be operated smoothly by turning a playback ring that is normally used for the focus preset function. Both low-speed and high-speed focus shifting are available.
[Back to full Canon EOS Lens List]
Model
Canon EF 300mm f2.8 L IS II USM
Link to Current Pricing
EF 300mm f2.8 L IS II USM
Production Dates
2010 - current
Field of View (degrees)
Horizontal,Vertical, Diagonal
Full Frame - 36x24mm
APS-C - 22.5x15mm
Full Frame : H - 6.9 : V - 4.6 : D - 8.3
APS-C : H - 4.3 : V - 2.9 : D - 5.2
Full Frame FOV equivalent
with lens on APS-C body
480 mm (1.6x multiplier)
Full Frame FOV equivalent
with lens on APS-H body
390 mm (1.3x multiplier)
Image Stabilization
up to 4 stops
IS Tripod Detection
Automatic
Length
248 mm (9.76 inches)
Weight
2350 gm (79.46 oz.)
Maximum Diameter
128 mm (5.04 inches)
Lens Mount Material
Metal
Lens Color
White
Filter Size
52 mm (Rear Drop-in)
Filter Rotation
Filter does not rotate
Focusing
no information
Focus Range Setting(s)
Yes, has selectable focus range(s)
AF Stop Button
Yes
Preset Focus
Yes
AF motor
USM
Distance Scale
Yes, has distance scale
Closest Focus
2 m (6.56 ft)
Maximum Magnification
0.13x
Canon TC compatibility
Yes, Canon TCs can be used
Weathersealing
Weathersealed
Lens Hood
No information
Tripod Mount
Fixed Tripod Mount Ring
E-TTL II Support
Yes
Elements/Groups
16/12
Special Glass Elements
Yes, Fluorite and UD
Diaphragm Blades
8

Check Current Pricing and Availability at Amazon.com

Canon EF 300mm f2.8 L IS II USM

[Back to full Canon EOS Lens List]
With the large number of entries contained in the Canon EOS Lens database it's inevitable the some of presented here may not be complete and/or may contain errors. If you find an error or missing data, please contact me and I will add or revise the data as necessary
1472
4069