Canon EF 85mm f1.8 USM
Canon EF 85mm f1.8 USM Specifications and Review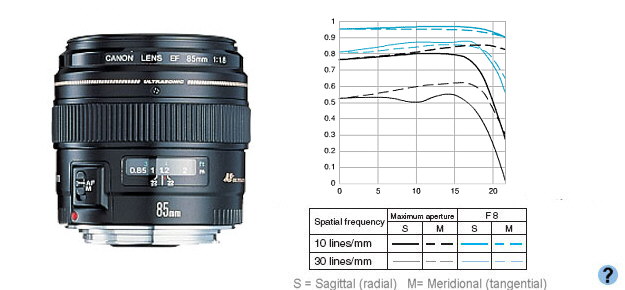 Brief Review
The 85/1.8 USM is possibly Canon's best value lens (alongside the 50/1.8). It's outstandingly sharp, even wide open and it's sharp across the whole frame, even on a full frame camera. It's fast at f1.8 - in fact apart from the 85/1.2 (II), it's Canon's fastest prime lens longer than 50mm. Distortion is negligable and chromatic aberration is very well controlled.
The wide aperture makes it easy to blur backgrounds for portraits and the bokeh (smoothness of out of focus objects) is good. I own this lens and frequently shoot it wide open for portrait work.The other application for which this lens is well suited is indoor sports (where you can get close enough to the action). The USM autofocus is very fast and the f1.8 aperture allows the use of higher shutter speeds than most other short telephoto lenses.
The EF 100/2 is very similar. It's slightly longer and slightly slower of course and it's a few dollars more expensive. Most comparative reviews find that it's not quite as sharp as the 85/1.8 wide open, but if you need the extra focal length, it's still a very good lens.
Here is a link to a full hands-on review of the Canon EF 85/1/8 USM
[Back to full Canon EOS Lens List]
Model
Canon EF 85mm f1.8 USM
Link to Current Pricing
EF 85mm f1.8 USM
Production Dates
1992 - current
Comments
A very good, very sharp, very fast, Canon EF series prime lens at a very reasonable price. The EF 85/1.8 is a great portrait lens, especially on a full frame camera. Focusing is very fast and silent. A full review of the 85/1.8 can be found HERE
Field of View (degrees)
Horizontal,Vertical, Diagonal
Full Frame - 36x24mm
APS-C - 22.5x15mm
Full Frame : H - 23.9 : V - 16.1 : D - 28.6
APS-C : H - 15.1 : V - 10.1 : D - 18.1
Full Frame FOV equivalent
with lens on APS-C body
136 mm (1.6x multiplier)
Full Frame FOV equivalent
with lens on APS-H body
110.5 mm (1.3x multiplier)
Length
71 mm (2.8 inches)
Weight
425 gm (14.37 oz.)
Maximum Diameter
75 mm (2.95 inches)
Lens Mount Material
Metal
Lens Color
Black
Filter Size
58 mm
Filter Rotation
Filter does not rotate
Focusing
Internal Focusing (Length constant)
Focus Range Setting(s)
No, always uses full focus range
AF motor
USM
Distance Scale
Yes, has distance scale
Closest Focus
0.85 m (2.79 ft)
Maximum Magnification
0.13x
EF12 magnification range
0.27x - 0.15x
EF25 magnification range
0.44x - 0.32x
Canon TC compatibility
No, Canon TCs can not be used
Weathersealing
Not weathersealed
Lens Hood
ET-65
E-TTL II Support
No
Elements/Groups
9/7
Diaphragm Blades
8

Check Current Pricing and Availability at Amazon.com

Canon EF 85mm f1.8 USM

[Back to full Canon EOS Lens List]
With the large number of entries contained in the Canon EOS Lens database it's inevitable the some of presented here may not be complete and/or may contain errors. If you find an error or missing data, please contact me and I will add or revise the data as necessary
1460
4402