Canon EF 14mm f2.8 L II USM
Canon EF 14mm f2.8 L II USM Specifications and Review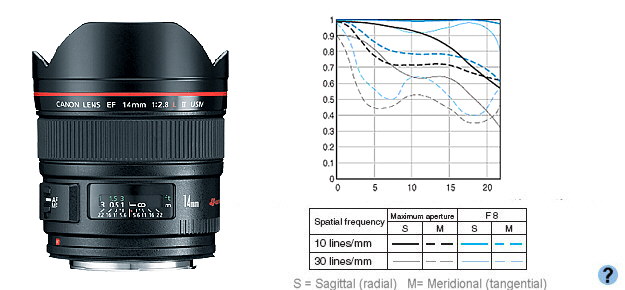 Brief Review
Canon's widest rectilinear (non-fisheye) lens. Typically used by architectural photographers and those shooting in confined spaces, as well as landscape shooters looking for the ultimate in wideangle performance. The EF 14/2.8L II is a complete redesign of the original 14/2.8L and includes two aspherical elements and adds two new UD-Glass elements. The new design gives better contrast and sharpness, especially at the edges of the images, and significantly lower levels of chromatic aberration.
The lens hood is built-in and the 14/2.8L II is dust and moisture sealed. AF performance has been improved over the original version via revised electronics and the lens uses ring USM focusing motor will full time manual focus overide. Front mounted filters can't be used with this lens, but a slot is provided for the use of rear mounted gel filters.
The new 14/2.8L II USM is not an inexpensive lens, but if you need the best possible performance in an ultra-wide lens, this lens would be your first choice.
[Back to full Canon EOS Lens List]
Model
Canon EF 14mm f2.8 L II USM
Link to Current Pricing
EF 14mm f2.8 L II USM
Production Dates
2007 - current
Comments
Ultrawide prime for full frame cameras. An L series lens with very good optics, but you have to really love the ultrawide look to pay the price - which is the wrong side of $2000. It's a new optical design (not the same as the original 14/2.8L) incorporating an additional aspheric element and two UD elements. plus the original 5 blade aperture has been replaced by an 6 blade (circular) aperture for smoother out-of-focus blur.
Field of View (degrees)
Horizontal,Vertical, Diagonal
Full Frame - 36x24mm
APS-C - 22.5x15mm
Full Frame : H - 104.3 : V - 81.2 : D - 114.2
APS-C : H - 77.6 : V - 56.4 : D - 88
Full Frame FOV equivalent
with lens on APS-C body
22.4 mm (1.6x multiplier)
Full Frame FOV equivalent
with lens on APS-H body
18.2 mm (1.3x multiplier)
Length
94 mm (3.7 inches)
Weight
645 gm (21.81 oz.)
Maximum Diameter
80 mm (3.15 inches)
Lens Mount Material
Metal
Lens Color
Black
Filter Rotation
Filter does not rotate
Focusing
Internal Focusing (Length constant)
Focus Range Setting(s)
No, always uses full focus range
AF motor
USM
Distance Scale
Yes, has distance scale
Closest Focus
0.2 m (0.66 ft)
Maximum Magnification
0.15x
Canon TC compatibility
No, Canon TCs can not be used
Weathersealing
Weathersealed
Lens Hood
Fixed
E-TTL II Support
Yes
Elements/Groups
14/11
Aspheric Elements
Yes, 2 aspheric elements
Special Glass Elements
Yes, 2 UD elements
Diaphragm Blades
6

Check Current Pricing and Availability at Amazon.com

Canon EF 14mm f2.8 L II USM

[Back to full Canon EOS Lens List]
With the large number of entries contained in the Canon EOS Lens database it's inevitable the some of presented here may not be complete and/or may contain errors. If you find an error or missing data, please contact me and I will add or revise the data as necessary
1308
4923