BobAtkins.com now on Google+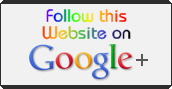 Just in case you haven't noticed, I've added Google+ links to most of the pages on the site. They're in the left side column. I'm no expert on Google+ so don't expect anything too exciting to happen there but it's another way (along with Facebook, Twittter and an RSS feed) to keep up to date with what's going on on this website.
If you're not familiar with Google+ it's a social network, very similar to Facebook. It seems to be gaining traffic (20 million users at the moment) so I thought it would be a good idea to have a presence there which would enable Google+ users to follow what's new here.
You can post comments and questions on articles on both the Facebook page and the Google+ page. I do read the Facebook and Google+ pages (though not every day) and will do my best to answer anything I see asked there.
Bob Atkins