NYC Halloween Parade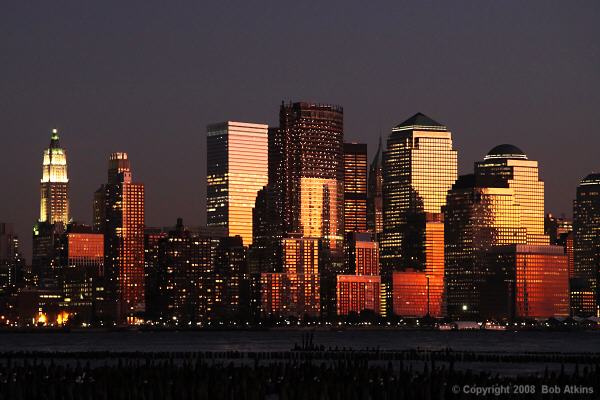 New York City Skyline at sunset on Halloween (shot from the NJ side of the Hudson River)
Canon EOS 50D, EF-S 17-85/3.5-5.6IS USM lens, 1/8s @ f8, 83mm, ISO 1600
I've just added a gallery shot with a Canon EOS 50D and (mostly) a Canon EF 70-300/4-5.6IS USM at this year's Halloween parade in New York City. I got there late, so I couldn't get near the "action", hence the use of the 70-300IS lens (often zoomed out). I used a Canon 550EX speedlite (the predecessor of the 580EX and 580EXII) for almost all the shots. To get some background recoded I used a shutter speed of 1/60s and ISO settings of 800 and 1600. The flash illuminated the subject with a very short exposure (freezing action) and the longer (1/60s) exposure recorded some background detail.
I also took a few shots with a Canon EF 50/1.8 wide open at ISO 3200 with no flash, just to record the crowed scenes. Speaking of crowds, it's estimated that around 2 million people watched the parade. No wonder they say you have to be there two hours early to find a place to stand next to the barriers. Get there later that that (like I did), and you'll be standing behind 6 other people. You'd better be tall if you want any images!
The EOS 50D and EF 70-300/4-5.6IS performed well. I took about 300 shots and all were generally pretty well exposed and well focused, despite the very difficult conditions under which I was shooting (moving subjects, mixed flash and dim tungsten lighting and significant subject distances).
Below is a sample image. For more see the Halloween Parade gallery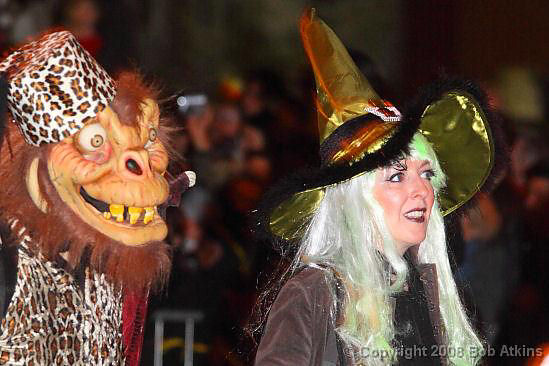 Canon EOS 50D,, 1/60s @ f5.0, EF 70-300IS @ 160.0mm, ISO 800