Photography and Digital Camera News
LowePro SlingShot 300 AW
SlingShot 300 AW Provides Larger Capacity Plus Waist Belt for Efficient Weight Distribution
Sebastopol, CA – November 2, 2006 – Lowepro, the worldwide leader of protective cases and backpacks for imaging products, is adding a new model to its extremely popular line of SlingShot AW sling camera bags. The new SlingShot 300 AW is designed to hold professional digital SLR camera bodies with an attached zoom lens, plus five to six additional lenses, flash units, memory cards and personal accessories. The Lowepro SlingShot 300 AW will be available in early 2007 with a suggested list price of $124.99.
Just like the SlingShot 100 AW and 200 AW camera bags, designed for sports photographers and photojournalists who need quick access to gear, the new 300 AW allows photographers to go from "carry mode" to "ready mode" in seconds. Without removing the bag, simply rotate or "sling" the bag toward the front of the body. The SlingShot 300 AW then provides complete access to cameras, lenses, memory cards and other accessories. With its larger size and capacity to handle more gear, the SlingShot 300 AW boasts a built-in waist belt designed to efficiently distribute the weight to reduce back strain. The 300 AW also features a quick pull handle to allow for easier rotation.
The full access lid with reverse open design allows photographers to safely and easily work out of the bag while wearing it, and zip stop buckles help keep equipment from falling out. The full access lid includes a built-in pouch to store memory cards, and two generous accessory pockets provide easy access to cables, adaptors, small accessories and other stored items. An included micro fiber LCD cloth helps protect the camera's LCD screen from scratches. The entire line of SlingShot AW bags feature Lowepro's patented All Weather Cover to protect equipment from rain, sand and dust.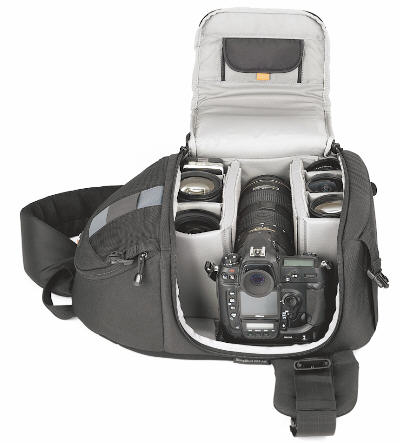 "The response to Lowepro's line of SlingShot AW camera bags has been overwhelming and the interest by photographers for a larger, professional-sized bag with the same features and functionality has been very high," said Suzanne Caballero, Marketing Communications Manager at Lowepro. "We take input from photographers seriously and build their suggestions into our bags. The SlingShot 300 AW is a result of that feedback."
Photographers can use the SlipLock attachment loops to attach additional storage accessories, thereby offering the option to customize for individual shooting preferences. Other features include silent zipper pulls for quiet access to equipment, and a mesh back pad for added carrying comfort.
The Lowepro SlingShot 300 AW camera bag measures 13 x 9.1 x 17.3-inches (external) and 11.8 x 6.5 x 11.8-inches (internal) (W x D x H).
For those needing smaller or less expensive bags, Lowepro also have the Slingshot A200 AW and Slingshot A100 AW.
&nbsp &nbsp &nbsp