Photography and Digital Camera News
TAMRON ANNOUNCES THE WINNERS OF THE "IT'S A WILD WORLD" 2006 PHOTO CONTEST
View the Winning Image and Twenty Favorites on Tamron's Online Gallery
November 15, 2006, Commack, NY—The Tamron "It's a Wild World" 2006 Photo Contest turned out to be an even bigger and wilder event than even we could have anticipated. We received well over 1000 entries from all parts of the country covering a mind-boggling menagerie of animals ranging from bears to baboons, horses to hedgehogs, and iguanas to insects. Choosing the winners from among the huge number of outstanding pictures submitted was anything but easy.
As you may recall, the "It's a Wild World" Photo Contest was open to any original photograph prominently including an animal, wild or domestic, that was taken with a Tamron lens, and was limited to U.S. residents. The Grand Prize: A magnificent Tamron AF18-200mm Di-II lens in the DSLR mount of the winner's choice, plus having the winning picture showcased in Tamron's Viewfinder newsletter and in the Gallery section of the popular Tamron website. In addition, twenty favorites will have their winning images published on the website for all to admire.
Grand Prize: The Curious Turtle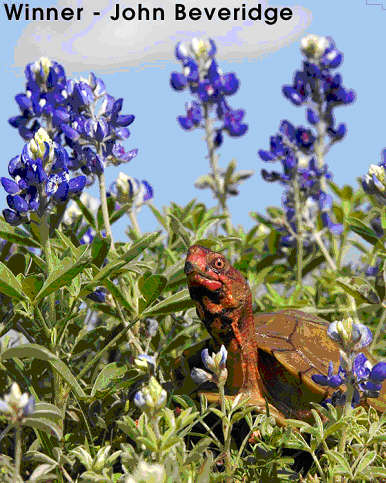 The 2006 Grand Prize winner: John Beveridge of Austin, Texas, who took the top prize for his compelling and amusing shot of a three-toed box turtle wandering through a field of bluebonnets. "Getting this ants-eye view of the turtle wasn't easy," notes Beveridge. "I'm sure I must have looked slightly ridiculous wiggling around in a patch of dirt on the side of the highway as I followed this cute critter with my Canon EOS 20D fitted with a Tamron SP 28-75mm f/2.8 Di lens. Finally I got the composition I wanted when the turtle craned his neck and peered at me, and I shot the winning picture at about 70mm at f/5.6 at 1/200 sec."
Beveridge, a business manager for IBM, describes himself as a semi-pro who specializes in nature and wildlife photography and also shoots landscapes and seascapes. Although he's been taking pictures for many years, he says, "This is the first contest I ever entered and I can't believe I took the top prize the first time out!"
One Favorite: The Coy Parrot
Among the exciting favorites in the 2006 "It's a Wild World" Photo Contest is Susan Smith of San Diego who entered a charming close-up photo of Emma, her pet African Ringneck parrot taken on her perch in the family room. "This was one of the first pictures I ever took with my new Tamron SP AF90mm Di 1:1 Macro lens," observes Smith, "and I shot it handheld by window light with my Canon Rebel XT at f/5.6 and 1/50 sec on program. Basically I just moved in close and waited for her to do something cute, and she obliged by putting her head under her wing as she looked back at me. I'm impressed by the sharpness and performance of the Tamron lens—I'm really a beginner and this lens makes me look like a good photographer." Of course, as this fine image proves, Susan Smith is a good photographer even though she's a self-taught amateur who has "been taking pictures seriously for a little over one year." Not surprisingly, her favorite subject is birds, and her favorite lens is the 90mm Tamron Macro.
Another Favorite: The Smiling Baboon
Don Johnson of Gaithersburg, Maryland photographed Kenny, the happy baboon, at the Phoenix, Arizona zoo while he was on a business trip. An avid zoo photographer who's given numerous presentations and lectures on zoo and wildlife photography, Johnson, Director of Marketing for the Hearth, Patio and Barbecue Association, has been a serious amateur since taking a college photo course in the late '80s. "Actually, this picture was taken upside-down," notes Johnson. "Kenny was actually lying down with his head hanging over a rock while his mate was grooming him when I took the shot—that's why he's smiling! I think the reason this picture is so appealing is because his expression is so human—he looks like some guy down the street." Johnson, who shot the iconic image with a Nikon D200 and a Tamron 70-300mm tele macro lens at 1/500 sec on shutter priority, is also smiling broadly. He's been informed that the Phoenix Zoo will sell copies of the image to raise funds and it will also be published in Nature's Best and be on display at the Smithsonian Institution as well as appearing on the Tamron website.
We at Tamron extend our heartfelt congratulations to all the winners and to all the talented photographers who participated in Tamron's 2006 Photo Contest. We encourage all photo enthusiasts, especially Tamron shooters, to take a close look at all the outstanding "It's a Wild World" images posted in the gallery under Photo Contests at www.tamron.com. We also hope that they inspire you to go out and shoot great Tamron pictures of your own—and to enter the Tamron "Landmarks: Natural or Manmade" 2007 Photo Contest. Details and an entry form for the contest can be found at www.tamron.com. The deadline is October 31, 2007. It is open to Tamron users residing in the United States.