Canon EF28/2.8IS, EF24/2.8IS, EF24-70/2.8II and Tamron 24-70/2.8 VC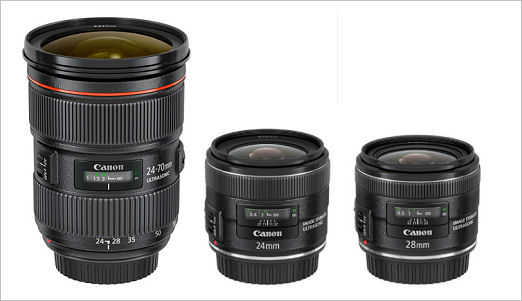 Canon EF 24-70/2.8L II USM, Canon EF 24/2.8 IS USM and Canon EF 28/2.8 IS USM
Four new lenses for Canon EOS cameras have been announced and at least three of them are surprising!
Canon
Canon released details of their new
28/2.8 IS USM
,
24/2.8 IS USM
and
24-70/2.8L II USM
. The surprising things here are (a) that Canon put IS in their relatively slow "consumer" 28mm and 24mm f2.8 primes and (b) that Canon
didn't
put IS in their 24-70/2.8L II USM. You'd have thought that the very popular and longer focal length 24-70/2.8L II USM would have been the first lens to get IS, where it would have been very useful since the 24-70/2.8L is a lens often used handheld by photojournalists and wedding professionals. On the other hand I've heard no real outcry from users of either the 24/2.8 (which I own myself) or the 28/2.8 for an update that makes then 3x more expensive by adding IS and USM. Strange.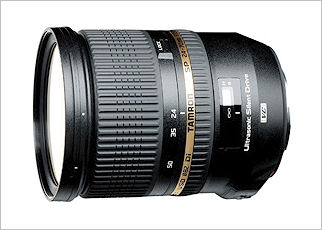 Tamron SP 24-70mm F/2.8 Di VC USD
Tamron
Taking up the slack however is Tamron, who have announced their own
SP 24-70mm F/2.8 Di VC USD
lens. VC is vibration control which performs the same function as Canon's Image Stabilization. USD is Tamron's version of Canon's USM, a silent, fast autofocus motor. That's a smart move by Tamron especially since Canon didn't put IS in their new 24-70/2.8L II USM. My request will soon be in to Tamron for a copy to review, but that may take a while since Tamron have not yet announced a release date (or a price). If it's good (and I have no reason to doubt that), I suspect it will be stiff competition for the new Canon lens. Note however that Canon claim the new 24-70/2.8 II has improved optics over the current version.
UPDATE - 04/05/12. Tamron have announced a release date of April 26th 2012 and a price of $1299 for their SP 24-70/2.8 Di VC USD lens. For more details see the Tamron SP 24-70/2.8 Di VC USD Preview article.
Why no IS in the Canon 24-70/2.8L II USM? Only Canon knows. Maybe it would have slightly degraded the optical performance? Maybe it would have added a few oz. to the weight? Maybe it would have a greater increase in cost than Canon thought that the market would bear? Who knows. However none of those factors seem to have influenced Canon when it came to the 28/2.8 IS USM and 24/2.8 IS USM prime lenses. The 24/2.8 has gone from the current ~$360 to $850, while the 28/2.8 has gone from ~$260 to $800. Not insignificant changes. The 24-70/2.8L has gone from a current street price of around $1350 to a new price of $2300 (available in April). Not insignificant either! Tamron have not yet announced a price for their 24-70/2.8 VC lens, or have they announced an availability date, but I'll bet the price is lower than $2300. Probably quite a lot lower. Their current Tamron AF 28-75mm f/2.8 SP XR Di LD retails for around $440 (and there's currently a $25 rebate on it)
If you're a Canon user and you're looking for a 24/2.8 or 28/2.8 prime, you might consider whether it's worth buying the original lenses right now for $360 and $260 respectively while (if?) they are still available, or whether you want to wait until the new lenses appear and pay $850 or $800 for the new versions. The 24/2.8 is still around and in stock at the usual major stores, but the 28/2.8 seems to be out of stock by most vendors so if you want one and see one, I'd grab it. The same goes for the current 24-70/2.8L USM. It's still in stock at the moment but I suspect once the new lens appears (with a $1000 price hike), supplies of the older lens will dry up fast.
If you want the new lenses, Adorama is taking pre-orders on them and they will be shipped as soon as they are released. Credit cards aren't charged until the lens actually ships:
The 28/2.8 and 24/2.8 were certainly in need of updating since they both date from the late 1980s, and in addition to IS both now have ultrasonic ring motors. However they do seem slightly odd choices to update when, for example, the EF50/1.4 still doesn't have IS and still doesn't have a ring USM motor. The 50/1.4 would benefit more from IS being a longer lens, it's more popular and it's often a more useful lens in low light. The EF 400/5.6L is still urgently in need of IS too. I really haven't heard too many calls from current users of the 24/2.8 and 28/2.8 that their lenses urgently needed IS and USM. Still, we shouldn't complain I guess. Maybe the other lenses are next on Canon's list?
Here's a copy of Canon's Press Release on their lenses, Followed by the Tamron press release on their 24-70/2.8 VC lens.
Here's Tamron's rather brief announcement: