New Canon Lenses - EF 200/2L IS USM and EF 800/5.6L IS USM
Today Canon announced that they are working on two new lenses. They have prototypes which they will display at PhotoPlus Expo in NYC later this week, but there are no hints at either a price or an availability date.
Canon EF 200 f2.0L IS USM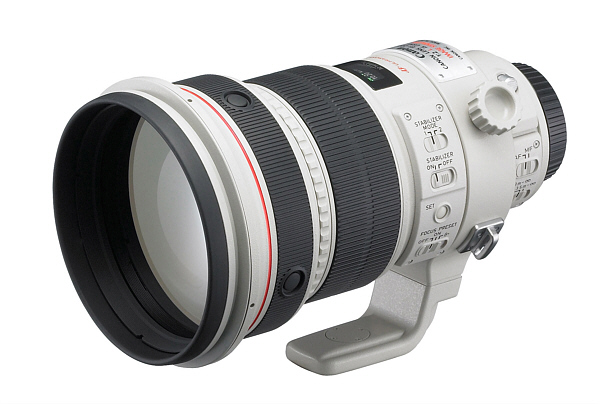 Obviously a replacement for the late lamented EF 200mm f1.8L, which was highly praised by all who used it. Very sharp even wide open. The new lens is 1/3 stop slower, but now has built in image stabilization. My guess at a price would be somewhere around $5000. Nikon have a 200mm f2 VR lens at around that price too.
UPDATE - 02/07/08 Well I was a little optimistic on the price. Turns out that it will be $6000. Still what's another $1000... If you pre-order one today, it should be in your hands by the end of May. The weight is 5.6lbs and the dimensions are 8.2 x 2.4 x 2.4 inches, so it's a pretty compact lens.
Canon EF 800mm f5.6L IS USM
This one is quite a monster! 800/5.6 lenses used to be more common 10 or 20 years ago but they fell somewhat out of favor for a while, probably because of the availability of very high quality 600/4 lenses and teleconverters. 800mm lenses are usually even bigger, heavier and more expensive than the 600/4 lenses, which are already quite a handful for use more than a few hundred yards from the car! Canon did have a 1200mm f5.6L lens which was a special order item and they did sell a few, though with a price closer to that of a house than a car, they didn't sell many. It also weighed about 35lbs, which probably didn't help sales much either!
However, if you are shooting at the Olympics or taking shots of a space shuttle launch, you may need every mm you can get and I'm sure sports and news bureaus will buy the 800/5.6L. A few brave, wealthy and fit nature shooters might also be tempted I guess. Price? Well a lot cheaper than the 1200/5.6L (last rumor I head on that was $90,000+). Probably a bit more than the 600/4L, but not too much more since it actually has a smaller front element, and that's where quite a bit of the cost comes in. I'd expect something in the $8000 region.
UPDATE - 02/07/08 Hmm. I was even more optimistic on this one. I missed it by $4000. The price will be $12000. You can pre-order one today if you just won the lottery! It should be ready by the end of May. The good news is that it's remarkably light at just under 10lbs. In fact it's lighter than the 600/4L IS, which is surprising. The length is 18.1".
Two nice new lenses for the wealthy, but I can't help but feel a little disappointed that they didn't spend a small fraction of their development budget to put IS into the 400/5.6L, a lens a lot more people would be likely to buy and which really could use IS since a number of photographers do hand hold it, especially when shooting birds in flight. Maybe next time...
Here's the Canon Press Release:
LAKE SUCCESS, N.Y., October 15, 2007 – Canon U.S.A., Inc., a leader in digital imaging, today announced the development of two all-new telephoto lenses for use with its EOS SLR cameras: the EF200mm f/2L IS USM and the EF800mm f/5.6L IS USM. The Company will exhibit prototypes of the new lenses at PhotoPlus Expo (booth #318), taking place at the Jacob K. Javits Convention Center in New York City, October 18 to 20.
The new Canon EF200mm f/2L IS USM and EF800mm f/5.6L IS USM, both of which are L (luxury)-series lenses incorporating a high-performance Image Stabilizer, feature optical systems utilizing special optical materials such as fluorite to correct chromatic aberrations, making possible high-resolution, high-contrast shooting performance.
The Canon EF200mm f/2L IS USM, targeting users who seek a brighter lens for portraiture and indoor sports photography, realizes a large aperture of f/2. The EF800mm f/5.6L IS USM, expected to deliver telephoto performance surpassing the current top-of-the-line EF600mm f/4L IS USM super telephoto lens, is being developed in response to requests from users working in the fields of sports and news photography who are looking for a high-performance lens that offers a longer focal length.
"These new lenses demonstrate that Canon is continuing to respond actively and flexibly to the wide-ranging needs of professional and advanced amateur users, with the aim of contributing to the expansion of photographic possibilities for SLR cameras," said Yuichi Ishizuka, senior vice president and general manager, Consumer Imaging Group, Canon U.S.A. "Canon's EOS System is the premier brand of Digital SLR cameras, and we take great pride in offering the world's largest selection of interchangeable autofocus lenses." ***
As these new lenses are currently under development, pricing and availability information is not yet available.