Canon EF-S 15-85/3.5-5.6IS USM Review
| | |
| --- | --- |
| Canon EF-S 15-85/3.5-5.6IS USM | |
The Canon EF-S 15-85/3.5-5.6IS USM is Canon's latest "do it all" lens for crop sensor DSLRs. It ranges from a true wideangle, suitable for interiors and landscapes, to a short telephoto suitable for portraits etc. Coupled with the very effective image stabilization, small size and light weight, it makes an excellent choice for a travel lens. The Canon EF-S 15-85/3.5-5.6IS USM is a replacement for the original EF-S 17-85/4-5.6IS USM and it offers a number of improvements:
A wider view at the short end of the focal length range, 15mm vs. 17mm. In 35mm field of view terms this is equivalent the to difference between a full frame 24mm lens and a full frame 27mm lens, a useful increase.
A revised optical design with 2 additional aspheric elements and one UD element. This improves image quality (especially at the edges of the image at wideangle settings)
The IS system has been upgraded and Canon rate the 15-85 IS as good for up to 4 stops of stabilization vs. the 3 stops of the original 17-85 IS
The diaphragm has one additional blade (7 vs. 6) which should improve the smoothness of out of focus areas of the image (better bokeh)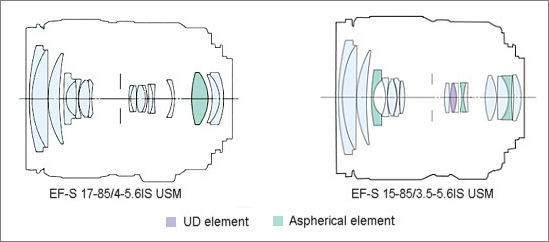 Comparison of the EF-S 17-85/4-5.6IS USM (left) and EF-S 15-85/3.5-5.6IS USM (right)
Being one of Canon's EF-S series lenses it is designed for use on crop sensor DSLRs such as the Digital Rebel series, the EOS 20/30/40/50D and EOS 7D. It will not mount of Canon's full frame DSLRs such as the EOS 5D MkII or any of the 1D or 1Ds series cameras.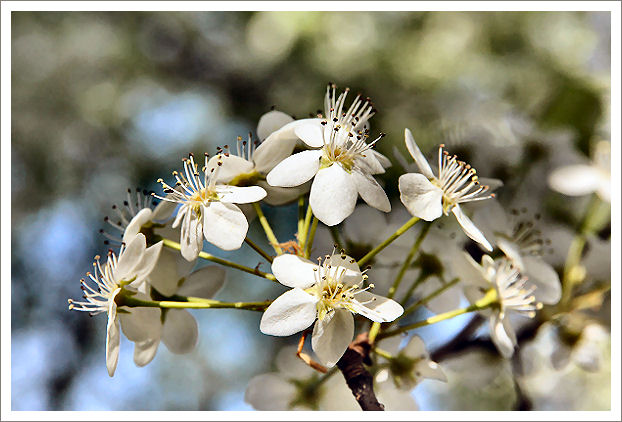 Canon EF-S 15-85/3.5-5.6, close focus at 85mm f8
The Canon EF-S 15-85/3.5-5.6IS USM takes 72mm filters and an optional lens hood (EW-78E) is available. It comes with Canon's standard 1 year warranty. Through July 10th 2010 Canon is offering a $100 "instant rebate" on the EF-S 15-85/3.5-5.6IS USM. This rebate is deducted from the price by the vendor so there are no forms to mail in. As of June 2010 the average retail price is around $630 ($730 minus the $100 rebate).
Canon EF-S 15-85/3.5-5.6 IS USM Specifications
Focal Length
15 – 85mm
Max Aperture
f3.5 – f5.6
Lens Construction
17 elements in 12 groups
Diagonal Angle of View
84° 30' – 18° 25'
Focus
Internal focusing system with

USM

Close Focus
1.15 ft./0.35m
Max Magnification
0.21x
Filter Size
72mm
Diameter
3.2" (81.6mm)
Length
3.4" (87.5mm)
Weight
20.3 oz. (575g)
In the next section of this review I'll look at the optical performance of the Canon EF-S 15-85/3.5-5.6IS USM.
NEXT - Part II - Optical Performance