Canon EF-S 18-135/3.5-5.6 IS Review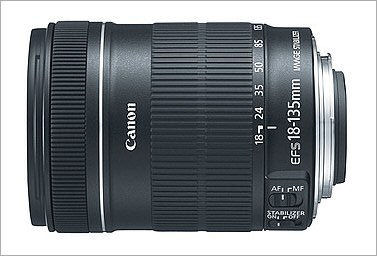 The EF-S 18-135/3.5-5.6 IS is Canon's latest addition to the line of EF-S lenses designed for use with the EOS Rebel and other APS-C sensor DSLRs. It was released in October of 2009 at an introductory price of $499 and at the time of writing (late November 2009) is available for around $400.
The EF-S 18-135/3.5-5.6 IS uses a DC micromotor for focusing and has no distance scale. In this respect it belongs to the group of EF-S lenes which includes: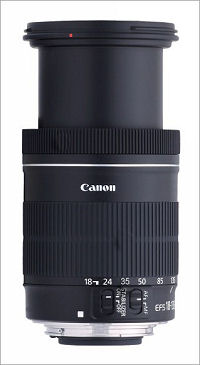 The EF-S 18-135/3.5-5.6 IS seems quite well built, though like most current consumer lenses, it makes extensive use of plastics. The lens mount is metal. Zooming is controlled by rotating the large rubber covered center section of the lens and the length of the lens extends from 101mm to 140 mm on zooming from 18 to 135mm.
Since the EF-S 18-135/3.5-5.6 IS does not use a USM ring motor, there is some focusing noise and there is no full time manual focus capability. For manual focus the focusing switch must to moved to the "MF" position and then focusing can be controlled by a ring at the front of the lens. Manual focusing is pretty much undamped and a fairly small rotation of about 45 degrees shifts between near and far focus.
The front element does not rotate when the lens is either zoomed or focused, which makes the use of a polarizing filter easier. No lens hood or case is supplied with the lens, but both are available from Canon (and 3rd party manufacturers). The Canon EF-S 18-135/3.5-5.6 IS takes 67mm filters and uses the Canon EW-73B lens hood.
Close focusing at 135mm is about 45cm, which gives a magnification of 0.21x (about 1/5th life size). That means that you can fill the frame with an area as small as about 3" x 4.5".
The maximum aperture varies with focal length as follows:
| | | | | | |
| --- | --- | --- | --- | --- | --- |
| 18mm | 24mm | 35mm | 50mm | 85mm | 135mm |
| f3.5 | f4.0 | f4.5 | f5.0 | f5.6 | f5.6 |
Image Quality
As with most wide zoom range lenses, performance varies with the focal length setting.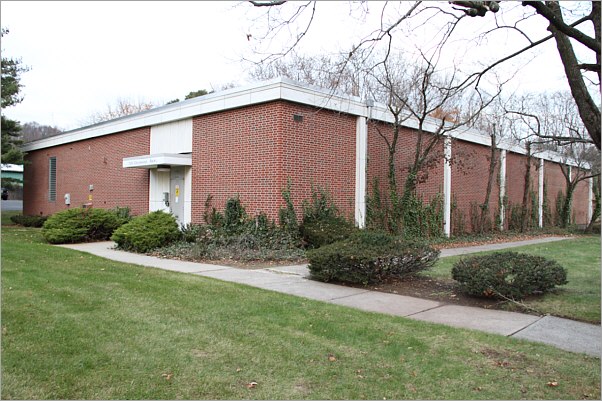 Canon EF-S 18-135/3.5-5.6IS at 18mm. Uncorrected image
At 18mm test charts show noticeable vignetting, barrel distortion and chromatic aberration - all three being defects which affect the edges and corners of the image much more than the center. The shortcomings are more noticeable on controlled test chart images than on "real world" images of course. Wide open center sharpness isn't bad, though it does improve on stopping down to f5.6. The corners are a little soft wide open, but sharpen up as the lens is stopped down to f8. Vignetting is also eliminated by f8. Barrel distortion is evident and seems to get worse with close focusing.
All of these aberrations would be expected in a lens of this type and most can be reduced or eliminated by shooting RAW images and using Canon's DPP software to process the images. DPP provides the ability to correct vignetting, distortion and chromatic aberration. Most recent APS-C DSLRs can also perform these corrections in-camera, though DPP allows a wider range of correction and manual optimization. even without correction the image isn't too bad as can be seen above. However, as shown below, if you look at the corner of the image (in this case the upper right corner), there is fairly intense CA which will need correction for larger prints. Note this is lateral CA, not "purple fringing" since complementary colors (magenta/green) are seen on either side of lines near the edges of the image.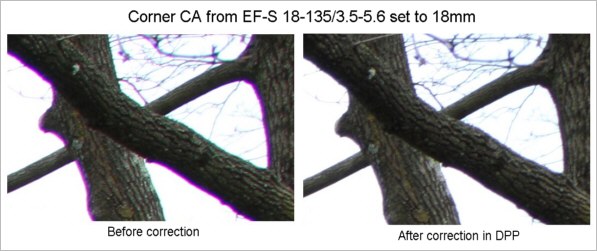 Performance improves in the 24/28/35mm range. Vignetting, distortion and chromatic aberration all all reduced and corner sharpness is closer to center sharpness with the lens wide open. Performance does get better (especially in the corners) when the lens is stopped down, though that's pretty much true for any lens.
At 50mm some pincushion distortion can be seen and there is a little vignetting wide open, but sharpness isn't bad in the center, even wide open, and chromatic aberration is well controlled. Stopping down to f8 boosts the image quality in the corners.

At 135mm center sharpness is pretty good and doesn't really improve much on stopping down. The corners are a little soft wide open, so again stopping down to f8 is recommended when maximum image quality is desired. Stopping down to f8 also reduces vignetting, which is eliminated by f11. There is mild pincushion distortion.
Image Stabilization
Canon claim "up to 4 stops" of stabilization, and from my testing that seems about right (including the "up to" part). The worst situation for image blur is when handholding the lens at 135mm. The oft quoted "rule of thumb" is that for sharp handheld shots you need a shutter speed of 1/(focal length x 1.6) for a lens used on a crop sensor camera, so for this lens at 135mm the estimate would be 1/200s.
In practice that's what I found. At 1/200s almost all shots were sharp with IS turned off. As the shutter speed was lengthened, fewer and fewer sharp shots were obtained. At 1/50s pretty much all the shots were blurred - until the IS was turned on. With IS on I found that I could handhold the lens at around 1/25s and still most of the shots would be pretty sharp. Even at 1/4s I did get a few pretty sharp images (maybe 1 in 5). If we take 1/200s as the slowest shutter speed for sharp images with IS off and 1/25s as the slowest shutter speed for sharp shots with IS on, that gives about 3 stops of stabilization. With some luck and a steady hand, 4 stops may be possible sometimes (this isn't an exact science!). Whatever the hard numbers ( 3 stops or 4), the IS on the EF-S 18-135/3.5-5.6 IS is very effective and is as good as any IS I've seen on any Canon lens to date.
If you found this article interesting, please share it with others:

Conclusions
As would be expected in a relatively inexpensive wide to tele zoom, there are some compromises which have to be made. The EF-S 18-135/3.5-5.6 IS shows vignetting wide open throughout the focal length range and distortion and CA at the wide end of the zoom range. Center sharpness is generally quite good, but the lens needs to be stopped down a stop or two at most focal lengths to maximize edge and corner image quality. The IS is very good and for many users may give up to 4 stops of stabilization (I've seen some reports of some users claiming 5 stops) which is excellent.
If you're looking for a single lens to do a lot of jobs, then the EF-S 18-135/3.5-5.6IS may be a decent choice. I've seen the EF 18-135/3.5-5.6 offered as a kit lens with EOS bodies, for example with the Rebel T1i (kit) and the EOS 50D (kit), though be aware that sometimes you can get the same combination cheaper by buying the lens and body separately! There's isn't always a discount on the kit (though sometimes there is, so check). The alternatives are lenses like the EF-S 18-200/3.5-5.6is which have an even greater zoom range, but have to make even more optical compromises, cost more and are larger and heavier. If you're willing to use two lenses, then the combination of the EF-S 18-55/3.5-5.6is and the EF-S 55-250/4-5.6is gives you a very wide zoom range for about the same cost as the 18-135is. Although they aren't the best lenses in Canon's lineup either, they're both pretty useful lenses and capable of yielding good images. Again, as with most lenses in this class, stopping down a stop or two from full aperture often produces the best results.
Canon EF-S 18-135/3.5-5.6 IS Specifications
Focal Length
18-135mm (27-214mm full frame equivalent)
Maximum Aperture
f3.5 @ 18mm; f5.6 @ 135mm
Minimum Aperture
f22 @ 18mm; f36 at 135mm
Coverage
APS-C crop sensor
No. of Diaphragm Blades
6 (circular aperture)
Special elements
1 UD element, 1 Aspheric element
Lens Construction
16 elements in 12 groups.
Diagonal Angle of View (18-135mm)
74° 20' – 11° 30'
Focus Adjustment
Internal focusing system
Front element rotates?
No
IS system
up to 4 stops
Closest Focusing Distance
1.5 ft./0.45m
Maximum Magnification
0.21x
Filter Size
67mm
Lens Hood
EW-73B
Motor Type

DC

Micro Motor
Closest Focusing Distance (m)
0.45
Max. Diameter x Length, Weight
3.0×4.0 in./75.4×101mm, 16.0 oz./455g