Canon EF 200-400/4L IS USM Extender - in real life!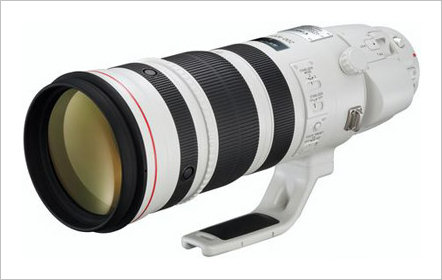 We all know about the Canon EF200-400/4L IS USM Extender. Canon first started talking about it in February 2011 (20 months ago) and it's been spotted "in the wild" a few times in the hands of test photographers.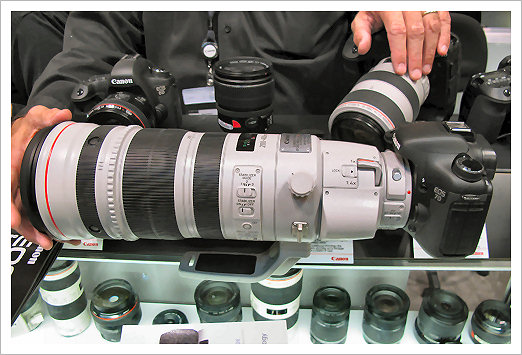 Actual real, working copy of the EF 200-400/4L IS USM Extender
Well today I got my hands on a real one at the PhotoPlus show in NYC. In fact they had two, one sealed in a display case and one that was accessible. Can't really say much about it since the Canon reps didn't know anything about it (other than what Canon have already said). The one I spoke with was surprised that even one had showed up at the show, never mind two. Nobody had any idea when it might be available for purchase or what the price might be (or at least if they knew they weren't telling anyone).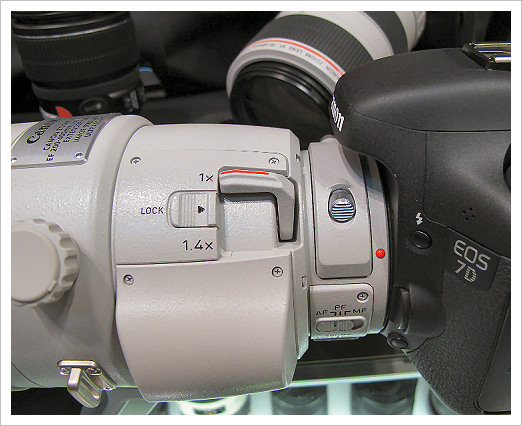 Closeup of the extender engagement switch/lever. It can be locked in either position
I played with it on an EOS 7D. It seemed well balanced, the IS appeared to be effective, focus was fast - as you'd expect from an L series telephoto, even with the 1.4x TC in the optical path. There's a large switch/lever on the rear of the lens that engages the 1.4xTC and it snaps into place quickly and with little effort. I was told that someone had tried it with a 1.4x on it, and it worked (though they didn't say what body it was mounted on to get Af at f8. Presumably either an older 1D series camera or the new 1D X with the updated firmware).
Note the three focus positions, AF, PF and MF. "PF" is power focus and is electronically driven manual focus that allows a smooth shift in focus mainly for manually tracking focus when shooting video. To quote Canon "...It is aimed at users shooting HD EOS Movies with their DSLR cameras as it makes it possible to produce a very smooth and controlled focus pull from one focus distance to another..."
As I said, "when" and "how much" are anyone's guess at this point, but if it's showing up at shows in quantities greater than one and it's not sealed in a display case, I suspect it may not be too long before it actually goes on sale. Perhaps early in the new year? As for price, well, it's going to be more than I can afford. The new Nikon 200-400/4 II sells for $6750, so the Canon lens with the built in TC will probably go for more than that. Perhaps $7500 if we're lucky, $8000+ if we're not.