Canon EF 50/1.2L USM Review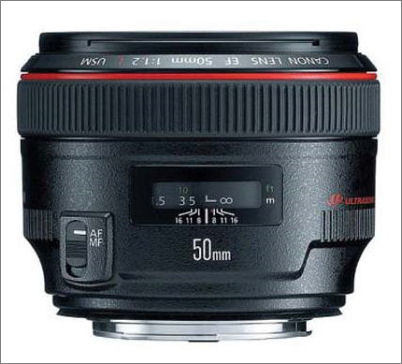 The Canon EF 50mm f1.2L USM is currently Canon's fastest lens (along with the 85/1.2L USM). It replaced the older f1.0 lens several years ago. Though not quite as fast, it's both cheaper and sharper and so the change was overall a positive one. Canon make more 50mm prime lenses than any other focal length. There are four, the EF 50/1.2USM, the EF 50/1.4 USM, the EF 50/1.8 II and the EF 50/2.5 Macro. Their relative sizes are shown below:

These lenses cover a wide range of needs. The EF 50/1.8 II is Canon's least expensive lens at around $100. Except for the glass optics it's all plastic (including the lens mount) and has a very simple mechanical design with a DC focusing motor. Optically it's surprisingly good though the build quality does leave something to be desired. The EF 50/1.4 USM is better constructed with better (and faster) optics. Though it has a USM motor and full time manual focus, it used a unique system based on a USM micro motor rather than a ring USM motor. This means it's not quite as quiet and fast focusing as a lens with a true ring USM and some users have reported the focus mechanism is more prone to failure than might be exacted. The EF 50/2.5 Macro is very sharp indeed, but a stop slower than even the low cost EF 50/1.8. However it's very reasonably priced and includes the ability to go to 1/2 life size magnification.
Then there is the lens reviewed here, the EF 50/1.2L USM which pulls out all the stops. It's fast at f1.2, it uses a true ring USM motor with full time manual focus. It has "L" class optics and mechanical construction, using an aspheric element to boost image quality, and it's weathersealed and supports E-TTL II flash by supplying focus distance information to the camera. Of course this comes at some cost - in fact the 50/1.2L is about 4x the price of the 50/1.4.
Image Quality
Note: Comparisions here are with the Canon EF 50/1.8 lens. This was the original Canon 50mm lens, now replaced by the 50/1.8 II. Though the new lens isn't built as sturdily, the optics are the same.
Below are sample 100% crops from the center of the image at f1.8. The optical superiority of the 50/1.2L is quite clear.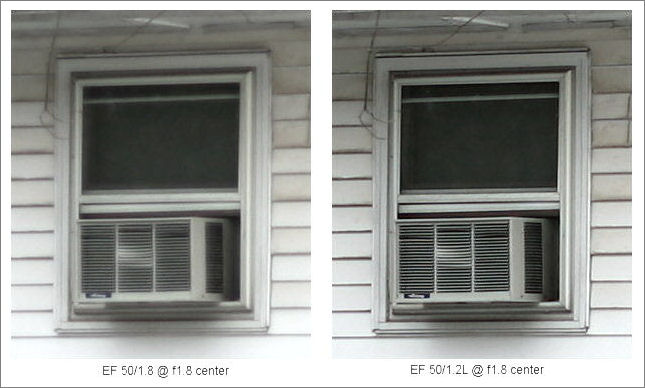 At the edges and especially in the corners of the image, the EF 50/1.2L shows better contrast and higher sharpness as illustrated by the image crops below: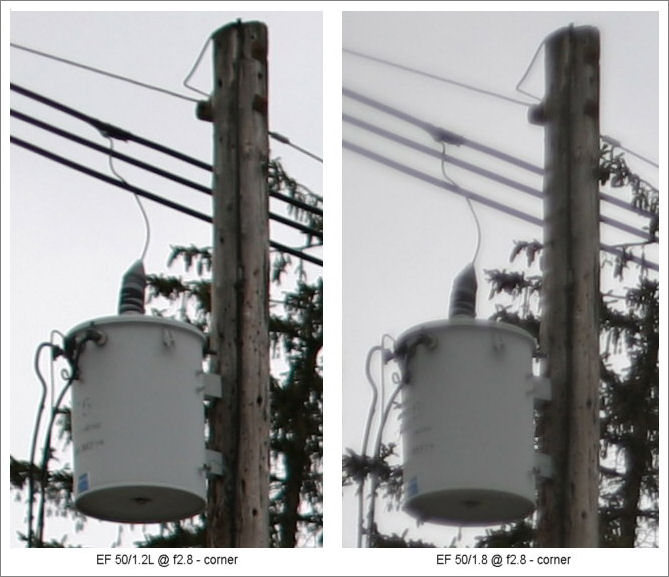 The charts below are 100% crops from EOS 5D full frame images taken using the EF 50/1.2L. As you can see the image does sharpen up somewhat as the lens is stopped down, but even wide open at f1.2, center sharpness is pretty good.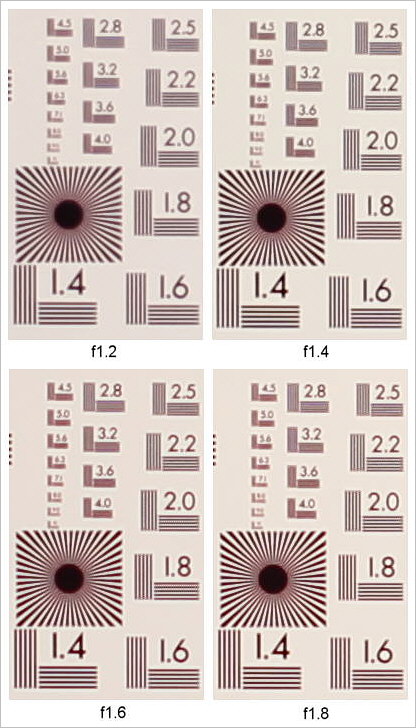 Background Blur
The EF 50/1.2L has an 8 blade aperture using curved blades. This makes the aperture close to circular, especially at wide aperture settings. The result of this is that out of focus highlights remain more circular, which in turn can make out of focus areas smoother. Below are samples of out of focus highlights taken using the EF 50/1.2L (8 blade circular aperture) and the Ef 50/1.8 (5 blade)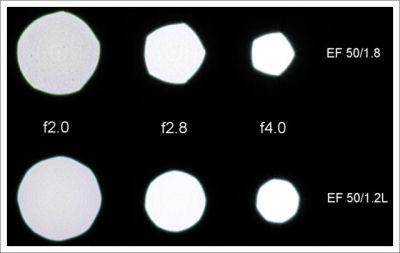 The effect if a circularized aperture can be subtle and may show more under some conditions of defocus than others. Of course the wide aperture of the f1.2 lens allows greater bluring of the background than lenses with a smaller maximum aperture as illustrated below.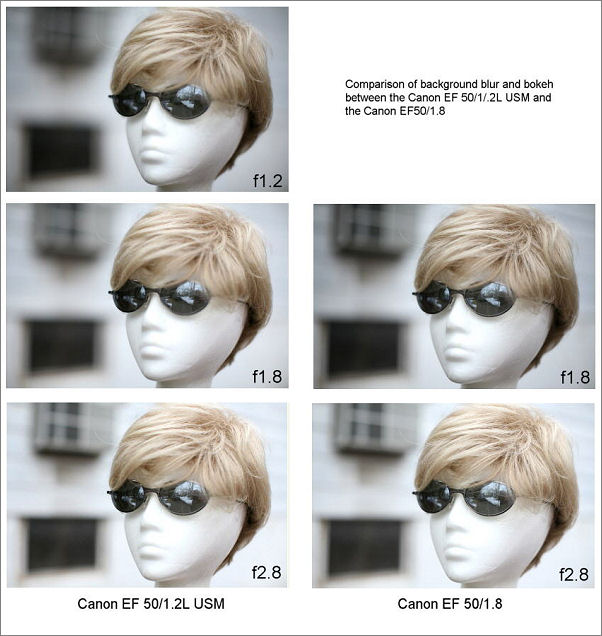 Vignetting
While all lenses vignette, at the same apertures faster lenses tend to show less vignetting than slow lenses. This is shown in the image below.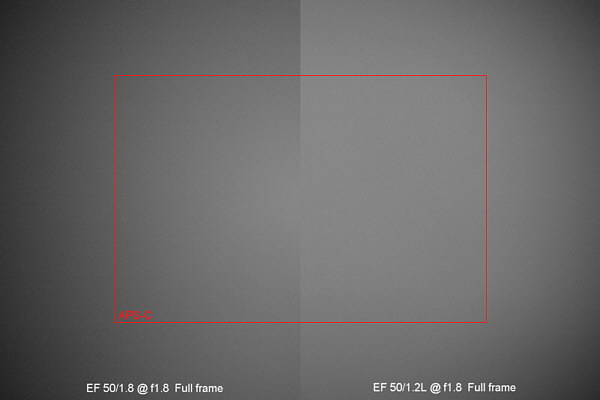 This is a composite image made from full frame shots taken with the EF 50/1.8 at f1.8 (left) and the EF 50/1.2L (right). The two halves are equal in intensity at the center. Also shown is a red outline corresponding to an APS-C crop sensor camera. On such a crop sensor camera, vignetting from the 50/1.2L at f1.8 is almost gone.
On a full frame camera, wide open, the corners are about 2 1/3 stops darker than the center and the edges are about 1 2/3 stops darker. This is fairly typical for a lens of this type and speed. Stopping the lens down evens out illumination pretty quickly and by f/2.8 vignetting is pretty much gone (1/2 stop darker in the corners and 1/3 stop darker at the edges).
The table below shows the approximate vignetting of the 50/1.2L and 50/1.8 on a full frame camera.
f/1.2 corner/edge
f/1.8 corner/edge
f/2.8 corner/edge

EF 50

/1.2L

USM

2.33/1.67
1.5/0.67
0.5/0.33

EF 50

/1.8 II
-
2.25/1.75
1.25/0.5
Canon EF 50/1.2L USM Specifications
| | |
| --- | --- |
| Focal Length | 50mm |
| Maximum Aperture | f/1.2 |
| Lens Construction | 8 elements in 6 groups |
| Diagonal Angle of View | 46° (with full-frame cameras) |
| Focus | USM with full-time manual (FT-M) |
| Closest Focusing Distance | 1.48 ft. / 0.45m |
| Max. magnification | 0.15x |
| Filter Size | 72mm |
| Max. Diameter x Length | 3.4 in. x 2.6 in./85.4mm x 65.5mm |
| Weight | 19.2 oz./545g |
Conclusions
There's little doubt that if we ignore the price then the Canon EF 50/1.2L USM is Canon's best 50mm lens. It's sharp, fast, well built, weathersealed and supports E-TTL II flash operation. The only question is one of value rather than cost.
If you're a photographer who doesn't use a 50mm prime all that often, and when you do you tend to shoot at f2.8 or smaller apertures then you probably don't need the EF 50/1.2 USM. The EF 50/1.4 USM at 1/4 the cost would almost certainly be equally useful for you. Even the EF 50/1.8 II might be good enough.
However, if you're a photographer who just loves the look of images shot with a 50mm lens, and who frequently shoots in low light or requires a small depth of field and who often shoots at apertures of f2.0 and faster, then I think the additional cost of the EF 50/1.2L can be justified.