Canon EF 70-200mm f2.8L IS USM Review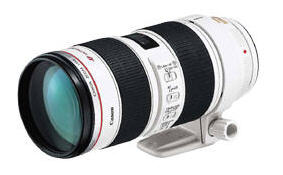 The 70-200/2.8 lens is one of the most popular professional lenses. Just about every camera and lens maker has at least one in their lineup and Canon has two (plus two more f4 versions). It's popular because it covers a very useful focal length range and is optically fast without the lens being too large or heavy. The range from 70-200mm covers lots of applications from portrait work at 70mm to sports shooting at 200mm when you can get reasonably close to the action. In addition since the lens starts out fast at f2.8, you can add a 1.4x TC to make a 280mm f4 or a 2x TC to make a 400mm f5.6 if you need more reach.
The Canon EF 70-200/2.8L USM comes in two version, one with optical image stabilization and one without. The lens I looked at for this test was the image stabilized version, the EF 70-200/2.8L IS USM. Through February 17th 2008, Canon are offering an instant rebate of $125 on this lens, bringing the price to around $1585. It normally retails for around $1700+.
What do you get?
The EF 70-200/2.8L IS USM uses Canon's ring USM motor which offers fast, silent focus plus full time manual focus override. The Image Stabilization (IS) has two modes. Mode 1 stabilizes in both the horizontal and vertical directions and so is best used when the lens is held steady. Mode 2 is used when panning the lens and turns off stabilization in the direction in which the lens is being panned. Canon specify that the IS is good for up to 3 stops of additional stability. There is also a focus range switch which enables the user to select 1.5m to infinity or 3m to infinity. By choosing to restrict the range to 3m to infinity, total AF time is less if the lens has to search through the focus range. A rotating tripod collar, a lens hood and a soft case are included as standard accessories with the EF 70-200/2.8L IS USM.
Optically the EF 70-200/2.8L IS USM has 23 elements in 18 groups and 4 of those elements are made of UD (ultra low dispersion) glass for better aberration correction. The aperture has 8 blades and is designed to approximate a circular shape to give more pleasing out of focus areas (better "bokeh"). It takes 77mm filters. Since both zooming and focus are internal, the lens doesn't extend when zoomed and the front element doesn't rotate during zooming or focuing. The lens does have a distance scale.
Maker
Canon
Model
EF 70-200mm f/2.8L IS USM
Fullframe Coverage
YES
Field of View (degrees)
Horizontal,Vertical, Diagonal
Full Frame - 36x24mm
APS-C - 22.5x15mm
Full Frame Wide : H - 28.8 : V - 19.5 : D - 34.4
Full Frame Tele : H - 10.3 : V - 6.9 : D - 12.3
APS-C Wide : H - 18.3 : V - 12.2 : D - 21.9
APS-C Tele : H - 6.4 : V - 4.3 : D - 7.7
Min Focal Length
70 mm (APS-C 35mm equiv = 112 mm)
Max Focal Length
200 mm (APS-C 35mm equiv = 320 mm)
Max Aperture (Wide-Tele)
f2.8 - f2.8
Min Aperture (Wide-Tele)
f32 - f32
Image Stabilization
3 stops
Motor
Ring USM
Elements/Groups
23/18
Close Focus
1.5 m : 4.9 ft
Maximum Magnification
0.16x
Magnification w/EF12
0.22-0.06x
Magnification w/EF25
0.41-0.14x
Length/Diameter
7.7"/3.4" : 195.6 mm / 86.4 mm
Weight
56 oz : 1590 gm
Filter
77mm
Weathersealed
yes
Lens Hood
ET-83II
Testing
Most of the testing was done using an EOS 40D DSLR. Though this is "only" a 10MP DSLR, the pixel density is almost identical to that of the new 22MP EOS 1Ds MkIII, though of course the sensor in the 40D is APS-C, while that in the EOS 1Ds MkIII is full frame. The equal pixel density results in roughly the same degree of resolution for both cameras. All crops were taken at 100%, i.e. one pixel on the screen corresponds to one pixel in the original image. Most of the emphasis was put on optical performance in the center of the image, since that tends to be the position of greatest importance when using a telephoto lens.
Basically the performance of the lens at all focal lengths and apertures is excellent, as you would expect. Image quality peaks in the f5.6 region, but is still good even wide open at all focal lengths. If you want actual numbers, I'd estimate resolution wide open at 70mm and 135mm to be around 65 lp/mm and at 200mm to be around 60 lp/mm. Stopped down to f5.6 or f8 the numbers edged up towards 70 lp/mm (all measured from the EOS 40D image in the center of the frame). It's very likely that these numbers are being limited by the sensor, and on slow film (remember film?) they would be higher. The maximum theoretical resolution of the EOS 40D sensor is about 87 lp/mm, but that's theoretical and you'd probably never see anything over 75 lp/mm in practice, even with a perfect lens.
Chromatic aberration and distortion were well controlled at all focal lengths.
As an example, the images below were shot at 135mm using apertures of f2.8, f4, f5.6 and f8

The line group marked "1.8" corresponds to approximately 70 lp/mm on the sensor of the EOS 40D. As you can see, even wide open the sharpness is very good, though the image is just a touch better at f4.
Here's a similar comparison done at 200mm

In this case the line group marked "2.5" corresponds to 66 lp/mm and the group "28" corresponds to 74 lp/mm. You can see that contrast and resolution do increase slightly going from f2.8 to f4, but the image even wide open is still pretty good.
Image Stabilization
Shooting with an APS-C DSLR, the recommended speed for handholding a 200mm lens is 1/320s or faster. I found that if I was free standing (i.e. not kneeling down or leaning against a post), about 75% of my shots at 200mm and 1/320s were sharp with Image Stabilization turned off, the other 25% being slightly blurred due to camera motion.
When I turned image stabilization on, I found that I could go down to about 1/60s and still get most of my shots sharp. Even at 1/40s I could get a reasonable number of sharp images (maybe 50%). With IS off I never got anything that looked sharp at 1/60s!
So my brief and unscientific test suggests that the IS system adds up to about 3 stops of stability, which coincidentally is what the Canon specifications suggest. Clearly in any situation that calls for slower shutter speeds and handholding the lens, Image Stabilization is a great advantage and the IS on the EF 70-200/2.8L IS USM works well.
Background Blur (Bokeh)
The f2.8 aperture of the EF 70-200/2.8L IS USM enables greater background blur and a smaller depth of field than would be possible with a slower lens. For example below are comparisions of distant background blur taken from the same spot using apertures of f2.8 and f4

It's clear that using an aperture of f2.8 results in a smoother looking, less distracting, background. In fact you can show mathematically that you get 1.4x as much blur with an f2.8 lens than with an f4 lens of the same focal length. The sequence of images below also shows the smoother background and shallower DOF at f2.8.

Multipliers
Since one of the main reasons for choosing a relatively expensive f2.8 lens such as the EF 70-200/2.8L IS USM is for the performance with the Canon TCs. The section below deals with performance with with the Canon 1.4x and 2x TCs, i.e the original versions. The current versions are the 1.4x II TC and 2x II TC. When I tested the Mk II TCs against the original versions some time ago I found that the difference in performance was very small, but if anything I guess you could perhaps expect slightly better performance from the Mk II versions.
EF 70-200/2.8L IS USM performance with the Canon EF 1.4x TC
The addition of the 1.4x TC results in a 98-280mm zoom, though no doubt most of the time the lens would be used fully zoomed out as a 280mm f4. Autofocus is maintained with all Canon EOS bodies, though those with high precision f2.8 sensors revert to normal precision with the 1.4x attached due to the f4 maximum aperture of the combination. Nevertheless AF accuracy was excellent and even wide open I could detect no focus errors.

Wide open at 280mm and f4 there was a slight loss of sharpness and contrast compared to performance without the TC. Stopping down one stop to 280mm f5.6 resulted in an increase in both contrast and sharpness. Performance peaks at about f8 as shown below and at f8 the image is very good.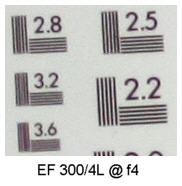 On the left is an image shot with the Canon EF 300/4L at f4. This is an excellent lens with very high image quality indeed. As you can see the image quality of the EF 70-200/2.8L IS USM with the 1.4x TC attached at 280mm isn't quite as good as the prime lens, but then you wouldn't really expect it to be - that's why there is a 300mm prime! However when stopped down to f8, image quality becomes very similar to that of the 300/4L. Resolution charts such as this are a very severe test of a lens. On more normal subjects the difference might be hard to spot as shown below. These are 100% crops from the original image. The image scales are slightly different because both images were shot from the same spot, so the 300mm image is about 7% larger. While the image from the 300mm prime is better, the image from the 70-200 with the 1.4x is pretty close.

EF 70-200/2.8L IS USM performance with the Canon 2x TC
With the 2x TC, the EF 70-200/2.8L IS USM becomes a 140-400/5.6 lens. As with the 1.4x, this combination will most likely be used with the lens fully zoomed out as a 400mm f5.6. Autofocus is fully maintained with all Canon EOS bodies from the basic Digital (and film) Rebels to the EOS 1Ds MkIII. Autofocus is slowed compared with the EF 70-200/2.8L IS USM itself in order to make sure that focus accuracy and dependability is maintained.

Performance wide open shows some softness and decrease in contrast. A significant improvement is seen by stopping down one stop and shooting at f8, where I measure the resolution at just over 60 lp/mm on the sensor. For comparision, the 300/4L + 1.4x (420mm) at f8 measures just under 70 lp/mm. Again such resolution charts are a fairly severe test. An actual shot at 400mm is shown below:

This is fairly good performance, not quite as good as a 300/4L + 1.4x or a 400/5.6L prime, but certainly acceptable for many applications.
Conclusion
the EF 70-200/2.8L IS USM isn't a cheap lens. Even with the current $125 instant rebate (good though Feb 17th 2008), the price is around $1585. However you get excellent optical performance and a very effective Image Stabilization system. With the addition of the Canon 1.4x and 2x TCs you get very usable 98-280/4 and 140-400/5.6 lenses with full AF operation on all Canon EOS bodies. If you are going to buy one, I'd certainly do so before the $125 rebate disappears on February 17th.
If you can afford it, the EF 70-200/2.8L IS USM is certainly the best and most capable of the Canon 70-200 lenses. There are other choices which I'll cover in detail below if you need a smaller or cheaper option.


Alternatives - which 70-200 should you choose?
If the price of the EF 70-200/2.8L IS USM is more than you can afford, there are some cheaper alternatives which also have excellent performance. You have the choice of the non-IS version, the IS version of the 70-200/4L or the non-IS version of the 70-200/4L. First let's look at the advantages and disadvantages of the IS vs. non-IS and f2.8 vs. f4 lenses:
Advantages of the f2.8 lenses over the f4 lenses
f2.8 lenses allow a 1-stop faster shutter speed. When shooting action (sports, kids etc.) this halves the amount of motion blur.
f2.8 gives smaller depth of field and greater background blur than f4 at the same focal length. This better isolates the subject for portrait work.
f2.8 allows autofocus in lower light than f4 lens. Since all AF is done with the lens wide open, this is true no matter what shooting aperture is set t
f2.8 lenses may autofocus faster and more positively in low light than f4 lenses.
f2.8 allows higher focus precision. Many EOS bodies have a high precision AF sensor which operates only with lenses having an aperture of f2.8 (or faster). The high precision sensors give AF precision of within 1/3 the depth of field. Normal precision sensors give AF precision of within the depth of field. To give an example, a 200m lens focused at a distance of 10ft with a high precision AF sensor at f2.8 should give a focus accuracy of +/- 0.4cm. With an f4 lens and a normal precision sensor, focus accuracy will be +/- 1.65cm
f2.8 permits AF when a 2x TC is added, but and f4 lens does not. This applies to most EOS bodies (Digital Rebels, EOS 20D/30D/40D, EOS 5). Pro level EOS-1 series bodies (and the EOS-3) can AF at f8 and so will give AF with an f4 lens + a 2x TC.
The 70-200 F2.8 lenses come with a tripod collar as a standard accessory. With the f4 versions, if you want the tripod collar you can get it, but it will cost you an extra $140 or so ( Tripod Ring Mount A )
Advantages of the f4 lenses over the f2.8 lenses
The f4 lenses are slightly smaller
The f4 lenses are lighter
The f4 lenses are cheaper
Advantages of IS lenses over non-IS lenses
IS lenses can be hand held at shutter speeds maybe 3 stops slower than non-IS lenses and still get similar image sharpness. So, for example, if you need to shoot at a shutter speed of 1/320s to get sharp shots with a 200mm non-IS lens, you should be able to get equally sharp images at 1/40s with an IS lens.
Advantages of non-IS lenses over IS lenses
Non-IS lenses are cheaper
Comparison of Canon EF 70-200mm lenses
Lens
Price
Length x Diam
Weight
EF 70-200/2.8L IS USM
$1585*
7.7" x 3.4"
56oz / 1590g
EF 70-200/2.8L USM
$1140
7.6" x 3.3"
46oz / 1310g
EF 70-200/4L IS USM
$990
($1130 with tripod ring)
6.8" x 3"
27oz /760g
EF 70-200/4L USM
$550**
($690 with tripod ring)
6.8" x 3"
25oz / 705g
* Price after $125 rebate good through Feb 17th 2008
** Price after $40 rebate good through Feb 17th 2008
There is some debate about the relative sharpness of these lenses, but all are acknowledged to be very sharp. The 70-200/4L IS is an improved design over the original non-IS version and most tests seem to indicate that it is sharper. The f2.8 lenses share a common design (though the IS version has extra optical elements). If either version is slightly sharper the nod seems to go to the non_IS version in this case, though I have not personally compared them side by side. It's likely you'd only really see any difference shooting with these lenses if they were wide open and mounted on a tripod for maximum stability. You should not be disappointed with the image quality of any of them.
Which lens you'd pick depends on your needs. If you're not shooting with a tripod, clearly the IS versions will give you more sharp images when your shutter speed is slow. IS is very nice to have, but you have to pay for it. About $400-$500 in the case of these lenses. Only you can decide if it's worth that much.
If you're going to be shooting action, the f2.8 lenses will allow you to use faster shutter speeds which will lower motion blur. They will also give you AF with a 2x TC on any Canon EOS body.
For more on the f4 lenses see the Canon EF 70-200/4L USM review
Picking between the most expensive (f2.8 IS) or least expensive (f4 non-IS) is usually quite an easy decision. The 70-200/2.8L IS USM is certainly the most versatile and capable lens, but not everyone can afford the $1585 ($1700+ after Feb 17th). The 70-200/4L USM is certainly the "best bang for the buck", being Canon's lowest prices "L" series lens and it's an excellent performer. However picking between the similarly priced f2.8 non-IS and f4 IS lenses can be a more difficult choice. There you have to ask yourself how much you need the IS function and lower weight vs. how much you need faster shutter speeds and AF with a 2x TC. Everyone's needs will differ there. If you need both, then unfortunately you have to pay the extra $$ for the f2.8 IS version :-(