Canon EF 85/1.8 USM Review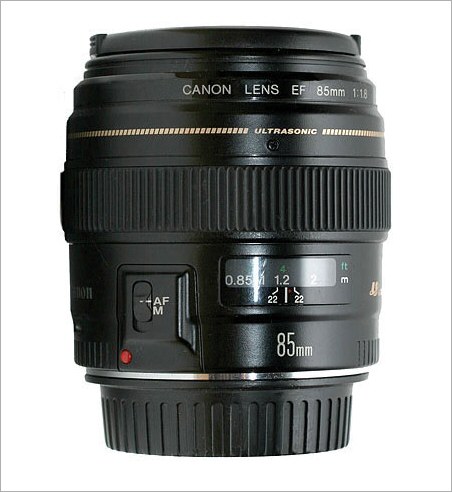 Canon EF 85mm f1.8 USM
Medium telephotos like the Canon EF 85mm f1.8 USM are one of the easiest types of lenses to design - or at least to design well. Prime lenses can be fully optimized for a single focal length rather than having to make the compromises that zoom lenses demand. Medium focal length lenses in the 50-100mm range typically don't need the special aspheric optics or exotic low dispersion glass that superwide lenses and telephotos require to optimize performance. They also don't need ultra large optical elements to be fast. At f1.8 an 85mm lens only needs a front element with a clear aperture of at least 47.2mm, thus keeping costs low). An 85mm lens doesn't need a complex retrofocus design like a wideangle lens where the focal length is shorter than the physical length, nor does it need a radical telephoto design, where the focal length is much longer then the physical length.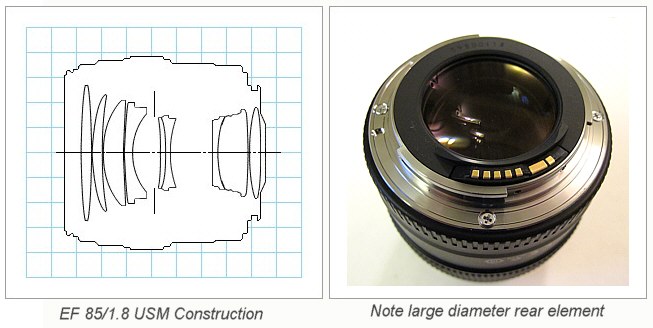 All these factors add up, making it possible to produce a fast, sharp lens in a small package and at a reasonable cost - which is exactly what Canon did with the EF 85/1.8 USM.
The focal length range usually recommended for portrait work is between 80mm and 135mm. Much shorter and you run the risk of perceived perspective distortion. Much longer and you're so far away from your subject that you lose intimacy and you may need a large studio if working indoors. The 85/1.8 works well as an 85mm portrait lens on a full frame camera, but even on an APS-C crop camera (where it has the same angle of view as a 136mm lens would have on full frame) it's still a good choice for portraits provide you have to room to work.
Of course lenses in this focal length range aren't restricted to portrait use. They also lens themselves to any type of work where a somewhat detailed view is required such as selecting details of nature landscapes, flowers, product photography, still life work, indoor sports and travel.
The EF 85mm f1.8 USM uses Canon's ring USM motor which means that focus is fast, silent and accurate. This can be a significant advantage when shooting in social situations such as parties and weddings. The wide aperture means that focus is possible even in very low light and the quiet operation allows candid photography which doesn't disturb the subject. The EF 85/1.8 also features FTM (Full Time Manual focus), which means that you can manually adjust focus at any time without having to switch the lens from AF to MF operation.
There is a focus distance scale and DOF markings, though the DOF markings are pretty useless, being only for f22. DOF scales on telephoto lenses are rarely of much use since DOF is shallow and any DOF marks would have to be so closely spaced as to be unreadable.
The 85/1.8 USM doesn't focus particularly close. Maximum magnification is about 1/8th life size (0.13x) at a focus distance of about 18" (45cm). However with a two-element Canon 250D closeup diopter you can get to 1/2 lifesize (0.5x) and still retain full lens speed and excellent image quality and with an EF 25 II extension tube you can get to 0.44x (just under 1/2 lifesize).
Optical Performance
The Canon 85/1.8 USM is a prime lens and, as would be expected, it shows excellent aberration control. Distortion is virtually zero and chromatic aberration is very well controlled (i.e. I couldn't detect any!). Edge and corner sharpness is very nearly equal to center sharpness, even wide open on a full frame camera.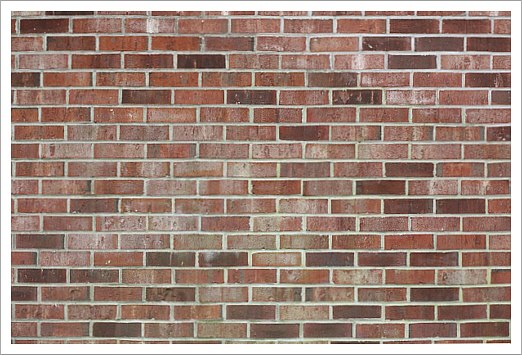 The infamous "brick wall" test for distortion!
Resolution
First let's look at how the sharpness of the Canon 85mm f1.8 USM varies as a function of aperture. These are 100% crops from the corners of images of a high resolution test chart taken with an EOS 5D full frame DSLR.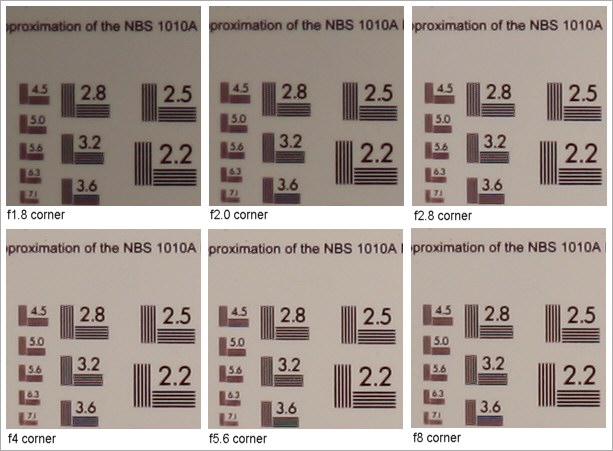 The main difference here is one of image brightness. At larger apertures there is some vignetting resulting in the corner of the image being less bright than the center (more on this in detail below). However the image is very sharp at f1.8, so sharp that stopping down doesn't really reveal any extra sharpness, though this may be limited by the resolution of the EOS 5D. Whatever the actual numbers this reveals the EF 85/1.8 to be a lens that is very sharp all the way across the frame, even on a full frame DSLR.
So are things any better in the center? The crops below answer that question.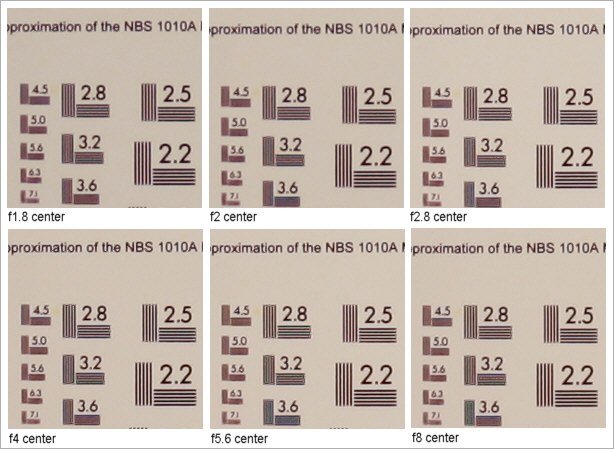 Well, sharpness and contrast to go up just a touch as you stop down, but I think there's little doubt that the 85/1.8 USM is sharp and contrasty even wide open. Again I think resolution is being limited by the EOS 5D sensor.
So the 85/1.8 is clearly a very sharp lens, but how does it compare with other lenses at the same focal length and aperture. Here is a comparison of the image quality in the corner of a full frame image (EOS 5D) using 4 different lenses at f4. The lenses were the Canon EF 85/1.8 USM, a Russian Jupiter-9 Sonnar 85mm f2 (manual focus, M42 mount), a Canon EF 24-105/4L IS zoom and the Canon EF 70-300/4-5.6IS. The two zooms were wide open to achieve f4, while the two primes were stopped down to reach the same f4 aperture.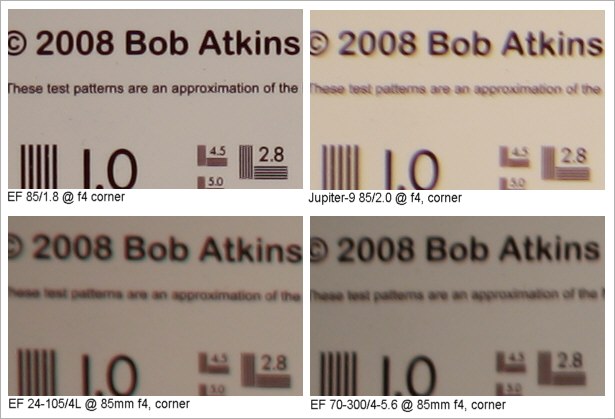 Well, there's not a lot of debate about which lens has the higher image quality. The EF 85/1.8 stands out for several reasons. First it's clearly the sharpest. Second it shows no chromatic aberration or astigmatism. Third, though it's not obvious in this 100% crop, there is very little vignetting at f4.
Of course in the center of the image things look much better for the zooms and the Jupiter-9 as shown below: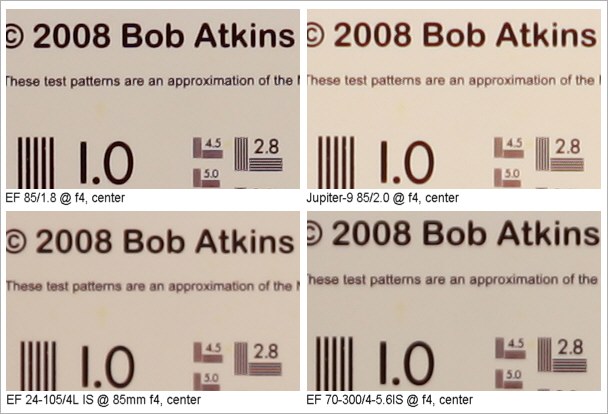 The EF 85/1.8 image is very sharp though not that much sharper than the corner - which shows how good the corner image quality is! The Jupiter-9 prime is also good, much better than it was in the corners. The two zooms are significantly sharper in the center and you can also see the images are lighter, an indication of some vignetting in the corners.
It should be noted that both the and the are good zooms (the 24-105 is very good). However this shows how much better a stopped down prime can be than a good zoom, when the zoom has to be shot wide open to achieve the same aperture. Both zooms show an improvement in sharpness when stopped down, though that means they're at f5.6 or slower - and they'll never get as good as the 85/1.8 is in the corners, no matter what aperture they are shot at. Of course both zooms are much more versatile lenses than the 85mm prime and the Jupiter-9 is quite a bit cheaper. I think I paid around $35 for mine a few years ago, though new ones today sell for around $125. The Jupiter 9 is very sharp in the center when stopped down, though the corners aren't great and it's soft and low contrast even in the center at f2 (plus of course it's manual focus and has manual aperture control). If you really want one, try eBay. Mine is an M42 screw mount lens, so I use an adapter to mount it on an EOS body.
Vignetting
The one aberration which is noticeable when the EF 85/1.8 is used on a full frame camera is vignetting (darker corners) wide open, but this is common to just about all fast lenses, whether the inexpensive EF 50/1.8 or the ultra expensive EF 85/1.2L USM. Even a "perfect" lens will show some vignetting due to an effect known as the "cosine to the 4th power" effect. Basically the edges of the frame are further from the exit pupil of the lens than the center, and the further away they are, the more the light spreads out before reaching them and so the lower the illumination level is. Limitations on the size of the lens and the optics can also lead to additional light fall off ("optical vignetting") and this shows up mainly on fast lenses used at wide apertures. Of course when used on a crop sensor camera, vignetting is greatly reduced since the sensor only records the central region of the image that the lens produces.
Here are some vignetting estimates I made using the EF85/1.8 USM on an EOS 5D full frame DSLR.
| | | | | |
| --- | --- | --- | --- | --- |
| | Full Frame Corner | Full Frame Edge | APS-C Corner | APS-C edge |
| f1.8 | -1.8 stops | -1.2 stops | -0.6 stops | -0.5 stops |
| f2 | -1.6 stops | -1.0 stops | -0.5 stops | -0.4 stops |
| f2.8 | -0.75 stops | -0.25 stops | -0.2 stops | -0.1 stops |
Canon's DPP software does an excellent job of vignetting correction if you shoot RAW files (as shown below), and most of the more recent Canon EOS DSLRs can perform vignetting correction ("Peripheral Illumination Correction") in-camera, even if you shoot JPEGs.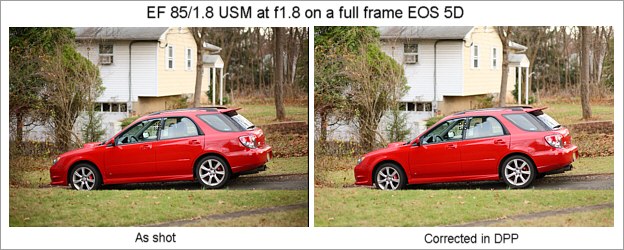 The above images show the worst case for vignetting (shooting wide open at f1.8 using a full frame camera), and the correction as applied via DPP. Vignetting is much reduced when using a crop sensor DSLR and/or shooting at smaller apertures.
Depth of field, Background blue and Bokeh
One of the features of a fast lens, apart from the ability to shoot in low light, is the ability to select a small depth of field and large background blur by shooting wide open. While DOF is determined by magnification and aperture, background blur is determined by the distance of the background and the physical aperture of the lens. An 85mm lens at f1.8 has a physical aperture of 85/1.8 = 47.2mm. This is larger than, for example, the physical aperture of a 50/1.4 lens ( = 35.7mm). So although the 50/1.4 @ f1.4 would have a smaller DOF then the 85/1.8 @ f1.8 at the same magnification, the 85/1.8 would soften the background more.
The effect of aperture is shown in the two images below:

These two shots were taken at the same magnification with the 85/1.8 and the 24-105/4L, both lenses being wide open. Note that the 24-105/4 had to be zoomed out to 105mm to give the same subject size as the 85/1.8. This is because many zooms close focus by an internal focusing mechanism which not only changes focus distance but also changes (reduces) focal length. As you can see, the background at f4 is very "busy" and distracting, whereas the background at f1.8 is much smoother and allows the subject to "pop" more.
Bokeh is the term used to describe the quality of the blur in the out of focus regions of an image. It can be smooth ("good" bokeh) or harsh ("bad" bokeh). The 85/1.8 was designed by Canon to give "beautiful background blur" (their words) and uses an 8 blade iris to approximate a more circular aperture when stopped down (which also improves bokeh).
Image Sample
Here's a shot taken with the EF 85mm f1.8 USM at f5.6 using a full frame Canon EOS 5D: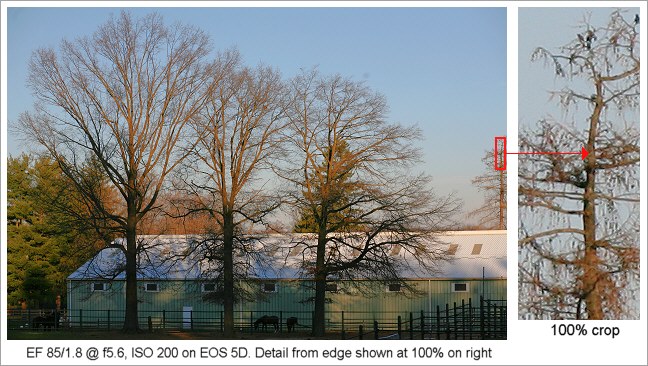 On the right is a 100% crop from the extreme right hand edge of the original image. As you can see it's very sharp, with no hint of chromatic aberration.
Conclusions
The Canon EF 85/1.8 USM is a very good lens. It's one of Canon's best lenses and it's certainly near or at the top of the list of Canon's best value lenses. It's far and away better in all respects than any comparably priced zoom lens, and probably arguably better than any zoom lens regardless of price. It's an excellent performer on a full frame camera and on a crop sensor camera it may be even better since the crop sensor only sees the central region of the image circle.
A fast lens that has to be stopped down to shoot isn't of much value, but the EF 85/1.8 is sharp at f1.8 and can be shot wide open with no fear of soft images. It does get even sharper when stopped down, but stopping down is only needed when you want a greater depth of field. One of the best features of the EF 85/1.8 is that you can take full advantage of the shallow depth of field and smooth Bokeh it gives when used wide open.
If you've been raised on a diet of consumer zoom lenses you might be amazed at the quality of the images that the EF 85/1.8 can produce - for a cost equal to or even less than many moderate cost zooms. Prime lenses may not be as convenient or as versatile as zooms, but a really good prime can yield images that zooms just can't match.
If you found this article interesting, please tell others about it...
You can check current price at:
There's also a which is another great lens. However at $2000 it's not inexpensive and I'm not really sure it's worth 5x the cost of the EF85/1.8 USM - at least for me!
Canon EF 18/1.8 USM Specifications
| | |
| --- | --- |
| Focal Length | 85mm |
| Maximum Aperture | f1.8 |
| Minimum Aperture | f22 |
| Coverage | Full 35mm frame |
| Construction | 9 elements in 7 groups |
| Diaphragm | 8 blades |
| Diagonal Angle of View (full frame) | 28° 30' |
| Focus System | Rear internal focusing system with USM |
| Closest Focusing Distance | 0.85m / 2.8 ft |
| Max. magnification | 0.13x |
| Max. magnification with EF 25 extension tube | 0.44x |
| Max. magnification with 250D closeup lens | 0.5x |
| Filter Size | 58mm |
| Lens Hood | ET-65III |
| Max. Diameter x Length | 3.0" x 2.8" / 75.0 x 71.5mm |
| Weight | 425g / 15oz |