Canon EF-S 18-200/3.5-5.6 IS Preview
Today (August 26th) Canon officially announced that the EF-S 18-200/3.5-5.6IS lens will be available in October 2008 at a price of $699. It covers a wide range of focal lengths, though the combination of the EF-S 18-55/3.5-5.6 and the EF-S 55-250/4-5.6IS covers more ground at around $275 lower cost. The advantage of on elens is that you obviously don't have to change lenses. This means you can very quickly go from 18mm to 200mm, plus you don't run the risk of getting dust in the camera (and on the sensor) when you have to change lenses back and forth. From the image (see below), it appears that the EF-S 18-200/3.5-5.6 IS has a metal lens mount, while the EF-S 18-55 and 55-250 both use a plastic lens mount (which seems to work fine though.
We'll have to wait and see just how well it performs and whether it's worth it's rather steep initial price. Sigma have an optically stabilized 18-200/3.6-6.3 lens for $499. There's also a non-stabilized version for About $320 and Tamron have an 18-200 for Canon EOS DSLRs for $280, but it doesn't have stabilization. Of course if you have a Pentax or Sony DSLR with stabilization built into the body, you don't need to pay the extra for an IS lens, but if you use a Canon or Nikon DLSR, you have no choice but to pay the extra if you want stabilization.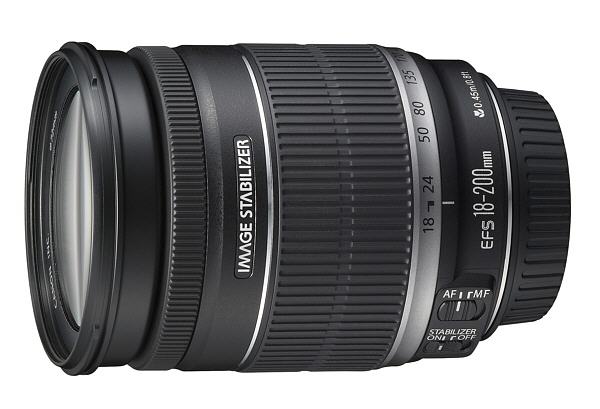 EF-S 18-200mm f3.5-5.6 IS Specifications
Focal Length & Maximum Aperture

18-200mm f/3.5-5.6

Lens Construction

16 elements in 12 groups, including UD-glass and aspherical lenses

Diagonal Angle of View

74° 20' - 7° 50' (with APS-C image sensors)

Focus Adjustment

Gear-driven by DC monitor

Closest Focusing Distance

1.48 ft./0.45m (maximum close-up magnification 0.24x)

Zoom System

5-groups helical zoom (rotational angle 80°)

Filter Size

72mm

Max. Diameter x Length, Weight

3.1 in. x 6.40 in./78.6 x 162.5mm (maximum lens length)
Weight: 20.99 oz./595g

Canon EF-S 18-200/3.5-5.6 IS Press Release
Here's a copy of Canon's brief press release:
Canon has answered the call from advanced amateur photographers looking for a solid all-around lens with the introduction of the new EF-S 18-200mm f/3.5-5.6 IS zoom lens. With an incredible focal length range equivalent to 29-320mm in the 35mm format, the new EF-S 18-200mm lens will make an excellent addition to any camera bag, and it gives shooters a great lens to capture both standard as well as telephoto images. The new lens features Canon's built in Optical Image Stabilization system which gives the equivalent effect of a shutter speed roughly 4 steps faster, for better image clarity, even in shaky shooting conditions. With a minimum focusing distance of 0.45m/1.5 ft. at all zoom settings, this new lens should prove to be ideal for those situations where swapping lenses isn't an option. An ideal complement to the EOS 50D SLR camera and all other EF-S compatible EOS SLR cameras, the EF-S 18-200mm f/3.5-5.6 IS lens is scheduled to be in stores this October at an estimated selling price of $699.00*.