Eyepiece Magnifiers for Canon Cameras
If you've ever adapted a manual focus lens to an EOS camera body, or you've attached the body to a telescope, you'll know that getting exact focus can be tricky. Since there is no focusing aid (such as a split image rangefinder) on the screen, you have to use your eyes to judge the sharpest focus and that's something some people have difficulty with.
There are some 3rd party viewfinder screens which can be installed in EOS cameras which don't officially have interchangeable screens (such as the EOS Digital Rebel series and the 10D/20D/30D) but they aren't cheap and they require some manual dexterity to install.
However there are aids to focusing that don't require the installation of new parts and they are the eyepiece magnifiers.
There are very few parts that can be interchanged between cameras from different manufacturers, but eyepiece magnifiers are one of them. Quite a few manufacturers used the same shape and size of eyepiece and so many eyepiece magnifiers can be used on more than one brand of camera. Canon EOS cameras come in two type. Those with standard eye piece size and those with Eye Controlled Focus, which uses a larger (non-standard) eyepiece.
Currently Canon only sell one eyepiece magnifier, the Canon Angle Finder C. As you can see from the illustration, it's also a right angle finder, which is very useful for low level work (e.g. macro shots of bugs and flowers) and for use with a telescope (e.g. in astrophotography). It can give a full frame view magnified by 1.25x or a closeup of the center of the frame magnified by 2.5x. It comes with adapters for both cameras with and without Eye Controlled Focus (ECF), which have different sized eyepieces.
| | |
| --- | --- |
| | Canon Angle finder C |
Canon used to make a simpler and cheaper magnifier, the Canon Magnifier S which is shown illustrated below: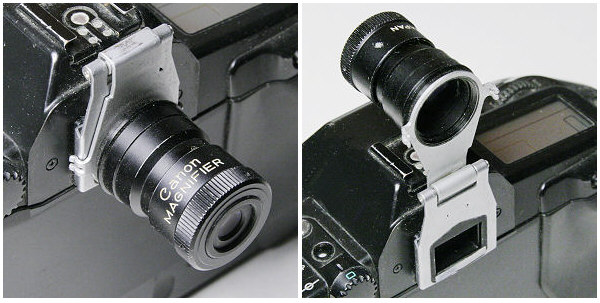 As you can see, the Magnifier S can be flipped up out of the way for a normal view (right) and flipped down for a 2.5x magnified view of the center of the image (left). Focus is adjustable.
As I said earlier, you don't necessarily need to use a Canon eyepiece magnified. Below is a Minolta Magnifier-V mounted on an EOS camera (actually and EOS 650, but it fits the EOS 20D/30D just as well).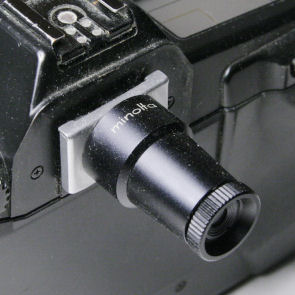 Minolta Magnifier-V on EOS body
The Minolta Magnifier-V doesn't flip up like the Canon Magnifier S, but it can often be found cheaper. It has adjustable focus just like the Canon and it's very well made. I couldn't tell any difference between the two in terms of optical quality (both were good) or magnification (both are supposed to be 2.5x).
Since the Canon Magnifier S and Minolta Magnifier-V are no longer available new, Ebay is probably the best place to find them. You can use the search box below to search ebay listings.
Other eyepiece magnifiers from Pentax are said to fit EOS bodies (except for those with ECF) and Nikon magnifiers may fit, but since I haven't tried either one myself I can't say for sure.
Note that Canon also make an eyepiece extender ( EP-EX15 ), shown below, but this actually reduces magnification by 30%. It's purpose if to move your eye further back from the camera so your nose doesn't hit the camera(1) and it may make it easier to see the viewfinder for eyeglass wearers.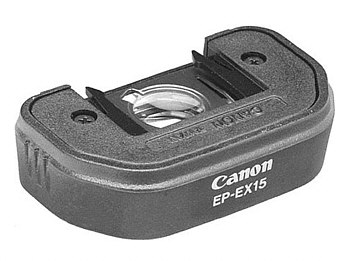 Canon Eyepiece Extender EP-EX15 - reduces magnification by 30%