Canon TS-E 17/4L and TS-E 24/3.5L II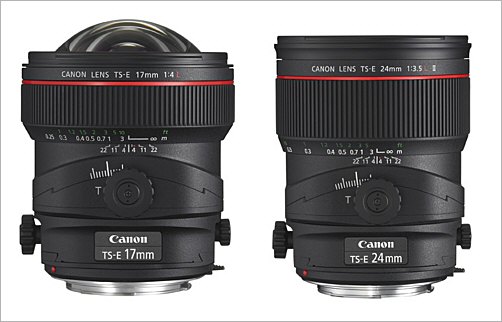 Today Canon announced a new 17mm tilt/shift lens, the TS-E 17/4L, and an update to the current 24mm tilt/shift lens, the TS-E 24/3.5L II.
The new TS-E 17/4L is the widest tilt/shift lens yet offered. It has full 35mm frame coverage and when used on an APS-C crop sensor camera such as the EOS 50D it will provide the same angle of view as a 27mm TS-E would on a full frame camera. From the illustration it looks like the highly curved front element protrudes significantly in front of the lens barrel, so some care will be needed to avoid damaging it. A lens hood looks like an excellent idea with this lens. Obviously front mounted filters won't be usable with the TS-E 17/4L. I'd assume it has a rear slot for filters, as the EF 15/2.8 fisheye does, but I haven't found any reference to a rear filter holder yet.
Both lenses allow independent rotation of the tilt and shift axis. Previously on the TS-E 24mm (and 45 and 90mm), the axes could be setup parallel or perpendicular, but they could not be easily adjusted in the field.
The current version of the Canon TS-E 24/4L sells for around $1150, but the new MkII version will be $2199 and the TS-E 17/4L will list at $2499 when they start shipping in May. Street prices are normally the same as the "list" price for new lenses, though after a few months it usually drops slightly. Looks like you should buy now if you want to save around $1000 and don't mind the "Mk I" version (which is a very good lens!).
Canon Press Release:
Key features of the TS-E 17mm f/4L and TS-E 24mm f/3.5L II include:
Tilt and shift lenses compatible with all Canon EOS cameras
Ultra Wide 17mm / wide 24mm focal length, ideal for architecture and landscapes
High precision lens elements for low distortion and high resolution to the edge of the image
+/- 6.5° Tilt and +/-12mm Shift (TS-E 17mm f/4L) +/- 8.5° Tilt and ±12mm Shift (TS-E 24mm f/3.5L II)
Tilt and shift mechanism rotates +/-90° allowing shift in any direction
Tilt mechanism rotates +/-90° allowing tilt in any direction relative to the shift
Aspherical and UD lens elements minimize chromatic aberration
Sub-wavelength structure and super-spectra coatings minimise ghosting and flare
Circular aperture for creative, blurred highlights
TS-E 17mm f/4L has a floating internal focus mechanism delivers high image quality throughout focus range.
Specifications
TS-E 24/3.5L II
TS-E 17/4L
Focal Length & Maximum Aperture
24mm f3.5

17mm f4

Lens Construction
16 elements in 11 groups
1 Aspheric, 3 UD elements
18 elements in 12 groups
1 Aspheric, 4 UD elements
Diagonal Angle of View
84° (without tilt or shift)
Image circle diameter 58.6mm
104° (without tilt or shift)

Focus Adjustment
Manual focus, overall linear extension system
Manual focus, overall linear extension system
Closest Focusing Distance
0.69 ft./0.21m (maximum close-up magnification: 0.34x)

0.82 ft./0.25m (maximum close-up magnification: 0.14x)

Filter Size
82mm
Max. Diameter x Length, Weight
3.5 x 4.2 in./88.5 x 106.9mm, 27.5 oz./780g
3.5 x 4.2 in./88.9 x 106.7mm (maximum lens length), 28.9 oz./820g