LowePro Exchange Messenger Review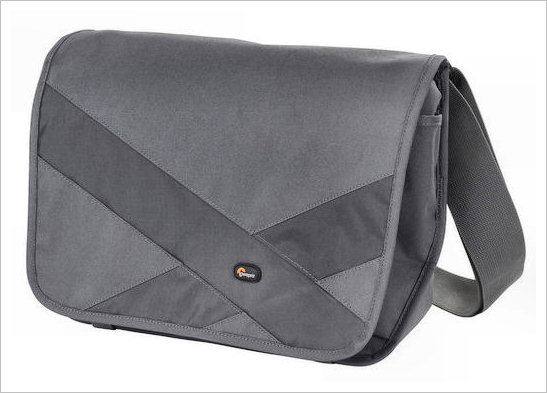 The LowePro Exchange Messenger is a lightweight camera bag that's designed not to look like a camera bag. It's styled after a bicycle messenger bag (hence the name) and intended to be worn with a strap over one shoulder, across the chest and the bag resting on the opposite hip.
The LowePro Exchange Messenger is a very lightweight bag, weighing in at only 11oz (300g), which is lighter than most lenses and even lighter than some P&S digicams! It doesn't have a lot of padding. My guess is that there is maybe 1/8" (3mm) of foam padding behind the polyester nylon shell. While the padding is thin, it's probably enough to protect your gear in normal use, but it would be a bit light if you throw your camera bag around or bang it against rocks frequently. The advantage of the thin padding is the bag is light, it conforms to your body and doesn't make the bag shout "steal me, I have expensive cameras inside".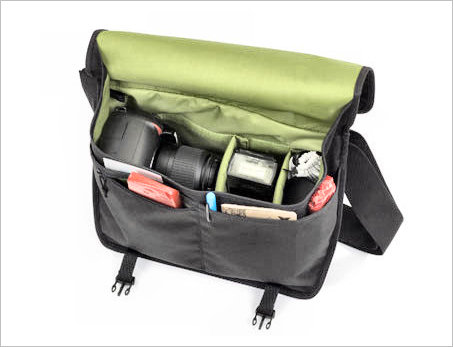 The LowePro Exchange Messenger can actually hold a surprising amount of gear. There are two removable padded dividers which can be moved around to accommodate the size of the items you are carrying. You can certainly carry a DSLR with a small lens attached plus a couple of small/medium sized lenses or a lens and a large off-camera flash. It will also hold larger lenses. For example I can fit my EOS 7D with an EF24-105/4L IS USM lens attached, plus my EF300/4L. The inside dimensions are 11.8"W X 4.7"D X 8.1"H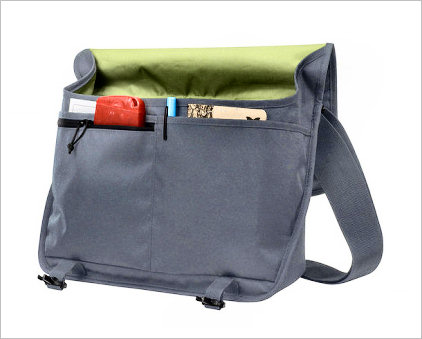 There are three front accessory pockets, one with a zip, but they are essentially flat and so most suited for items like maps, user manuals, lens tissues, pens, notepads and memory cards. Basically things that are pretty much flat. You could probably put a filter or two in them, maybe spare batteries, maybe a thin cell phone, but they aren't made for carrying things like film (which probably still exists...), lenses or other bulky items.
When not carrying camera gear, the Lowepro Exchange Messenger (with the dividers removed) can be used to carry things like a netbook or tablet computer, books etc. and in fact in this mode it's a pretty useful general purpose bag. The 12" internal width means that most laptop computers would be a tight fit though.
The Exchange Messenger is very comfortable to carry due to the lightweight and flexible construction. It's best worn with the strap diagonally across the chest with the strap over the shoulder opposite the bag, though it can be carried with the strap over the shoulder on the same side as the bag. It comes in grey, black or blue on the outside and green on the inside. At a discount price of only $30, it's a pretty good deal and might make a welcome present for photographers in the family!
If you want something a little larger and a little more heavy duty, Lowepro have a series of messenger style camera bags of various sizes and configurations, ranging from the Pro Messenger 200AW at around $190 to the Event Messenger 100 at around $50. I own 3 or 4 LowePro camera bags (including the Exchange Messenger), all of which are well constructed and some of which have stood up to 15+ years of use without a problem. They are a company whose products I trust.