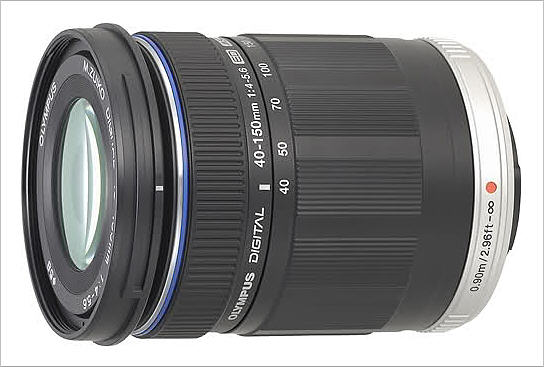 The first thing I'll try to do in this review is to try to make it clear exactly which lens I'm reviewing. Usually this isn't an issue, but Olympus have made several zooms in this range, for both the 4/3 and micro 4/3 format cameras. These are:
The Olympus M.Zuiko Digital 40-150mm 1:4-5.6 ED MSC for the Micro 4/3 mount - which is reviewed here
The Olympus M.Zuiko Digital 40-150mm 1:4-5.6 R ED MSC for the Micro 4/3 mount
The Olympus Zuiko Digital ED 40-150mm 1:4-5.6 ED for the 4/3 mount
The Olympus Zuiko Digital 40-150mm 1:3.5-4.5 Ez for the 4/3 mount (an older lens)
Lenses (1) and (2) are very similar, with the same number of elements, same exact size, same exact weight, same exact focusing distance, same exact aperture and same exact filter size. However lens (2), the "R" version is the latest release and has an aspheric element. It is also available in all black or all silver. Both lenses have an ED (extra low dispersion) element and both use MSC (Movie & Still Compatible) focusing, which is fast and quiet. Both (1) and (2) are designed for the micro four-thirds mount found on the Olympus Pen series of mirrorless interchangeable lens cameras. Lenses (3) and (4) are for the standard four-thirds mount found on the Olympus E-series DSLRs.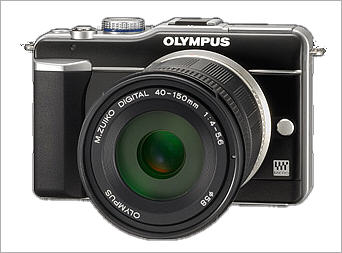 For the rest of this review I'll just refer to the M.Zuiko 40-140/3.5-5.6 ED and it will refer to lens #1 in the above list!
The micro 4/3 format allows lenses to be made which are significantly smaller and lighter than 35mm full frame equivalents. The format multiplier is 2x, so that a 40-150mm zoom on micro 4/3 has the same coverage as an 80-300mm zoom would have on a full frame 35mm camera. The M.Zuiko 40-140/3.5-5.6 ED however weights only 190gm and is only 83mm long and 63.5mm in diameter. 190gms is very light (6oz). It's only a fraction heavier than the featherweight Canon 50/1.8 II (130gm) yet it has the reach of a lens like the canon 75-300/4-5.6 which is 2.5x heavier, 50% longer and 10% larger in diameter.

Olympus M.Zuiko Digital 40-150mm 1:4-5.6 ED MSC Specifications
| | |
| --- | --- |
| Mount Standard | Micro Four Thirds System Standard |
| Focal Length | 40-150mm (35mm equivalent focal length 80-300mm) |
| Lens construction | 13 Elements in 10 Groups, ED lens |
| Angle of View | 30 - 8.2 Degree |
| AF System | High-speed Imager AF (MSC) |
| Closest Focusing Distance | 0.9m |
| Maximum Image Magnification | 0.16x |
| Minimum Field Size | 78.5 x 104.4mm |
| Number of Blades | 7 (Circular Aperture Diaphragm) |
| Maximum Aperture | f4.0 (40mm) - f5.6 (150mm) |
| Minimum Aperture | f22 |
| Filter Size | Diameter 58mm |
| Dimension | Diameter 63.5 x 83mm |
| Weight | 190g |
The light weight of the lens is no doubt due to the extensive use of plastic parts, but despite that the lens seems well constructed. The zoom and focus rings operate smoothly and, despite expanding to about twice the length at the 150mm setting, the extended barrel shows no wobble. The lens I tested was finished in black, with a silver section near the mount. Apparently an all silver version is (or was) also available.
There is a focal length scale with markings at 40, 50, 70, 100 and 150mm and focus is adjusted using a wide ring in the center of the lens. The manual focus ring is narrower and near the front of the lens. Manual focus is done electronically rather than mechanically and the camera can be set for either clockwise or counter clockwise rotation to go from close focus to infinity. The camera body also selects between manual and autofocus. There is no AF/MF switch on the lens. Since the Olympus Pen series cameras use sensor shift in the body for image stabilization, the lens is not itself stabilized. There is no marked distance scale.
In operation autofocus seemed reasonably fast and accurate, though that may depend on the body on which the lens is mounted. I used an early Olympus Pen E-PL1. More recent PEN series bodies may have different (better/faster) focusing characteristics. Focusing is internal, so the front element and filter (58mm) do not rotate, making the use of a polarizer easier. The "MSC" designation stands for "Move and Still Compatible". It designates a focusing system which moves a small group of elements near the rear of the lens to achieve focus. Since these elements are light and don't have to move far, it's faster and quieter than the AF system found on some earlier similar lenses. It provides better operation for both still and video shooting.
An optional lens hood (Olympus LH-61D) is available, but is not supplied with the lens.
Image Quality
Distortion was low, but that is to be expected since the E-PL1 applies distortion correction automatically in-camera to JPEGs. If you shoot in the Olympus RAW mode you can obtain uncorrected images.
Vignetting (dark corners) wasn't serious. It was slightly more noticable at 150mm than 40mm, but decreased significantly when the lens was stopped down a stop. Most image editors can easily correct vignetting, so it's really not an issue. Even uncorrected it might well not be noticed in many images.
Chromatic aberration is very well controlled at all focal lengths. It's very unlikely to be a matter of concern.
Sharpness was pretty good even wide open, especially at shorter focal lengths. The edges were slightly less sharp than the center and stopping down a stop did improve image sharpness and contrast, but overall the Olympus M.Zuiko Digital 40-150mm 1:4-5.6 ED MSC performs well for a lens in its price class.
40mm Example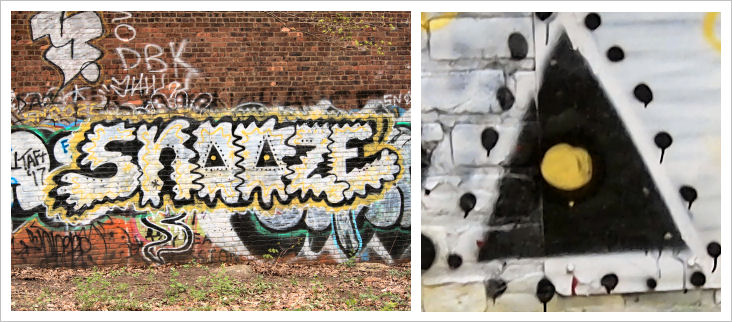 Olympus M.Zuiko Digital 40-150mm 1:4-5.6 ED MSC on E-PL1, 40mm @ f4 (left: Whole frame, right: 100% crop)
78mm Example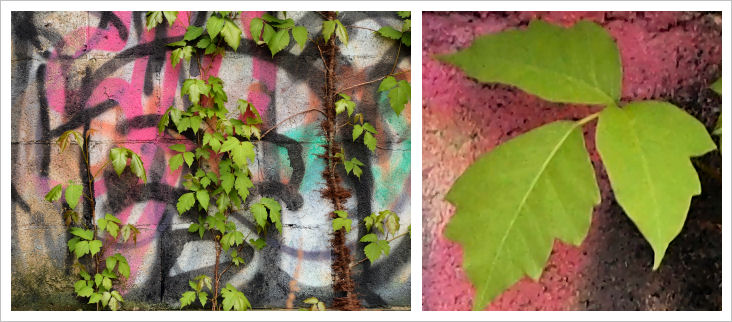 Olympus M.Zuiko Digital 40-150mm 1:4-5.6 ED MSC on E-PL1, 78mm @ f4.7 (left: Whole frame, right: 100% crop)
150mm Examples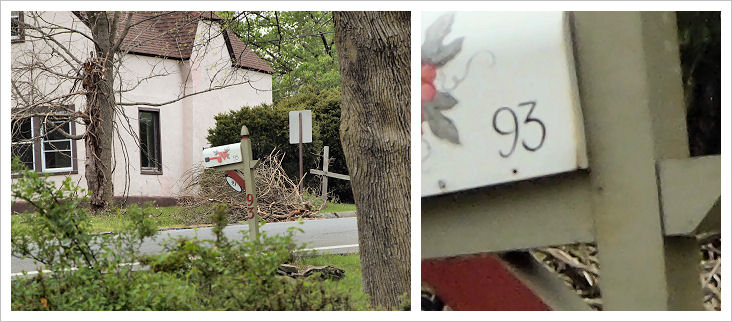 Olympus M.Zuiko Digital 40-150mm 1:4-5.6 ED MSC on E-PL1, 150mm @ f8 (left: Whole frame, right: 100% crop)
Here's a shot of a resolution test target. It shows good center sharpness, good corner sharpness, low levels of astigmatism and low levels of chromatic aberration. Pretty decent performance.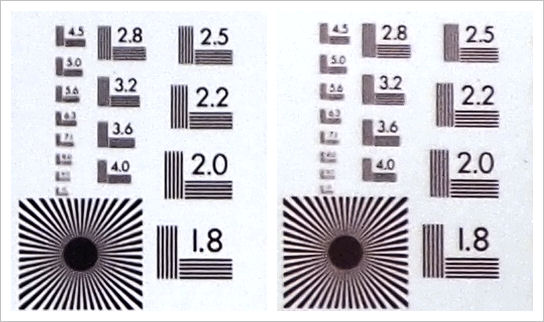 Olympus M.Zuiko Digital 40-150mm 1:4-5.6 ED MSC on E-PL1, 150mm @ f5.6 (left: 100% crop from center, right: 100% crop from corner)
Note that due to the 4/3 format sensor size, softening of the image due to diffraction can be seen at wider apertures than with larger format sensors. While you don't really see diffraction effects with full frame DSLRs until you get to f32, and you don't see them with APS-C format cameras until you get to f22, with 4/3 format cameras they can be seen by f16. This is somewhat offset by the fact that the larger DOF given by the smaller 4/3 format means that you often don't have to stop down as much as with larger formats to get the same DOF.
Overall, the "sweet spot" for the Olympus M.Zuiko Digital 40-150mm 1:4-5.6 ED MSC is around f8. At that aperture the image is sharpest both in the center and at the edges. It's certainly quite usuable wide open at all focal lengths, but contrast and sharpness do go up a notch if it's stopped down by a stop. As expected for the 4/3 format as explained above, sharpness suffers stopping down to f16 and f22.
As noted previously, the Olympus PEN system uses a sensor shift mechanism in the camera body to achieve image stabilization, so the lens itself isn't stabilized. A camera such as the PEN E-PL2 provides between 2 and 3 stops of stabilization. Earlier models like the E-PL1 are probably good for 1-2 stops.
Conclusions
The super-light and super-small Olympus M.Zuiko Digital 40-150mm 1:4-5.6 ED MSC makes an excellent companion for the 14-45mm lens often sold with Olympus PEN series bodies as a kit lens. Both lenses are small and light and along with a PEN series body makes just about the smallest and lightest travel kit you can get which still delivers close to DSLR quality.
Of course the Olympus M.Zuiko Digital 40-150mm 1:4-5.6 ED MSC isn't perfect. It's not a high priced lens. It's a little sharper at the 40mm setting than at the 150mm setting, but both are still pretty good, especially by the standards of small "pocketable" cameras. At 150mm the images do sharpen up nicely if the lens is closed down a stop. There is slight vignetting (darker corners) wide open, but it's really not noticeable on most images and it's a very easy thing to correct in most image editors.
The Olympus M.Zuiko Digital 40-150mm 1:4-5.6 ED MSC isn't particularly fast, but f4-f5.6 is no slower than typical consumer APS-C or full frame telephoto zooms and it's as fast or faster than similar P&S lenses. Overall it's a good, basic, small, light and inexpensive telephoto zoom for the Olympus PEN series cameras.
Alternatives
There are a few alternatives, but they're all larger and heavier and generally more expensive too. Olympus have a M.ZUIKO DIGITAL ED 75-300mm f4.8-6.7 that has an impressive zoom range, but it's close to $900, 2.3x the weight and 1.3" longer. There's also an M. Zuiko Digital ED 14-150mm F4.0-5.6 which currently sells for around $500 after rebate (note the $100 rebate ends on
4/21/12
)
It's also possible to mount any of the standard 4/3 mount lenses on the Olympus PEN and other micro 4/3 bodies via an adapter which preserves all automatic lens functions including AF. Obviously this adds expense, size and weight but does increase the number of lens choices.