Sigma 120-300/2.8 DG OS HSM review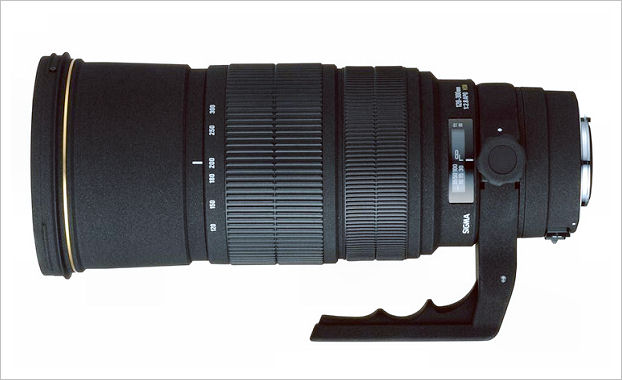 The Sigma 120-300mm F2.8 EX DG OS APO HSM
The Sigma 120-300 f2.8 DG OS HSM is a unique lens. There are plenty of 70-300mm zooms, but they are all fairly slow (f4-f5.6). There are fast f2.8 zooms, but they normally stop at 200mm (e.g. 70-200/2.8). When it comes to fast telephoto zooms, there are few, they are expensive and they're not f2.8. Nikon has a 200-400/4 VR and Canon has (but has not yet released) a 200-400/4L IS. However as far as I know, there is no other zoom lens from any manufacturer that covers the very popular 300mm focal length at f2.8 (well, there is the Sigma 200-500mm F2.8 APO EX DG, but at $26,000 for most of us it might as well not exist...)
So the Sigma is unique in focal length range and speed. Now you'd think that if you took a 300mm f2.8 lens and made it into a zoom, you'd add expense. In fact that's probably true, but with a street price of around $3200, the Sigma 120-300/2.8 is significantly less expensive than the Canon EF 300/2.8L IS II USM and the Nikon 300/2.8 VR. Cheaper AND a zoom? Can't be as good you might think...
Sigma 120-300mm F2.8 EX DG OS APO HSM Specifications
| | |
| --- | --- |
| Lens Construction | 23 Elements in 18 Groups |
| Angle of View | 20.4-8.2 degrees |
| Minimum Focusing Distance | 150-250cm cm / 59.1-98.4 in |
| Number of Diaphragm Blades | 9 |
| Mininum Aperture | f22 |
| Filter Size (mm) | 105mm |
| Maximum Magnifications | 1:8.1 (at 200mm focal length) |
| Dimensions (Diameter x Length) | 114.4mm x 289.2mm mm/4.5in. × 11.4in. in |
| Weight | 2950g / 104oz. |
| Available Mounts | Canon, Nikon, Sigma |
First, the alphabet soup of the lens name. The Sigma 120-300mm F2.8 EX DG OS APO HSM has a name that indicates that it's a lens with "superior build and optical quality" (EX), has full frame coverage and is optimized for digital use (DG), is optically stabilized (OS), uses special low-dispersion (SLD) glass to minimize chromatic aberration (APO) and has a Hypersonic motor (HSM) for fast and quiet focus.
This is not the first 120-300/2.8 that Sigma has made and is different from the earlier non-stabilized version. The optical design is different using 23 elements in 18 groups (the previous non-stabilized version used 18 elements in 16 groups). Previous versions go under several names such as the Sigma 120-300mm f/2.8 EX DG HSM APO (note the lack of an "OS" in the name) and the Sigma 120-300mm f/2.8 EX HSM (note the lack of both "OS" and "DG"). So if you see a "Sigma 120-300/2.8" for sale cheap, make sure you know which version you are getting. This test along with the results and conclusions only apply to the latest version ("DG" and "OS"). I have not tested the earlier versions.
Sigma 120-300mm F2.8 EX DG OS APO HSM uses both internal focusing and internal zooming which means that the lens remains a constant length during focusing and zooming and the front element does not rotate. If you want to use filters, the Sigma 120-300mm F2.8 EX DG OS APO HSM takes 105mm diameter front mounted filters and there is no provision for smaller rear mounted filters as there is, for example, on the Canon EF 300/2.8L IS II USM. It's worth noting that unlike some lenses in which the first element is a flat filter, the first element of this lens is actually an optical element, which might make some people inclined to add a UV filter for protection. A high quality multicoated 105mm UV filter costs around $100. If you want a high quality circular polarizer, it may cost 2-3x that, though cheaper "generic" polarizers (not recommended) can be found for under $75.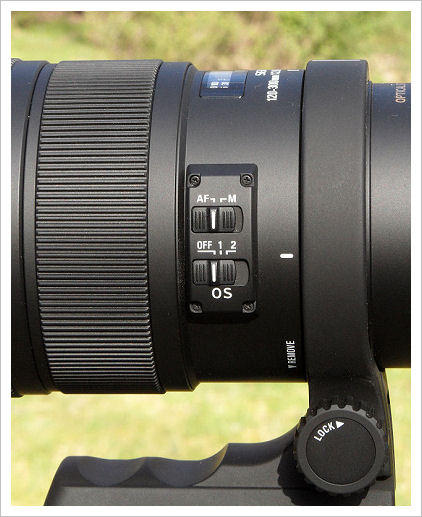 The Sigma 120-300mm F2.8 EX DG OS APO HSM has full time manual focus which means that the focus can be manually changed at any time without switching from AF to MF. If you just want manual focus, then the switch can be used. There's no focus range limiter as is often found on Canon's long telephotos. Focus limiting can be useful if you know that your subject won't be close to the lens since it can cut down on the time taken to get focus lock if the lens needs to search for focus. There is a distance scale but there are no DOF markings.
Sigma's optical stabilization system (OS) has two modes. The first stabilizes along both the horizontal and vertical axes and is the mode normally used. The second mode is used when panning and stabilizes along only one axis. When the lens is mounted on a tripod and exposure times are long, the OS system can (and should) be turned off.
The tripod ring is quite sturdy and hold the lens securely. It can be removed if desired and without it the lens is a little easier to hand-hold. Full 360 degree rotation is possible but there are no click stops or detents to indicate the horizontal and vertical positions. A cylindrical lens hood and a soft case are supplied with the lens.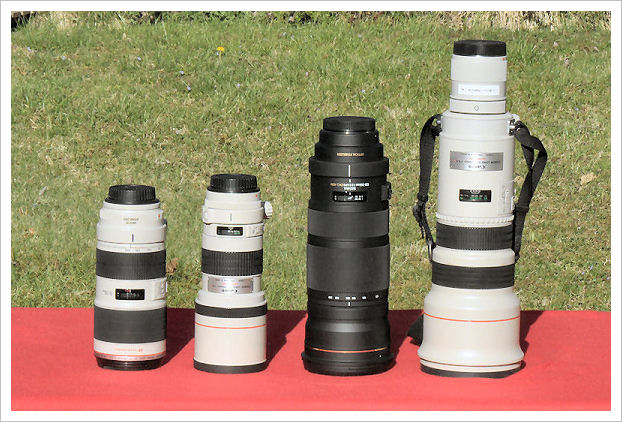 Left to Right: Canon EF 70-200/2.8L IS, Canon EF 300/4L, Sigma 120-300/2.8 OS, Canon EF 500/4L
At 11.5" long (without the hood) and weighing in at just under 3kg (6.5 lbs) the Sigma 120-300mm f/2.8 EX HSM can't really be described as either small or light. It's certainly light enough to hand hold if the need arises, but prolonged hand held use can get rather tiring and the lens (and photographer) will be happier with it mounted on a monopod (for maximum mobility) or a tripod.
In the next part of this article I'll take a look at the performance of the the Sigma 120-300mm F2.8EX DG OS APO HSM
NEXT -> The Sigma 120-300mm F2.8 EX DG OS APO HSM Performance