Sigma 18-50mm f/2.8-4.5 SLD Aspherical DC OS HSM Review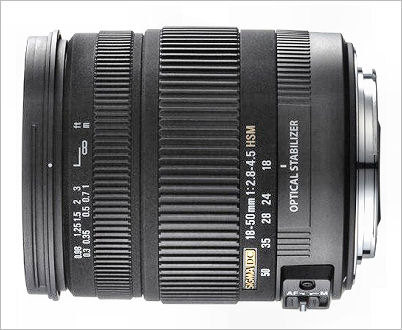 Sigma 18-50mm f/2.8-4.5 SLD Aspherical DC OS HSM
The Sigma 18-50mm f/2.8-4.5 SLD Aspherical DC OS HSM is Sigma's entry level normal zoom for crop sensor DSLRs. Mounted on a Canon EOS body it provide a zoom range equivalent to that of a 27-80mm lens on a full frame camera. It's a DC lens which means it's designed only for use on an APS-C sized crop sensor camera. The OS signifies the lens has internal optical stabilization (which Sigma claim can provide up to 4 stops of stabilization). Finally the HSM signifies that the Sigma 18-50mm f/2.8-4.5 SLD Aspherical DC OS HSM uses a hyper-sonic motor. This is similar to Canon's USM and provides fast and silent autofocus.
The Sigma 18-50mm f/2.8-4.5 SLD Aspherical DC OS HSM is both internal focusing and internal zooming which means that the lens length remains constant during both zooming and focusing and the front element dies not rotate. However the focus ring does spin during focusing and so you have to make sure not to hold onto it during AF. The lens does not have full time manual focus so to go from auto to manual it is necessary to slide the switch on the lens barrel from the AF position to MF.
The Sigma 18-50mm f/2.8-4.5 SLD Aspherical DC OS HSM has one mode of optical stabilization which acts on both the horizontal and vertical axes. It can be turned on and off via a slide switch on the barrel of the lens.
Maximum aperture is f2.8 at 18mm, f3.2 at 24mm, f3.5 at 28mm, f4 at 35mm and f4.5 at 50mm. This makes it about 2/3 stop faster across the whole zoom range than a lens like the Canon EF-S 18-55/3.5-5.6 IS. The Sigma 18-50mm f2.8-4.5 SLD DC OS HSM uses three Aspherical elements to help minimize distortion and two SLD (Special Low Dispersion) elements to increase sharpness and lower chromatic aberration.
Sigma supply a lens hood with the lens and the warranty is for 4 years.
Sigma 18-50mm f/2.8-4.5 SLD Aspherical DC OS HSM Specifications
Lens Construction
16 Elements in 12 Groups
Angle of View
69.3° - 27.9°
Number of Diaphragm Blades
7
Minimum Aperture
f22
Minimum Focusing Distance
30 cm / 11.8 in
Filter Size (mm)
67
Maximum Magnification
1:4.1
Dimensions
(Diameter x Length)
74 x 88.6 mm
Weight
395g / 13.9oz.
Image Quality
18mm
At the widest setting, 18mm, the overall sharpness is quite good, with the center being somewhat sharper than the edges. Stopping down improves center sharpness which peaks by around f8. At the edge stopping down really doesn't make a lot of difference. You can see it when you look carefully at the image at 100%, but on smaller prints you might not notice it. The image samples below are from the edge of the image.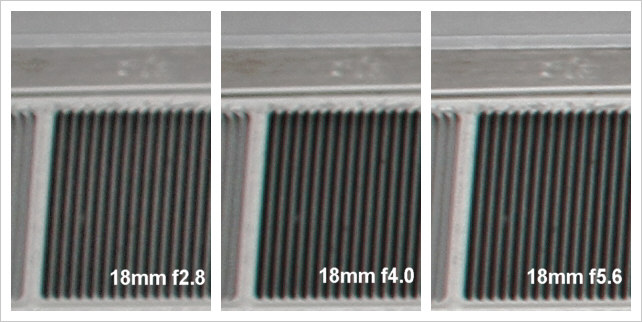 The above samples are 100% crops from the left edge of the image. The camera used as an EOS 7D. As you can see, there is some chromatic aberration, but it's fairly well controlled and could easily be compensated for using an image editor such as Photoshop. This is the strongest CA I saw from this lens. At longer focal lengths the CA was less visisble. Some sharpness improvement is noticeable going from f2.8 to f5.6, but it's not a huge effect.
At 28mm
Again the center was pretty good wide open, but stopping down to f5.6 showed a significant improvement. By f8 center sharpness peaked. A similar situation was seen at the edge of the image with sharpness improving as the lens was stopped down to f8, but edge sharpness never equaled center sharpness.
50mm
At the longest setting, 50mm, sharpness is again pretty good, but there is a noticeable improvement by stopping down just 2/3 stop from f4.5 to f5.6 as shown below: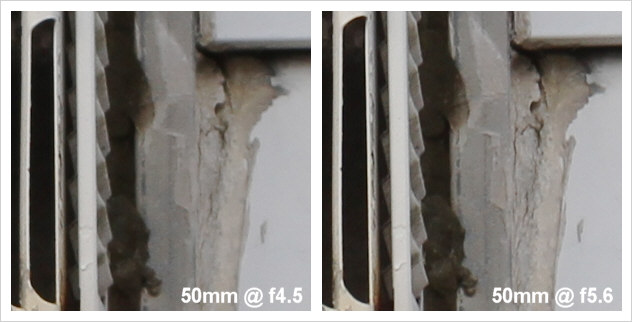 The samples above are 100% crops from the center of the image. A noticeable improvement is seen by stopping down to 5.6, even in the center of the image. The same applies to the edge of the image, where stopping down to f8 gave peak sharpness.
Chromatic Aberration
Chromatic aberration is fairly mild except at 18mm where it may be noticeable at the edges of the image. CA can usually be effectively corrected in most image editors (e.g. Photoshop).
Distortion
At 18mm there is visisble barrel distortion, around 2%. As the lens is zoomed out barrel distortion is reduced and from around 24-50mm there is mild pincushion distortion which is unlikely to be noticed in most images. Distortion can normally be effectively removed during editing with most image editors.
Optical Stabilization
Sigma claim that up to 4 stops of additional stabilization is provided by the OS system. I did some tests at 50mm and I found that the OS was good for between 3 and 4 stops.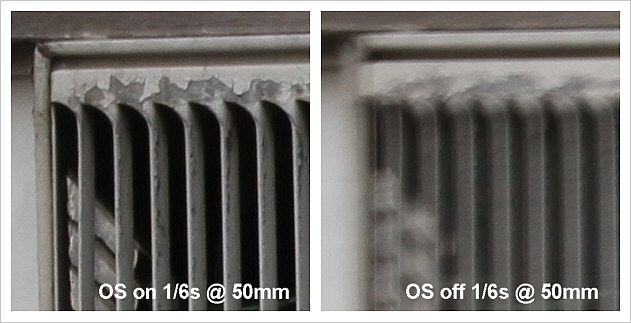 The above images are 100% crops and are representative of a series of images I shot at 1/6s using the Sigma 18-50mm f/2.8-4.5 SLD Aspherical DC OS HSM at the 50mm setting. The normal "rule of thumb" would be that a 50mm lens on a 1.6x crop sensor camera should need to be used at a shutter speed of 1/80s or faster to produce sharp images when handheld. A shutter speed of 1/40s would be 1 stop slower, 1/20s would be 2 stops slower, 1/10s would be 3 stops slower and 1/5s would be 4 stops slower. The 1/6s at which these images were obtained is about 3 2/3 stops slower. As you can see, the OS is very effective. The "keeper" percentage went from less than 10% with OS off to over 90% with OS on.
Conclusions
The Sigma 18-50mm f/2.8-4.5 SLD Aspherical DC OS HSM turns in a creditable performance for at lens which retails for under $200. It's not perfect of course. The edges and corners of the image aren't as sharp as the center and the overall performance does improve when it's stopped down by a stop or two from wide open. However even wide open the performance is good enough to provide pleasing small and medium sized prints. The optical stabilization is very effective making the lens quite usable in low light. The fact that it's also 2/3 stop faster than a lens like the Canon EF-S 18-55/3.5-5.6 also adds to it's low light capability. The Sigma 18-50mm f/2.8-4.5 SLD Aspherical DC OS HSM is probably not the lens of choice if you are a landscape photographer who wants edge to edge sharpness at short focal lengths, but as a general purpose lens where center sharpness is of most important, the speed and very effective stabilization make it a very useful lens at a reasonable price.
I have also previously tested the Sigma 17-50/2.8 DC OS HSM (see review here) and it performs significantly better, especially at wide apertures and at the edges and corners of the image, but it's more than 3x the cost. If price isn't a factor, it's a better lens, but for many users, the Sigma 18-50/2.8-4.5 is probably better value.