Sigma APO 200-500mm F2.8 EX DG
So you want a longer lens, and you want a faster lens, and you want a zoom? Well, have Sigma got news for you!
In the "be careful what you ask for" department, Sigma have announced a 200-500/2.8 zoom. Yes, a 500mm f2.8 lens, and it's a zoom! There's no word yet on price or weight, but I'm betting you probably won't be able to afford it and you may not even be able to lift it. It looks like a lens in the same class as the Canon 1200/5.6L. A lens for very specialized use. It's supplied with a matched 2x TC, but no word on whether you get a free gym membership with it...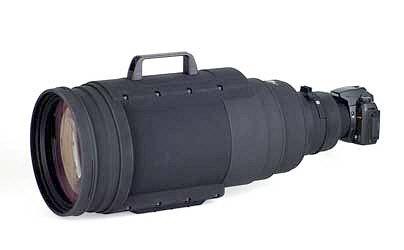 From the picture I'm guessing 10-12" in diameter and maybe 30" long. I'd be surprised if it weighed less than 40lbs. As for the price, figure at least as much as a small car.
Here's the Sigma Press Release:
The APO 200-500mm F2.8 EX DG is the world's first Ultra-Telephoto Zoom Lens that offers a fast aperture of F2.8 at 500mm focal length. It covers the widely used 200 to 500mm focal length range, and maintains its fast F2.8 aperture over the entire zoom range. Four SLD (Special Low Dispersion) glass elements provide excellent correction for all types of aberrations and produce a high level of optical performance throughout the entire zoom range.
Shooting distance and focal length can be viewed on the lens' LCD panel, which is an additional convenience for the photographer.
A filter can be inserted towards the rear of the lens, and a circular polarizing filter can be used with its ingenious rotation mechanism.
A dedicated APO TELE CONVERTER 2x EX DG II is supplied as a standard accessory with the APO 200-500mm F2.8 EX DG.
Its exclusive design minimises image degradation usually associated with teleconverters. When this dedicated teleconverter is used with the APO 200-500mm F2.8 EX DG lens, it becomes a large aperture 400-1000mm F5.6 AF Ultra-Telephoto Zoom lens.