Tamron SP AF 10-24/3.5-5.6 Di II Review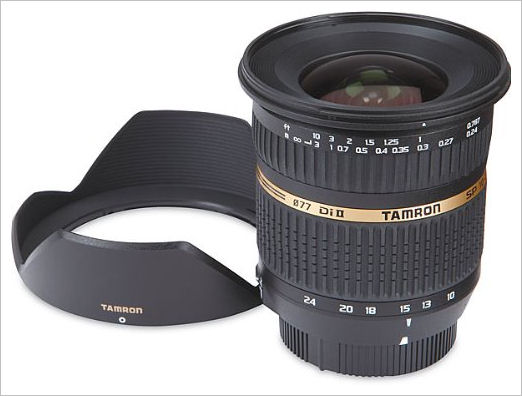 The Tamron SP AF 10-24mm f3.5-4.5 DI II is Tamron's ultrawide zoom for APS-C format DSLRs. Mounted on a crop sensor Canon EOS DSLR it's the equivalent of a 16-38mm zoom on a full frame camera. The Tamron SP AF 10-24mm f3.5-4.5 DI II has three glass-molded aspherical lens elements, as well as three hybrid aspherical elements, which are designed to minimize spherical aberrations, coma, and distortion.
Tamron supply a lens hood with the Tamron SP AF 10-24mm f3.5-4.5 DI II and provide a 6 year warranty. Currently (02/12) Tamron are offering a $50 mail-in rebate on lenses purchased before April 30th 2012, making the current final cost around $420.
Tamron SP AF 10-24mm f3.5-4.5 DI II Specifications
| | |
| --- | --- |
| Focal Length | 10 - 24 mm |
| Aperture | Maximum: f/3.5 - 4.5 |
| Aperture | Minimum: f/22 - f32 |
| Camera Mount | Canon EF for APS-C format |
| Format Compatibility | Canon (APS-C) |
| Angle of View | 110° - 62° (diagonal, Canon APS-C) |
| Minimum Focus Distance | 9.45" (24 cm) |
| Magnification | 0.19x (1:5.1) |
| Groups/Elements | 9/12 |
| Diaphragm Blades | 7 |
| Filter Thread | 77 mm |
| Weight | 14.32 oz (406 g) |
| Dimensions (DxL) | Approx. 3.1 x 3.9" (7.87 x 9.91 cm) |
Physical Description
The lens appears to be well constructed. Minimum physical length is at 13mm. At 10mm the lens extends by 2mm and at 24mm it extends by about 9mm, so it's not constant length (i.e. it's not internal zooming). The Tamron SP AF 10-24mm f3.5-4.5 DI II is internal focusing though. Rotating the focusing ring by about 90 degrees takes the lens from closest focus to infinity. In autofocus mode the focusing ring spins during AF operation. Focusing from closest focus to infinity took 0.8 seconds and the focus motor is very quiet but not quite silent.
Manual focus is only possible with the AF/MF switch in the MF position and the manual focusing action is smooth. There is a distance scale printed on the lens, but no DOF scale. The front element does not rotate during focusing which makes the use of a polarizer easier. The lens is marked "Assembled in China".
Focal lengths of 10, 13, 15, 18, 20 and 24mm are marked. Maximum aperture is F3.5 at 10mm and switches to f4 at about 13mm and f4.5 at about 20mm. Minimum aperture varies from f22 at 10mm, switching to f25 at about 14mm, f29 at about 17mm and f32 at about 23mm.
The Tamron SP AF 10-24mm f3.5-4.5 DI II is designed for use only on crop sensor DSLRs. However the EOS mount version will mount and operate normally on a Canon full frame body (i.e. the mount is EF, not EF-S). There is reasonably good illumination across a full frame sensor from about 14mm to 24mm but below 13mm the edges and corners black out. Note that just because there is illumination does not mean that image quality is high. Again this lens is designed and intended only for coverage of a crop sensor APS-C frame.
Optical testing
The Tamron SP AF 10-24mm f3.5-4.5 DI II was tested on an EOS 7D using both "real world" subjects and test targets. For optical quality testing the lens was manually focused using Live View with 10x magnification. While AF appeared to be accurate, the use of MF in Live View eliminates any possibility of an autofocus error. The lens was also mounted on an EOS 5D for a few test shots to see how well it covered a full frame sensor (a use for which is was not designed).

Here's the middle section (edge to edge of the frame) of one of the test image. Three sets of billboards at my local train station!
While I will show some sample images here, my comments are based on looking at a much larger number of images of various subjects including resolution test charts. In almost all cases I shot comparison shots with a Canon EF-S 10-22/3.5-4.5. All the image crops shown below are 100% crops from the original images. As such they represent the image quality that would be seen in a very large print.
10mm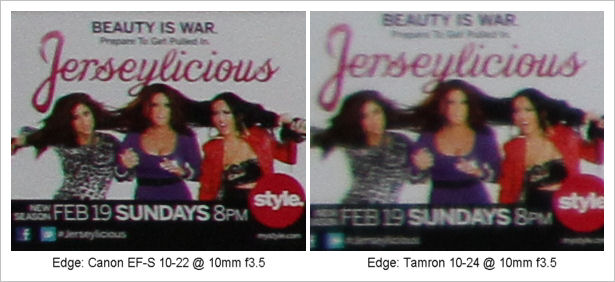 As you can see, wide open there is some softness at the extreme edge of the Tamron SP AF 10-24mm f3.5-4.5 DI II image. The Canon EF-S 10-22/3.5-4.5 was sharper. Stopping down improved the Tamron image quite a bit, while it didn't have a huge effect on the Canon image. By f8 you can see that the edge quality of the image is similar from both lenses.
In the center of the frame the story was similar. Wide open, the Canon lens was just a touch sharper as you can see in the images below: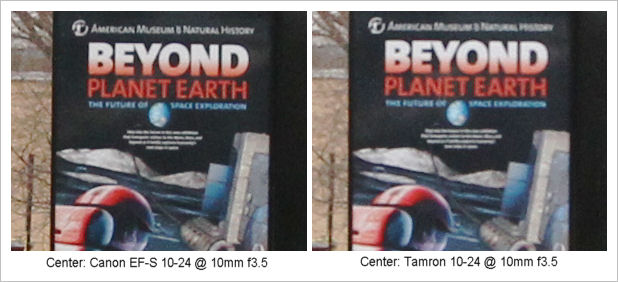 Again the Tamron 10-24 image sharpened up slightly on stopping down, while the image from the Canon lens didn't change much and by f8 they were very similar.
17mm
At 17mm both lenses were sharp in the center both wide open at f4 and when stopped down to f8 as shown below

At the edge of the frame the Canon EF-S 10-22 was again a little sharper both wide open and stopped down as can be seen from the crops below.

22mm
At 22mm (and also 24mm for the Tamron 10-24) the story was similar with the Tamron 10-24 being quite good, but not quite as good as the Canon EF-S 10-22. Here's what things looked like at the edge of the image at f4.5 (wide open) and stopped down to f8

Both lenses sharpen up when stopped down, but the Canon sharpens up a little more than the Tamron. Below is a close look at the center of the image at ~22mm focal length:
Things look pretty similar here with both images being pretty sharp wide open and neither one showing a significant change when stopped down.
Chromatic Aberration
Both lenses show distinct color fringing at the edges of the frame at 10mm as shown below.

The colors are more intense in the case of the Canon 10-22, but that's mainly because they are less smeared out than the CA colors of the Tamron 10-24.
CA is reduced in both lenses as they are zoomed out, with the Canon EF-S 10-22 showing essentially no CA by 22mm and the Tamron 10-24 showing a slight trace.
Distortion
There is a small amount of barrel distortion across the focal length range of the Tamron 10-24 but it's well controlled at an average of around 1.5%. It's strongest around 14mm. For such a wideangle zoom that's above average performance. The Canon EF-S 10-22 shows even lower distortion and rates as very good.
Vignetting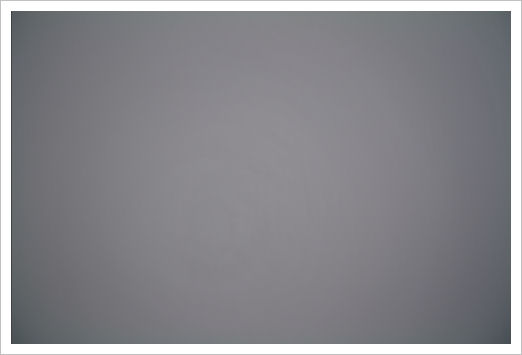 Tamron SP AF 10-24mm f /3.5-4.5 DI II Vignetting wide open (f3.5) at 10mm
Vignetting with the Tamron SP AF 10-24mm f3.5-4.5 DI II is only really noticeable wide open at the shortest focal length settings. It's strongest at 10mm and f3.5 where the very extreme corners approach 2 stop of vignetting. By f8 this has dropped to around 1 stop. At focal lengths longer than around 13mm, there's less than a stop of vignetting even with the lens wide open. Overall the vignetting performance of the Tamron SP AF 10-24mm f3.5-4.5 DI II rates as good. The Canon EF-S shows somewhat higher levels of vignetting then the Tamron 10-24. In neither case is the vignetting serious, and apart from shooting wide open in the 10-12mm range should not be noticeable in normal shots. It's fairly easily corrected either in Photoshop or, in the case of the Canon lens, in Canon's DPP software.
Focusing appeared accurate and positive with little "hunting". I did not find any significant front or back focus issues. Though not quite as fast and silent as the focus of the Canon EF-S 10-22 (which uses a USM motor), I had no issues with focusing speed of the Tamron 1-24 and focusing noise was minimal.
Conclusions
While there isn't a huge difference in sharpness between these two lenses and both are pretty good, the Canon EF-S 10-22/3.5-4.5 USM does have a sharpness advantage, particularly when shot wide open and when looking at the edges of the image. However remember that the image samples above are 100% crops from an 18MP EOS 7D image and so represent what you'd see in a very large print. Depending on your monitor it could be something around 20"x24" or larger. Few people will ever make a print this large. At lower magnification (corresponding to smaller prints), the differences would get harder to see. If you are shooting with a Canon DSLR a second advantage of the Canon lens is that you can apply distortion, chromatic aberration and vignetting correction automatically if you shoot RAW and use Canon's DPP software. DPP does not recognize 3rd party lenses and does not allow such corrections to be made (though Photoshop does).
However looking at the overall picture, the fact that the Tamron lens is significantly less expensive has to be factored in. Typically around $420 after the current $50 rebate while the Canon 10-22 is around $760 after the current $60 rebate. The Tamron SP AF 10-24mm f3.5-4.5 DI II also has a wider zoom range, though the difference between 22mm and 24mm isn't huge. The Tamron lens is also supplied with a hood, while the Canon hood for the EF-S 10-22 is an extra $33 (though 3rd party hoods are available for less). That makes the Tamron lens (with hood) about $370 cheaper than the Canon lens (with hood) and after the Canon rebate ends (March 3rd) it will be $430 cheaper.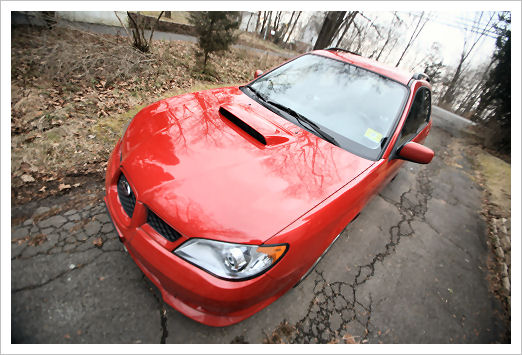 Tamron 10-24/3.5-4.5 Di II mounted on full frame EOS 5D. Lens at 14mm f4.0
In addition, the Canon EF-S 10-22 only comes with a 12 month warranty, while the Tamron 10-24 carries a full 6 year warranty. The extra 5 years of warranty coverage certainly favors the Tamron lens. Also, the Canon EF-S 10-22 will not mount on a full frame sensor camera, while the Tamron 10-24 will. The image above was taken with the Tamron SP AF 10-24mm f3.5-4.5 DI II mounted on a full frame EOS 5D and set to 14mm. Optical quality is certainly further compromised outside the APS-C frame area, but there could be situations where any wide lens is better than none and the ability to be able to mount the Tamron 10-24 on a full frame EOS DSLR may be worth something to some users.
So in the end while the Canon EF-S 10-22 is a little sharper overall (and especially at the edges of the frame), the Tamron 10-24 is still well worth consideration by users who don't make the largest prints and who could use the ability to occasionally mount it on a full frame camera body when the need arises. The extra warranty, the included lens hood, the $350 (or more) lower cost and the ability to use it on a full frame body are all significant pluses for the Tamron.
The fact that the first Tamron 10-24 that I tested wasn't as good as the new one doesn't overly concern me since it was a used lens and I don't know its history.