Tamron AF 17-50mm F/2.8 SP XR Di II VC Review
Optical Performance
All the images shown here were taken using the Tamron 17-50/2.8 DiII VC lens mounted on a Canon EOS 40D DSLR (10MP). All the images are 100% crops. Color differences in these images are due to changes in lighting, not the lens!
The first set of images show the center of the frame at 17mm. Center sharpness is very good even wide open, but stopping down a stop does give a very slight image improvement.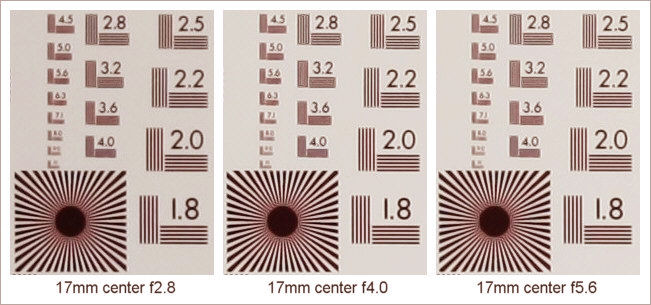 The second set of images shows image quality in the very corner of the frame. As you can see (and as you would expect), sharpness is not quite as good in the cornet as in the center. There is slight astigmatism and some chromatic aberration. Stopping down improves things, but even at f8 the corners are still not as sharp as the center. This shouldn't be taken as too much of a negative comment of course, since the same can be said of pretty much any lens of this type, no matter how expensive.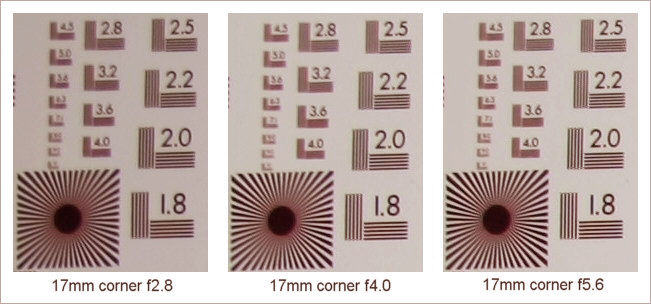 The next set of images shows the performance in the center AF the frame in the mid part of the zoom range - in this case at 31mm according to the EXIF data recorded by the camera. Again center sharpness is very good, with a slight improvement on stopping down to f4 and f5.6.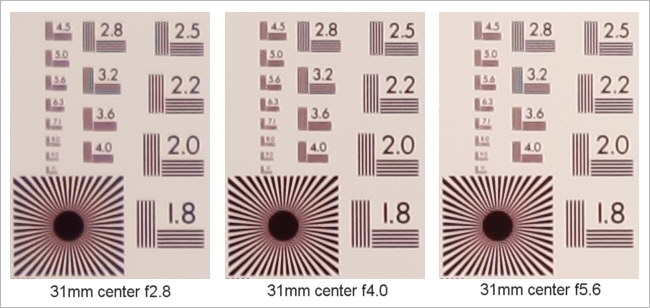 In the corners of the frame at 31mm the image wide open at 31mm shows some softness and lowered contrast, but it picks up significantly when the lens is stopped down by as little as 1/3 stop. I repeated this test several times with the same result. By f4 the corners are much better.

At 50mm the center of the frame again shows good sharpness and contrast, with small improvements at f4 and f5.6.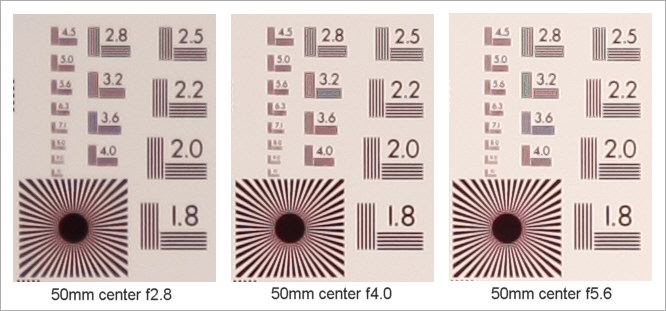 In the corners at 50mm and f2.8 image sharpness isn't bad. There is some darkening due to vignetting which diminishes greatly at f4 where sharpness also goes up slightly.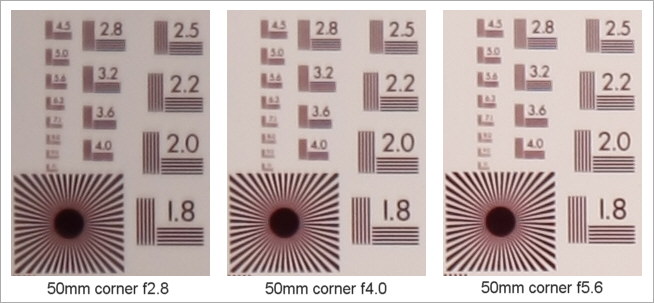 Chromatic Aberration
Chromatic aberration is well controlled at 50mm but shows up more as the lens is zoomed towards the wide angle end of the range. The crops below show the extent of lateral CA.

Distortion
As with all wide-angle zooms, there is some barrel distortion at the widest (17mm) setting as shown below. Distortion lessens as the lens is zoomed and is unlikely to be noticeable at longer focal lengths.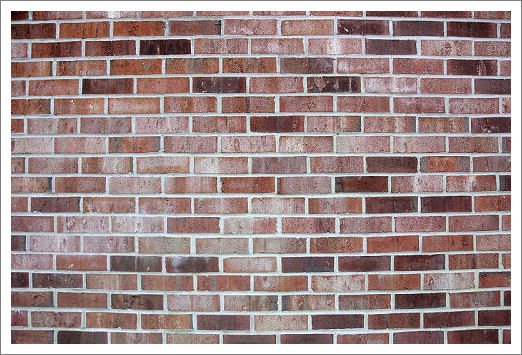 Tamron 17-50/2.8 DiII VC. Distortion at 17mm
Vibration Control - VC
VC is Tamron's term for optical image stabilization and operates in a similar manner to Canon's Image Stabilization (IS). Gyro sensor detect movement and feed a signal to a set of movable elements within the lens telling them how to move to compensate for image movement. Tamron claim that it's good for up to 4 stops, and I can confirm that.
The image below was taken hand held at 50mm with a 1/4s exposure. The inset shows a 100% crop. The traditional "rule of thumb" would suggest that a shutter speed of 1/80s would be needed with a 50mm lens on a crop sensor camera to have a reasonable chance of a sharp shot. 4 stops slower would be 1/5s, so this image shows that I was getting the 4 stops of stabilization that Tamron claim. I was sitting rather than standing, which may help stabilize things a bit.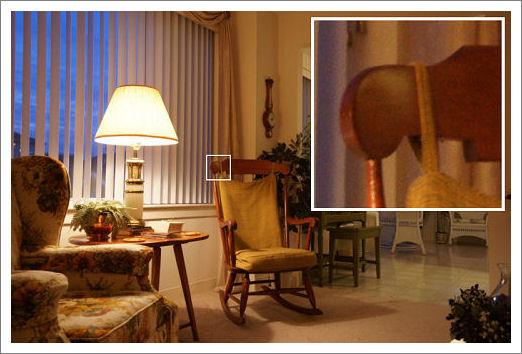 The image below was shot at 50mm and a shutter speed of 1/25s, a more modest 2 stops below the "rule of thumb" shutter speed of 1/80s, but it was taken in a situation where handholding was more difficult that in the previous shot because I was standing outdoors rather than sitting indoors! However as you can see, there's no evidence of image blurring due to camera movement.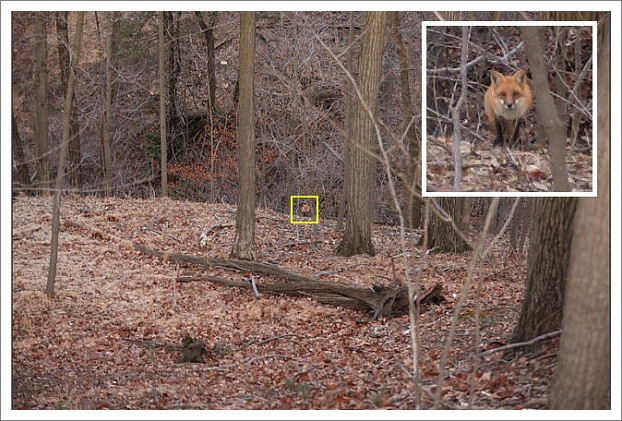 If you found this article interesting, please tell others about it...
Conclusions
Overall performance of the Tamron 17-50/2.8 DiII VC is good. The center of the image is sharp at all focal lengths even wide open. I wouldn't hesitate to shoot wide open for portraits where center performance is the key. For landscapes where edge sharpness is also an issue, I'd tend to stop down by at least one or two stops. In fact for optimum performance I'd probably shoot at f8, going to f11 and f16 if I really needed the extra depth of field (though like all lenses used on APS-C sensors, diffraction softening starts to become noticeable at f16 and smaller apertures). Again, shooting at f8 and smaller for optimum sharpness and DOF applies to pretty much any lens, especially wideangle zooms.

The VC image stabilization system works very well and along with the fast f2.8 aperture enables shooting in low light with a good degree of confidence that the images will be sharp.

The obvious competitor for the Tamron 17-50/2.8 DiII VC is Canon's own EF-S 17-55/2.8 IS USM. The Canon lens has slightly more zoom range (5mm on the long end) and a fast, silent USM motor. Both lenses only cover a crop sensor. Both offer around 4 stops of image stabilization. The Canon lens currently (02/2010) sells for around $1060, while the Tamron sells for around $630, a saving of $430 or about 40%. That's a significant difference. Is the Canon lens better? I can't say for sure because I have not had a chance to put the Canon lens through formal testing yet, but I suspect it may be slightly sharper in the corners wide open than the Tamron. One other factor to consider is that the Tamron lens comes with a 6 year warranty, while the Canon only has 12 months.

Tamron also have a non-stabilized 17-50/2.8 Di-II which is currently about $180 less expensive ($450) than the stabilized VC version.

Note that through April 30th 2010, there is a $25 mail-in rebate on the Tamron 17-50/2.8 DiII VC.