Tamron 18-270/3.5-6.3 DiII VC PZD lens review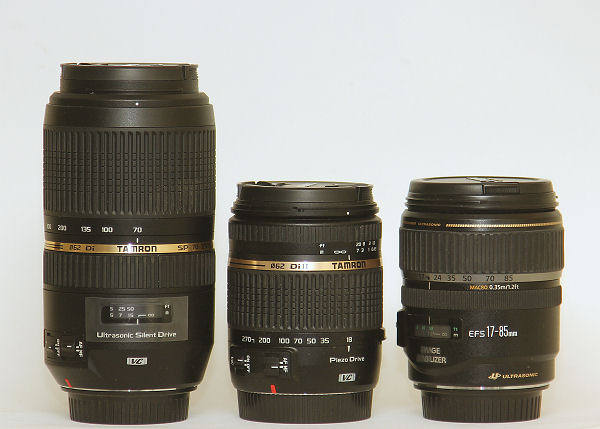 Left: Tamron 70-300 VC, Center: Tamron 18-270 VC, Right: Canon EF-S 17-85 IS
Focus, Aperture, Zoom and Stabilization
Aperture
The Tamron 18-270 VC is f3.5 at the wide end (18mm) and f6.3 at the telephoto end (270mm). Technically, Canon specify f5.6 as the minimum aperture required for auto focus, but many 3rd party lenses push that to f6.3 without problems. At intermediate focal lengths the maximum aperture changes as follows:
| | |
| --- | --- |
| 18-24mm | f3.5 |
| 25-33mm | f4 |
| 34-45mm | f4.5 |
| 46-69mm | f5.0 |
| 70-168mm | f5.6 |
| 169-270mm | f6.3 |
Zoom and Focal length
Focal length is focal length, right? Well, yes and no. Focal length as defined and as printed on the lens is the focal length measured at infinity focus. For simple lenses that focus by linear extension (i.e. moving all the elements at once as a group further from and closer to the sensor), focal length doesn't change. However once you have internal focusing and focusing by moving selected elements within the lens structure, all bets are off.
Variation of focal length with focus distance is actually pretty common these days, especially with zoom lenses and extra-especially with zooms with large zoom ratios and extra-extra-especially with large ratio telephoto zooms which have a close minimum focus distance. The Tamron 18-270/3.5-6.3 DiII VC qualifies on all three counts, so it should be no surprise that there is a change (reduction) in focal length as you focus closer. The following table is from measurements I made. The numbers are approximate (but close enough!).
| | |
| --- | --- |
| Focus Distance | Focal Length |
| Infinity | 268mm |
| 50ft | 235mm |
| 20ft | 196mm |
| 10ft | 166mm |
| 5ft | 130mm |
The consequences of this are that you don't get quite as much magnification as you might expect at close focus distances when zoomed out. The following composite image shows the difference in magnification between the 18-270 at 270mm and the Tamron 70-300 VC at 270mm focused at a distance of around 7ft (2.15m). The magnification given by the 18-270 is about 2/3 of that given by the 70-300, despite both being set to the same focal length and both being the same distance from the subject.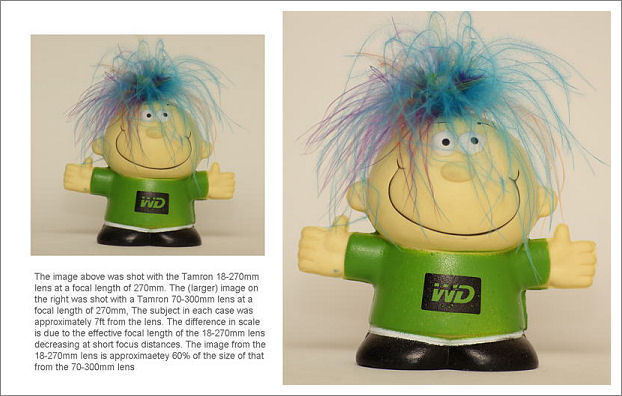 Is this a problem? Well, it can be, but it's more often a surprise for those not expecting it. It's only a problem when you are zoomed all the way out and/or can't get as close to your subject as you'd like. It is something to be aware of though.
Zooming with the Tamron 18-270/3.5-6.3 DiII VC is quite smooth and the barrel doesn't have much wobble, even when fully extended. There is a strong tendancy for zoom creep (at least on the sample I tested) when the focal length is set between about 150mm and 24mm. At the 18 and 270mm extremes no zoom creep was observed. The zoom can be locked at the 18mm setting for carrying.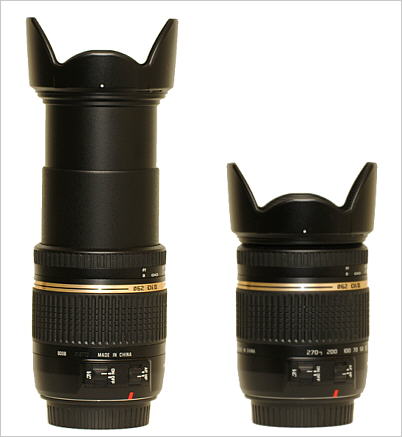 Tamron 18-270/3.5-6.3 DiII VC at 270mm (left) and 18mm (right)
Focus
Focus was generally good (on an EOS 60D) and though not silent, focus noise was not excessive. Focus speed wasn't bad for a lens of this type, but it got a little slow when zoomed out to 270mm when the light level was low.
Stabilization
Though the Tamron VC (vibration control) system has some technical differences from the Canon IS (Image Stabilization) system, they seem to be pretty much on a par when it comes to performance. I'd say the VC system on the Tamron 18-270/3.5-6.3 DiII VC is maybe good for 2-3 stops. which is similar to what is found on most of the Canon consumer zooms. Manufacturers may claim 4 stops, but I've yet to see a system that can deliver that on a consistent basis. You can certainly get sharp images a shutter speeds 4 stops below that which would normally be required for handheld shots with either the Canon or Tamron stabilization systems, but you have to be lucky (or take a lot of shots and throw most of them away).
In operation and judging from the viewfinder image, the Tamron system seems a little less smooth than the Canon system. It tends to hold a very solid lock, but then quickly "reset" when the lens movement becomes too much to compensate for. The Canon system on the other hand seems to allow the image to "flow" more smoothly as the lens is moved. However in testing, both seem equally effective (at least they did when I tested them on the Tamron and Canon 70-300mm lenses).
NEXT:-> Optical Performance