Tamron 18-270/3.5-6.3 DiII VC PZD lens review
Conclusions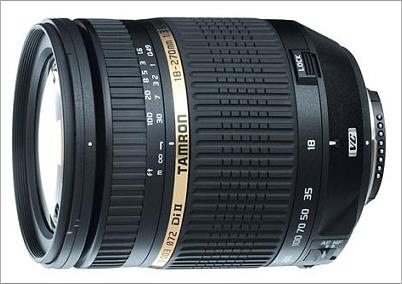 The Tamron 18-270/3.5-6.3 DiII VC PZD is a bit like the swiss army knife of lenses. While it may not do everything perfectly, it does pretty much do everything. It's wide enough for true wideangle shots at 18mm (29mm full frame equivalent) and zooms to 270mm (432mm full frame equivalent) when you want to reach out for wildlife and sports shots. On top of that it has image stabilization built into the lens, making it handholdable at longer focal lengths and in low light situations where the lack of stabilization would mean either blurred images or the use of a tripod. And on top of all that, it's only 3.5" long (at the 18mm setting) and it weighs less than 16oz. Coupled with a small DSLR like the new EOS T3i it would make part of an ideal travel outfit for those photographers who hate changing lenses, don't want to carry much weight but want something better than a P&S camera.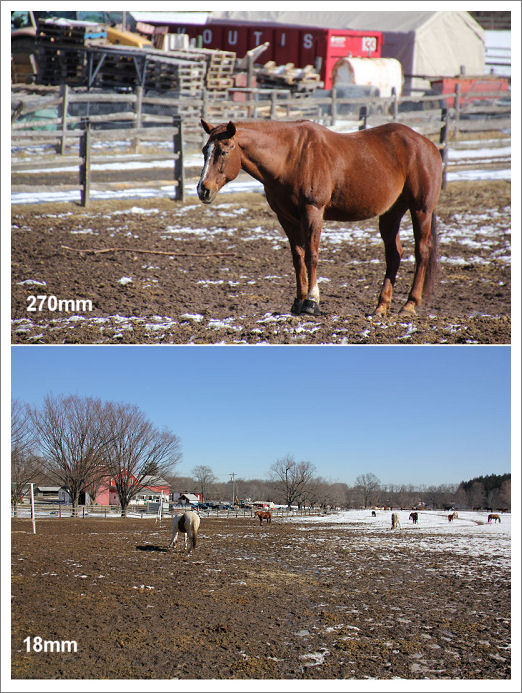 The 15x zoom range of the Tamron 18-270/3.5-6.3 DiII VC PZD is impressive
So what's the downside? Well, it's not very fast optically. It hits f5.6 by 70mm and f6.3 by 170mm. With modern DSLRs low light shooting at smaller apertures may not be a big issue since performance at higher ISO settings is generally pretty good. Where it might be an issue if for those wanting to blur the background in portraits, where a fast lens is the ideal. The image quality at the edges and corners of the image is also a little soft, especially at the extremes of the zoom range where chromatic aberration also comes into play. Distortion is noticeable, especially at 18mm. So it's not perfect. However, all that being said, the image quality in the center part of the image (which is usually the most important part) is pretty good and the image stabilization is effective, so from a practical point of view, the versatility of the lens may well make up for its shortcomings.
So who is this lens for? Well, it's not for those who want the ultimate in sharpness or speed. Those are not its strong points. Who it is for is the photographer who wants life made a little easier by having one fairly small, light lens that can serve many purposes and still give good image quality (as long as you don't look too closely at the corners!). The street price of $649 (as of 03/11) is a little high. This can be compared with lenses like the Canon EF-S 15-85/3.5-5.6IS USM which sells for around $760 and the Canon EF-S 18-200/3.5-5.6 IS which sells for around $590, so $649 for the Tamron 18-270/3.5-6.3 DiII VC PZD isn't really that far out of line.
Note that you can save some money by buying the older, non-PZD version of this lens which has a street price of $629 with a $150 rebate making the final cost $479. This is a slightly larger lens (4" long vs. 3.8") and weighs a little more (19.4oz vs 15.4oz) and it's a slightly different optical design (18 elements in 13 groups vs. 16 elements in 13 groups), but it's $170 cheaper. I haven't tested them side by side, but the non-PZD version is a pretty good lens so if you want a 15x zoom and don't care so much about having the smallest, lightest available lens, the Tamron AF 18-270mm f/3.5-6.3 Di II VC LD Aspherical IF Macro might make a good option.
Another factor worth commenting on when comparing Tamron options to those of Canon and other lens makers is that the Tamron 18-270/3.5-6.3 DiII VC PZD comes with a 6 year warranty. That's significantly longer than the 1 year offered by Canon and the 3 years (1 year + 2 year extension) offered by Sigma on their lenses. The Tamron 18-270/3.5-6.3 DiII VC PZD also comes with a lens hood, which the Canon lenses don't.
So would I buy one? For myself, probably not since I already have lenses that cover this range. However if someone gave me one I'm certain there would be times that I would use it and I have friends that I would recommend it to. For coverage of this range I'd personally probably pick a two lens solution such as the Tamron AF 70-300mm f/4.0-5.6 SP Di VC and maybe the Sigma 17-70/2.8-4 OS or the Canon EF-S 15-85/3.5-5.6IS USM. Of course this would mean carrying two lenses and swapping them, not to mention the additional cost, bulk and weight. The Tamron 18-270/3.5-6.3 DiII VC PZD is certainly a more cost effective and convenient solution to coverage of the wide to telephoto range.
| | | | | |
| --- | --- | --- | --- | --- |
| Canon mount | Nikon mount | Non-PZD for Canon | Canon 18-200 IS | Sigma 18-250 OS |
| | | | | |