Tamron 18-250mm F/3.5-6.3 AF Di-II LD Aspherical (IF) Macro Review
Image quality at 18mm
All the images here are cropped from full size (100%) files shot with an EOS 20D.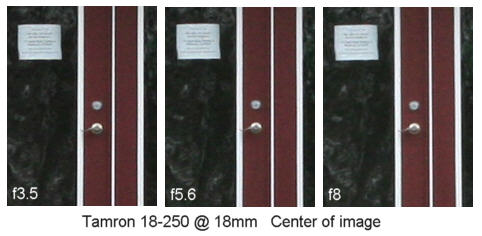 Center sharpness at 18mm is good even wide open as shown above. In fact there's very little to be gained from stopping down. However that's not quite the case at the edge of the image as shown below.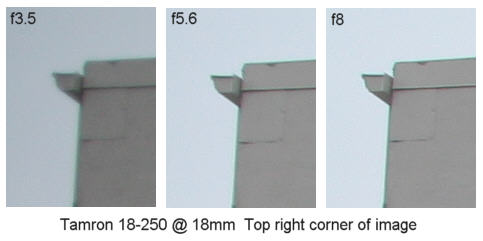 It's obvious here that stopping down significantly improves the corner image quality. Vignetting is also shown by the fact that the crop from the corner of the image shot wide open is darker than those shot stopped down. F5.6 is better than f3.5 and f8 is better than f5.6. There's also some slight chromatic aberration evident (green fringe), which doesn't change with aperture (which is normal for CA, which isn't affected by aperture). A few comparison shots from a Canon EF-S 17-85/4-5.6 at 17mm are shown below.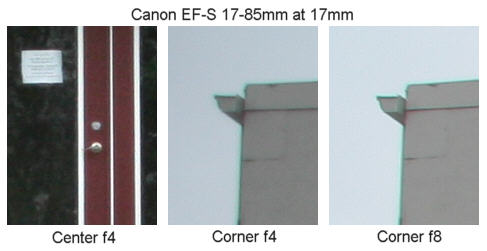 Wide open center sharpness is similar, though I think the Tamron lens may be a touch sharper. The Canon shows similar corner quality to the Tamron, though with slightly more chromatic aberration visible.
Image quality at 50mm
Sharpness at 50mm is pretty good even wide open. Stopping down doesn't really make much difference as shown below.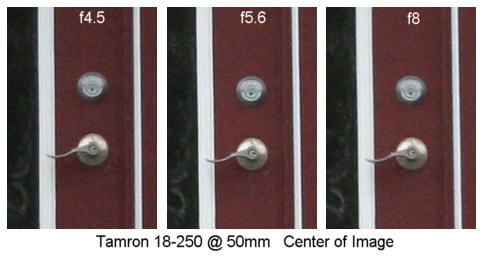 At the image corners things are a little softer, especially wide open. Stopping down from f4.5 to f5.6 sharpens things up a bit, but stopping down to f8 really doesn't make much difference.
Below are some comparison images shot with the Canon EF-S 17-85/4-5.6 IS USM at 50mm. In the center I think the two lenses are pretty similar, but I'd say the Tamron has a slight edge in the corners.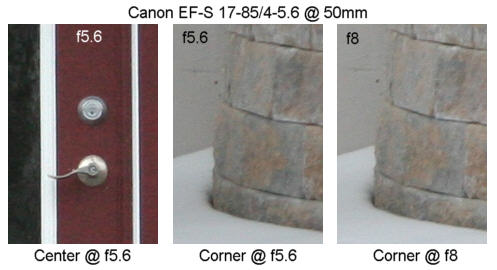 IV - Performance at 18mm and 50mm